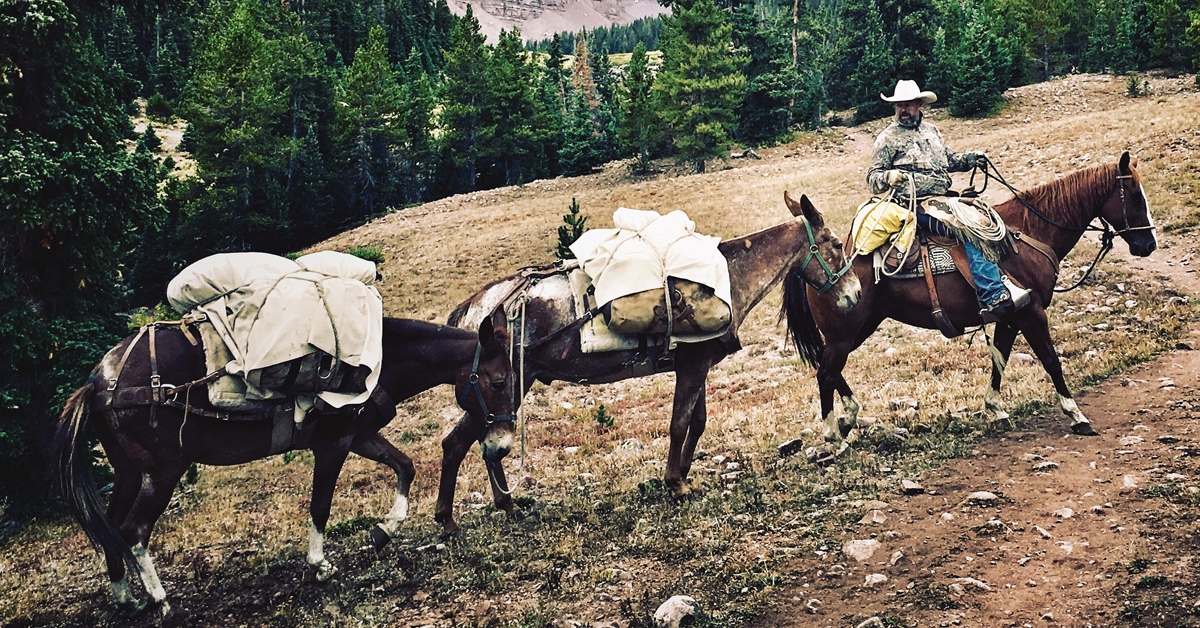 Miles of mountain country, undisturbed and free from the buzz of everyday life. It's easy to forget about cell phones or the latest trends and feel like you've taken a trip to an old western movie when you're outfitted with a string of mules, horses, and good company.
Modern-day pack trips are a step into the past. Nights spent under the sky next to a bubbling stream and days spent horseback are enough to recharge and restore a sense of peace amid the serene backcountry.
While a successful pack trip can connect you with the past and help you escape the present, it all starts with the right gear. Pack saddles and panniers aided history's expansion west and are still a fundamental pack tool today.
Sawbuck vs Decker
Sawbuck and decker are the two most popular pack saddle types. While they have seen some design improvements and adjustments, these two fundamental saddles continue to prove their adaptability and function among new and experienced packers.
Sawbuck Pack Saddle
The sawbuck or crossbuck pack saddle is among the oldest and most recognizable pieces of packing equipment. Sawbucks are easily distinguished by the wooden "crutches" that make up the saddle fork. This saddle fork serves several functions, including connecting the saddle bars and holding panniers and supplies in place.
Sawbucks have been used for centuries by packers, thanks to their functional design and long-standing history. Most original and modern pannier styles are designed or can be made to fit a sawbuck saddle. On the original sawbucks, the wooden fork would be straight up from the bars but some newer styles put the fork at an angle to help secure panniers and loads.
How to Rig
Sawbuck saddles are usually rigged for double cinches. The trees of most sawbucks have two separate rings for a front and back leather latigo or strap that are used to fasten the saddle to the animal. The saddle design also allows breast collars and breechings to be attached to help keep the saddle in place.
Decker Pack Saddle
Decker pack saddles are a newer style when compared to the traditional sawbucks. Like the sawbuck, decker saddles have two saddle bars, but instead of being attached with wooden crossbucks the bars are attached with a metal hoop. The original decker saddles were designed to help pack out odd-shaped loads using a standard "D" shaped hoop to which objects could be attached using buckles, clips, or ropes.
Today there are many styles of decker saddles with different shaped hoops to fit specific needs. One such option is a more squared hoop that allows traditional pack panniers, originally designed for sawbuck saddles, to ride better. Modern deckers are also unique in that some are "self-adjusting" or can move to better fit a pack animal's back.
How to Rig
The riggings of decker saddles are easily adapted to meet the needs of a packer thanks to a large number of adjustable straps. Most decker saddles come with a standard single cinch that can be used to secure the saddle. However, the decker's rigging can be adjusted to move the cinch forward or back or even to use a double cinch.

Choosing Pannier Sets
Panniers are the packing bags used to transport gear. There are different styles, sizes, and types of panniers that are suited for various terrain, levels of use and even pack saddles.
Pack Panniers
Traditional pack panniers generally consist of two large or medium-sized bags with a strap or other method attaching them together. The panniers are draped over a sawbuck or decker saddle (depending on the specific decker, they might be connected with pack hooks). Pack panniers can be modified or purchased in various styles better suited to a particular need or situation.
Hard Panniers
Hard panniers are designed to protect cargo. They are especially popular in wooded terrain and areas where the pannier bags might be subject to abuse from trees and other objects. They generally consist of two solid containment bags that hang on either side of the pack animal. Hard panniers are designed to fit either crossbuck or decker saddles.
Salt Panniers
Salt panniers are shorter than other pannier varieties and are specifically designed to carry salt blocks. Generally, these panniers have two compartments in each bag for carrying the blocks. Due to their smaller size, slat panniers are also popular for use on smaller pack animals.
Utah Pack Bags
Utah pack bags, also known as "meat bags," have a unique open-top design originally intended for packing out elk quarters. The large, open-top bags are still used today by hunters and for carrying large or odd-shaped objects. While most often leather, Utah pack bags can be found or ordered in other materials.

Pannier Materials
Canvas
Canvas is the most popular material for pannier sets. Relatively durable and water-resistant, canvas panniers are reliable in a wide range of terrain. The soft material is also subtle and moves well with the natural motion of a pack animal while being more affordable than some other options.
Condura
Condura is a similar cloth material to canvas but much tougher and more durable. A special blend of high-tenacity woven nylon or other polyester bag fabric, Condora is built to withstand the elements and will hold up well in most terrain.
Iron Cloth
Iron cloth is a highly durable synthetic material. It is made from a ballistic nylon that is tougher than canvas and well adapted to hold up in rough terrain. Iron cloth pannier sets are great quality and resistant to rot.
Leather
Leather is by far the most durable and long-lasting material used in pannier sets. Leather is subtle and moves well with the pack animal as well as water-resistant. The durability of leather makes it adaptable to any terrain.
Helping You Hit the Trail
Preparing for a successful pack trip starts with the right gear. Let your local IFA Country Store help outfit you with quality sawbuck or decker pack saddles, and choose from a variety of pannier styles to fit your specific needs.
If you have any questions or if you need any help selecting the best pack saddle and panniers for your trip, reach out to a knowledgeable member of our IFA staff.
Is your horse active? Also read Complete Horse Nutrition Starts with the Best Feed.
---
Written by Mikyla Bagley, IFA Content Specialist, and originally published in the IFA Cooperator magazine (vol. 88 no. 3) Fall 2022. Information provided by Terry Boren, IFA Tack & Farrier Category Manager. Photos provided by Phil Crowther.