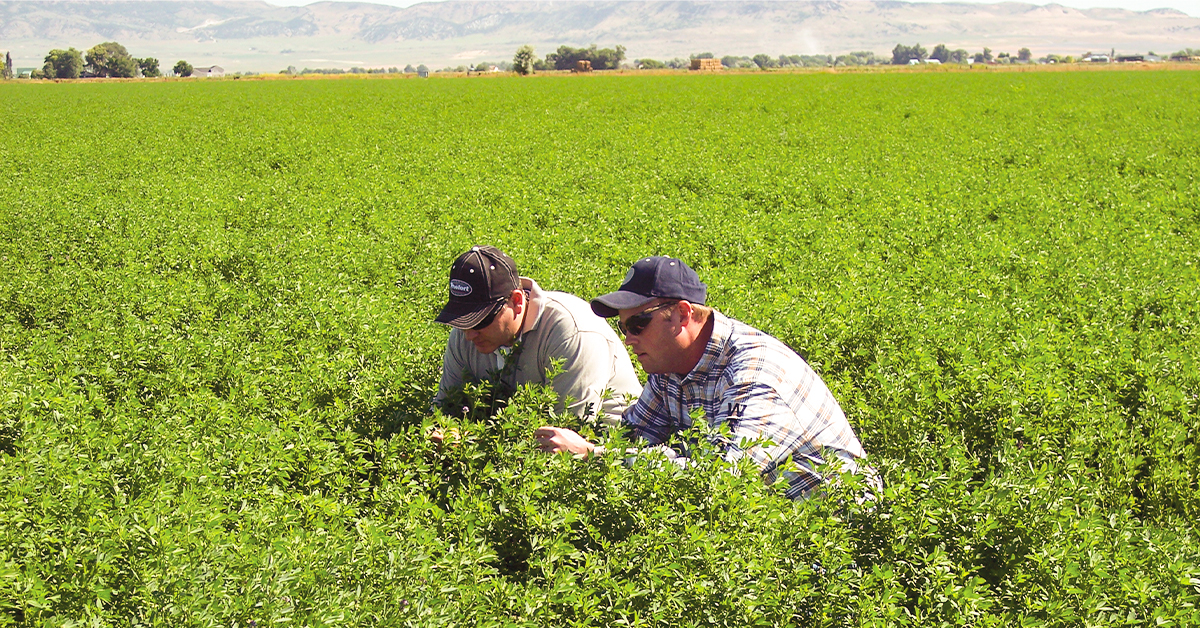 As we prepare for winter we often reflect on the past year, reliving both the challenges we overcame and the rewards that come with hard work and dedication.
For most of us, 2021 had its fair share of challenges. Water became an issue very early in the year and remained one of the largest challenges for many producers in our area throughout the growing season. As if worrying about water availability wasn't enough, we started seeing fertilizer prices trending upwards early in the planting season.
At the time we didn't realize that prices would soon rise to near-record highs that we haven't seen since 2008. Throughout the summer and fall, we watched as fertilizer prices continued to increase and in most cases double by the time they somewhat stabilized in late fall.
So as we look back on the challenges of the past growing season how do we use this reflection to help us move forward? We need to plan and adapt. We need to use the resources we have and map out a plan to maximize yields and profit.
Seeking Help From Certified Crop Advisors
One of the best resources you have at your disposal is your local IFA crop advisor. Our crop advisors are highly trained experts in agronomy. These are the experts who can help you determine what seed varieties will work best in your soil and what fertilizer you will need to grow those seeds.
Crop Protection
IFA's team of Agronomy experts can provide you with crop protection options to eliminate weeds and harmful insects before they rob you of yield. They often have market insight and can help you understand what is changing with fertilizer and commodity markets so you can make informed decisions.
Soil Sampling
Our dedicated crop advisors can walk your fields and take soil samples for testing so they can set up custom fertilizer programs that meet the needs of your specific crops and soils. They can also provide you with information on crop rotation and the dos and don'ts of rotating from one crop to the next.
Working with Your Local Crop Advisor
As you start working with your crop advisor to plan for the 2022 growing season you should consider your fertilizer needs. It is important to look at what fertilizer you are going to need and when you should purchase it and apply it.
Start Early
With fertilizer prices continuing to increase across the board you may want to look at purchasing your needs early to lock in your price before the next big increase.
The downside to doing that is not knowing what will happen in March and April. If prices for some reason plummet in late winter or early spring, you definitely do not want to have your barn full of high-priced fertilizer.
Currently, prices have somewhat stabilized, but are predicted to stay high and possibly keep increasing through winter and spring. That coupled with the freight challenges right now are all good reasons to look at your situation and decide what risk level you are comfortable with.
There is risk if you buy now and prices drop, and risk if you don't buy now and prices increase. Only you can decide what is right for your operation.
Develop a Pesticide Plan
Crop protection products (pesticides) are also very volatile right now. Much of the tech that manufacturers use in these products are produced in China. Not only are we having trouble with shipping and trucking, but China has backed off on production of the badly needed tech in an effort to clean up their air quality leading up to next year's Olympic Games.
All of this together has made it very challenging to get certain products, and it has recently driven prices up as supply becomes scarce. There is a fair amount of certainty that this will not change until next fall and maybe beyond that.
As you plan for next year I would strongly encourage you to look at your crop protection needs and if possible make those purchases as soon as you can.
Our IFA Teams are Here to Help
At IFA we are working hard to source the products that we know our patrons and customers will need for this coming growing season.
We know freight will continue to be an issue so we are trying to front-load all that we can in an effort to help offset the shortage of trucks and drivers. You can help us by sharing your plan with your crop advisor or local IFA branch manager. This will help us anticipate your needs and start preparing now to support you throughout the coming year.
By planning and looking ahead we can be much better prepared to capitalize on opportunities and deal with challenges. We realize that things rarely go as planned, and we have to be ready to adapt and change as conditions and markets change. Let us help you in your planning process and we will do everything we can to meet your needs with all your crop inputs.
---
Written by Larry Dockery, IFA Agronomy and originally published in the IFA Cooperator magazine (vol. 87, no. 4) Winter 2021.
Larry Dockery is the Associate Vice President of Agronomy for IFA. In this role, he is able to help intermountain farmers to grow and be successful by sourcing products more efficiently and effectively. Larry earned his Bachelor's degree from Utah State University before starting his career with IFA. He loves working with farmers to improve their crops and soils and finds it humbling to be involved in helping producers to grow. When not aiding co-op members, Larry enjoys spending time with his family outdoors hiking, fly fishing, hunting and shooting bows.