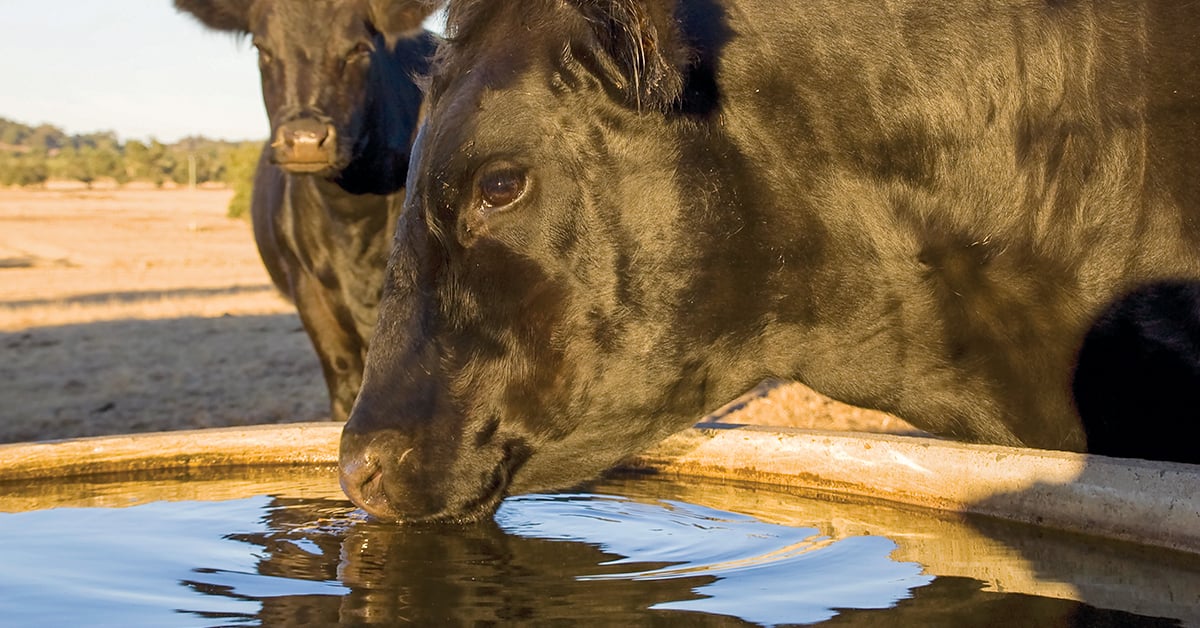 As snow packed mountains fade to green, many livestock producers will prepare their herds for summer pastures and ranges. While these summer allotments are often rich in feed, they can present some unique challenges when it comes to providing a key essential nutrient: water.
Water is central to livestock production and providing access to clean, quality water sources is essential for overall herd health. Livestock water consumption and needs increase during the hot months of the summer, making this a vital time to ensure your water systems are functional and effective.
Water Requirements
Water is a vital nutrient that has major impacts on livestock health and production. The nutrient is central to many metabolic processes including temperature regulation, digestion, lactation and more. Without water, gains in livestock decrease rapidly and the animal can become susceptible to illness and, in extreme circumstances, death.
Livestock Water Sources
Automatic water systems or waters are ideal for paddocks or pens if they are properly installed and maintained. These systems are easily connected to wells and provide a consistent, clean water source when maintained correctly.
Gravity Fed Water Systems
Gravity fed water systems serve as transports of natural surface water to a trough or tank. These water systems can facilitate the movement of water from a source if it is higher in elevation than the top of the water tank being filled. A gravity water source is great for mountain ranges or pastures with adequate changes in elevation.
Water Pump Systems
Pump water systems are used to transport water from an underground well or surface water source that is lower in elevation than the desired water tank. These systems are a great option for pastures or ranges where there is adequate wind or solar energy to mechanically pump the water from the desired source.
Water tanks can be more labor intensive than other water transportation options but are great for short-term, rotating or remote pastures. This option also serves as great back-up or emergency water systems if you have a natural source dry up or system break. If the water you are hauling with a tank is the primary source, you will need to be very active in checking the trough regularly to ensure the animals never run out of clean water. Be mindful of your trough and tank size as well as the number of animals using that water source.
Ponds/Streams
Ponds and streams are great water sources for pastures and ranges but should be monitored and maintained if necessary. During drought years these sources dry up or become lower quality due to a reduced ratio of water as compared to particles in the water.
Make sure your natural water sources are safe, clean and palatable for livestock to ensure the herd remains healthy and productive. You might consider creating water boxes that designate a particular access point to the water source with the use of fencing. This will help reduce bank erosion and improve water quality.
Also see Why Water Is Essential to Your Livestock Nutrition Program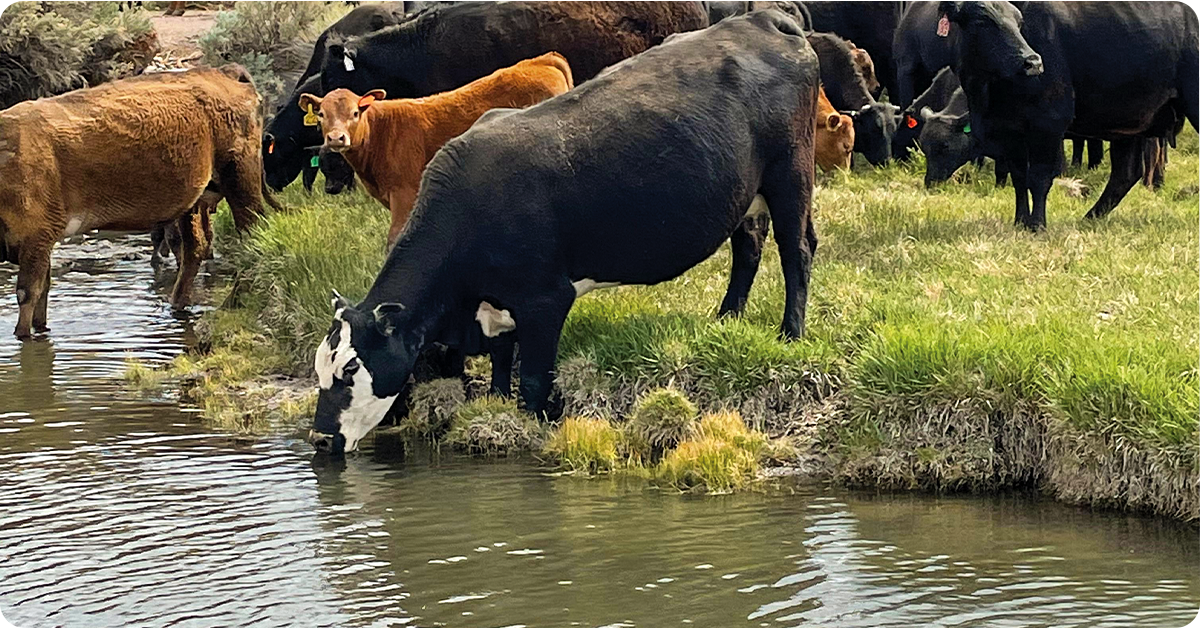 Designing a Water System
Designing and selecting a water system is dependent upon functionality, resources, location and specific herd needs. Be sure to consider these when designing a water system for your livestock.
Functionality
The type of watering system you choose will be largely dependent on functionality. Start by considering the area where the water source is needed (pens, remote pasture, mountain range, etc) and take stock of the resources you have available. Having access to a stream, well or pond could affect the type or types of water systems that will work best for the specific area.
Placement
Placement of your water sources will have a direct impact on livestock health and gains. In general, you should ensure that there is a water source within 1-5 miles of where the animals are grazing. If possible, you should also consider placing troughs under sheds or in sheltered areas. Water sources placed in covered areas are generally better protected from debris, have reduced algae build up and maintain a more consistent temperature.
Herd Requirements
Understanding the needs of your livestock is paramount to implementing an effective water system. Determine the water needs of your herd by considering that each animal will require 1 gallon of water per 100 pounds of weight. Keep in mind that life cycle stage (pregnant, lactating, etc) and heat can cause this water requirement to double.
After determining the water requirement, analyze all troughs, tanks and ponds to ensure they are large enough to accommodate herd needs. In the case of pump and gravity water systems, you should also consider the time it takes for water to reach the trough and how this will affect or meet the needs of your animals.

Water Quality
Water quality is every bit as important as ensuring continuous access to a water source.
Fresh/Clean Water
Livestock will not drink if water becomes unpalatable due to pollutants or particles. Dirt, algae and other debris can greatly reduce the quality of the water. It is important to regularly clean your water tanks if possible by draining and cleaning debris then applying a bleach solution. If this is not feasible, simply cleaning out noticeable debris can make a big difference in water quality.
pH Levels
In addition to physical pollutants, you should be mindful of the water's pH balance. Water should have a pH between 5.5-8.5 to be considered safe. Anything higher is considered basic and anything lower is considered alkaline. In each case, illness can occur in animals that drink the water.
Stray Voltage
Livestock are also sensitive to stray voltage. If the stray voltage of a water source reaches 3 to 4 volts, livestock may refuse to drink. Be mindful of your animals' habits. If the herd seems to be avoiding the water and there are no visible or pH related issues, you may need to address a stray voltage problem.
Read: Cattle Fly Control Methods & Strategies to Protect Your Herd
Helping Hydrate Your Herd
Caring for your livestock water needs can change based on the season and needs of your animals. Whether you're reevaluating your current systems or ready to put in a new one, the team at your local IFA is ready to help.
Stop by the store for tools, troughs, tanks and watering systems to meet your needs. If you need more help or recommendations for an effective water system, reach out to a knowledgeable associate.
---
Information for this article was provided by Jared Judy, Ph.D, Nutritionist, IFA North Region Feed; Brett Yardley, Branch Manager, Richfield IFA Country Store; Theron Lee, Assistant Manager, Price IFA Country Store; and Kash VanTassell, IFA Fencing & Livestock Equipment Category Manager. Photo credits: Rhonda Bagley & Jessica Anderson