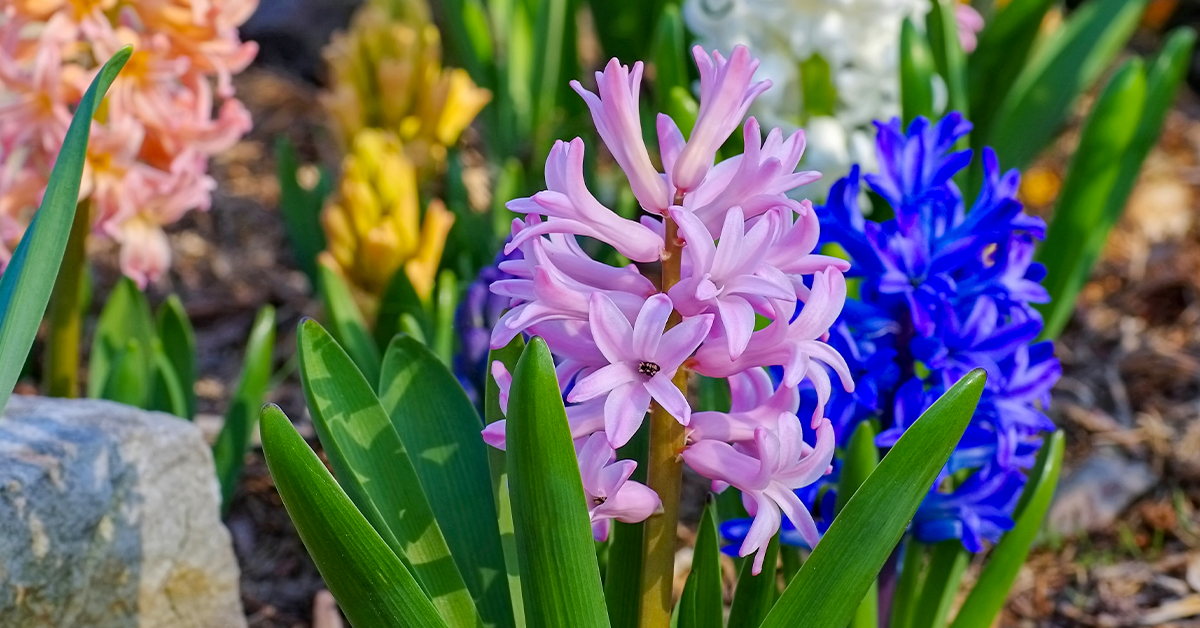 As fall washes the Intermountain West in an array of orange and golden-brown hues, it can be challenging to imagine vibrant flowers making their appearance next spring. Though the brisk air and promise of coming winter may not scream "planting time" to most people, the cooler temperatures and soil are prime for promoting early color in your flower beds next spring.
Tulips, Daffodils and other spring-flowering bulbs are best suited for cultivation in the fall's cooler temperatures. These bulbs are hardy and actually require a "chilling" period of cold weather to jumpstart development.
Planting fall bulbs might take some work, but with a bit of planning and careful consideration, you can take the first step toward a grand display of colorful flowers next spring.
Early-Spring Blooming Bulbs

Crocuses
Crocuses are exceptionally hardy spring-bloomers that generally require little maintenance and can begin to flower even if there is a layer of snow on the ground. The resilient bulbs produce a waxy cuticle that covers their leaves and petals, serving as natural insulation to survive in the intermountain West's sometimes unpredictable spring weather. Plant crocus bulbs this fall for bright pops of purple, yellow and orange early in the year that pair well with other spring flowering bulbs such as tulips, daffodils and hyacinths.
Height: 3–6 in
Color: yellow, orange, purple
Light conditions: full sun – partial shade
Hardiness Zone: 3–8

Snowdrops
Like crocuses, Snowdrops are resilient, low-maintenance bulbs that can begin flowering with snow still on the ground. When paired with crocuses or early-blooming daffodils, these hearty flowers are a great way to give your garden life in the early spring months and keep you motivated for the coming warm season. While the delicate white flowers might resemble drops of snow and are known for their ability to bloom in winter conditions, snow drops actually got their name by resembling "eardrops" or earrings.
Height: 4–6 in
Color: white
Light conditions: full sun – light shade
Hardiness Zone: 3–7
Spring Blooming Bulbs

Tulips
One of the most unmistakable spring-bloomers, Tulips are a staple in most Utah flower gardens. They're a symbol for springtime and bring dazzling color to our yards as the warm season approaches. Tulips are easily recognizable and serve as a great focal point when planted with crocuses and grape hyacinth or with dainty spring-flowering perennials. The popular fall bulbs were once the most expensive flower said to be more valuable than some homes in the 1600s.
Height: 10–18 in (late spring bloomers tend to be taller)
Color: orange, pink, purple, red, white, yellow, multicolor
Light conditions: full–partial sun
Hardiness Zone: 3–8

Daffodils
Daffodils are common spring-time favorites that rely on cool fall temperatures to establish healthy roots. These bulbs should be planted late in the fall when soil temperatures are between 40 and 50 degrees in order to ensure the best results once spring arrives. Like Allium, deer generally won't eat daffodil flowers. Be sure to include these classic spring-bloomers in your garden for beautiful pops of yellow, white or pink that pair well with other common fall bulbs including tulips, crocuses, hyacinth and allium.
Height: 1–3 ft or 6–12 in for miniature varieties
Color: yellow, white, orange, peach, pink
Light conditions: full sun – partial shade
Hardiness Zone: 3–8

Fritillaria
Fritillaria provide interesting and unusual structure to any spring flower bed. Their petals are uniquely bell-shaped flowers that blossom downward, similar to Crown Imperials. At full maturity Fritillaria can stand up to two feet tall, making them a great flower to add height to any landscape. Fritillaria are great companions for other fall planted spring bulbs including hyacinths, tulips and daffodils. Unlike other fall bulbs, Fritillaria bulbs do not have a protective covering around the bulb and should spend as little time out of the ground as possible.
Height: 6 in – 4 ft
Color: white, yellow, orange, purple
Light conditions: full sun – light shade
Hardiness Zone: 5–8

Grape Hyacinths
The close-knit bundle of flowers atop Grape Hyacinths is an eye-catcher famous for their role in the "Blue River" area of the Keukenhof Garden in Holland where they weave a trail through the garden like a river (hence the name). While blue is most common, the flowers can also be white or pink and make a great flower bed filler since they can spread quickly in the right conditions. Grape Hyacinths make good border plants and pair well with other spring-flowering bulbs and low perennials.
Height: 6–8 in
Color: blue, pink, white
Light conditions: full sun – light shade
Hardiness Zone: 3–9

Hyacinths
While Grape Hyacinths blossom with small, tight pedals clusters, Hyacinth flowers maintain the clustered arrangement but with more sporadic pedals. The unique blooms come in white, blue, pink and purple. They are commonly used in perfume making due to the unique fragrance that each different color offers. Hyacinths pair well with daffodils and tulips or can even be mixed with grape hyacinths for contrasting texture and eye-catching color in your arrangement.
Height: 6–12 in
Color: white, blue, pink, purple
Light conditions: full sun
Hardiness Zone: 4–8
Summer-Flowering Bulbs

Allium
Tall, colorful and long-lasting, Alliums are a common garden centerpiece in Utah. Their striking, perfectly round globes come in various sizes and shades of purple, blue and pink. Pair alliums with perennial plants such as peonies and Lady's Mantle, to fill any gaps beneath the vertically gifted blooms. Alliums are a great way to add delightful color and movement to any landscape arrangement. Best of all, as members of the onion family, these bulbs are unlikely to be eaten by deer.
Height: 1–4 ft
Color: pink, purple, blue, yellow, white, green
Light conditions: full sun
Hardiness Zone: 3–8

Lily
Large and showy blooms are a staple of lily plants. The bulbs are hardy and produce tall stems that will provide you with elegant and rather fragrant flowers in early to mid summer. Lilies require little maintenance once planted and produce six tepal flowers that can either be solid colors of pink, gold, red, orange and white or marked in unique patterns and designs. The eye-catching flowers make great compliments to peonies, irises and columbines. Their unique trumpet petals can add a variety of textures and colors to any backyard display.
Height: 3–4 ft
Color: pink, gold, red, orange and white
Light conditions: full–partial sun
Hardiness Zone: 3–8

Bearded Iris
Bearded iris are actually cultivated from rhizomes instead of bulbs but are still a fun variety of flower that should be planted in the fall. They blossom into a unique flower with three outer petals and three inner petals that stand up-right. Bearded irises can be found in almost all colors of the spectrum and some varieties will actually rebloom at various points in the season. The unique flowers make great compliments to lilies and can be added to an otherwise dense arrangement to give it a touch of contrast.
Height: 2–3 ft
Color: blue, orange, pink, purple, white, yellow, multicolor
Light conditions: full–partial sun
Hardiness Zone: 3–9
Late Bloomers: Fall-Flowering Bulbs

Colchicum (aka Autumn Crocus)
Colchicum is a fall-flowering bulb that also requires a chilling period to develop. The plants will not produce blooms in the spring but rather a stem that will remain throughout summer. Once the stem begins to turn from green to yellow the Colchicum will reward your efforts and patience with a stand of pale purple flowers.
Because Colchicum is planted in the fall but blooms later than other fall bulbs, it is a great variety to consider if you choose to layer your bulbs to produce flower displays that will emerge at different points in the season.
Height: 6–9 in
Color: lavender, pink
Light conditions: full sun – partial shade
Hardiness Zone: 4–8

Lycoris Radiata (Red Spider Lilies)
Eye catching and intricate, lycoris radiata also known as the red spider lily, is a striking fall-blooming bulb variety. Like colchicum, lycoris radiata requires fall planting in order to begin developing and establish roots. The plant will produce leaves that are present through the winter and late spring before dying off and producing a new bare stem that houses the bright red flowers in the fall. True to its name, the bulb's flowers look like the long, multiple legs of a red spider.
Like Colchicum, lycoris radiata is a prime candidate for layered planting of your bulbs. Consider planting it near other bulbs that will have already completed their blooming period to fill the fall-time gap that is left.
Height: 12-16 in
Color: red
Light conditions: full sun – partial shade
Hardiness Zone: 6-10
Bonus Bulb to Plant this fall

Garlic
While not commonly grown for its flowers, garlic is a bulb that should also be planted in the fall months. Like other fall bulbs, garlic requires cooler temperatures to kick-start the chemical processes necessary for growth and development. Planting in the fall provides the garlic bulbs with a prime environment of cool soil that allows them to "chill" and establish stronger roots for a more productive garlic plant.
Light conditions: full sun
Hardiness Zone: 3–8
When is the Right Time to Plant?
Planting bulbs in the fall requires some consideration and careful timing to provide the best result come spring. The ideal time to plant is 6–8 weeks before the ground freezes when evening temperatures are around 40–50 degrees Fahrenheit. This gives the bulbs adequate time to root slowly.
Chilling in a Refrigerator
If you live in an area where temperatures do not consistently drop below 40-50℉, such as St. George and Southern Utah, you might consider "forcing your bulbs" or cultivating them indoors.
"Chill" the bulbs by planting them in a pot of soil and keeping these in your refrigerator at a temperature below 40℉ for 12 to 16 weeks. Be sure that there is no fruit (especially apples) with the bulbs as the gasses that the fruits release can be toxic to the plants.
How to Plant Bulbs in the Fall
Once you have chosen your spring-blooming bulbs and determined the right time to plant, you can begin the preparation and planting process.
Soil Prep
The first step to spring color from your fall bulbs is providing them with a suitable environment for growing and overwintering. Determine the area where you want to plant. Remember, early-spring varieties can do better under trees than later spring varieties that will have to compete for sunlight with the tree's new leaves.
You should begin preparing the soil by loosening it. Use a spade or garden fork to make sure the soil is not compact and allows for adequate water and air filtration. This will also help the plant's roots grow by allowing them an easier path for deeper and stronger establishment.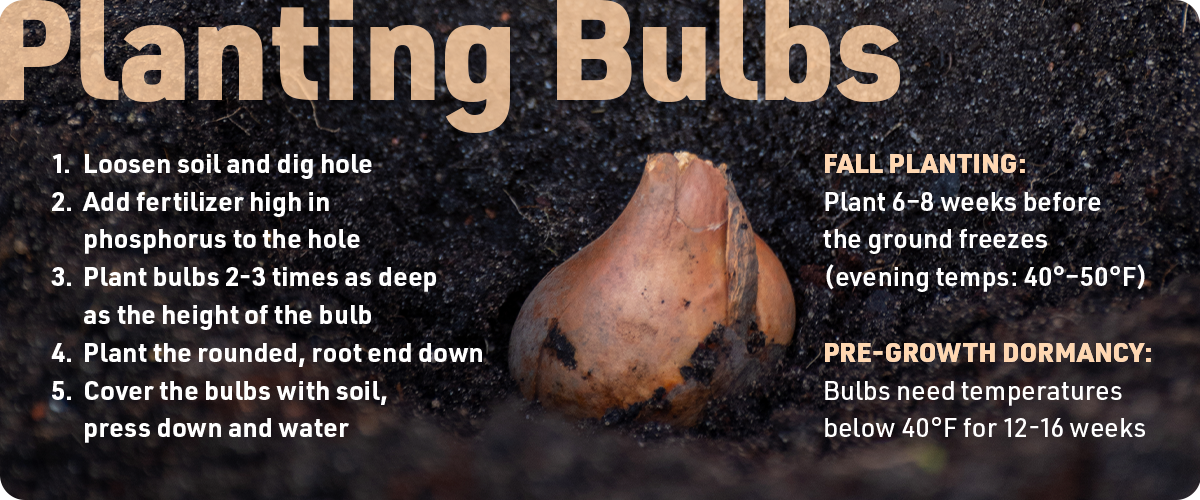 Fertilizers and Mulch
Your fall bulbs will need readily available soil nutrients to develop over the winter months. Turning a good organic mulch into the soil is a great way to prepare it for the bulbs.
It is also a good idea to provide the bulbs with a fertilizer high in phosphorus to promote healthy root growth and eventual flower production. Dutch Bulb Food or Bone Meal are both great fertilizer options for fall bulbs. Apply the fertilizer inside the hole when you plant to ensure it's in closer proximity and more readily available to the bulb and roots.
Planting and Depth
Plant bulbs 2–3 times as deep in the soil as the bulb is tall. Larger bulbs might be planted as much as six inches deep, whereas smaller ones may be planted three to four inches deep.
You should be sure to plant the bulbs with the root end down to make it easier for the roots to take hold and the plant stem to emerge. The root end can be identified as the more rounded part of the bulb and should thus be planted down with the pointier end up. If it is hard to determine the root end it is good practice to plant the bulb on its side so that the roots and stem can still orient correctly.
Cover, Water and Wait
Once you have prepped, fertilized and planted, all that's left to do is cover the bulbs, water and wait. After planting be sure to cover the bulbs and press the soil down. You should water the bulbs right after planting and allow the naturally occurring moisture to do the rest. If it is an arid year you might water on brief occasions but it is safer to let the natural moisture take care of the plants as overwatering can cause the bulbs to rot.
Get Started at IFA
Whether you're an experienced gardener or new to plant cultivation, let us help you find the right fall bulbs, fertilizers and equipment to give your yard a stellar appearance when the winter snows melt away. Plus, don't forget to make the most of your garden during the fall months.
Stop by your local IFA Country Store to speak with a gardening expert and get started preparing for beautiful spring blooms this fall.
---
Information for this article was provided by Brinn Hutcheon, Garden Center Asst. Manager, Riverton IFA Country Store; Tina Potter, Utah Certified Nurseryman, Washington State Certified Nursery Professional (Lifetime), & Lawn & Garden Dept., Ogden IFA Country Store; Herb Yost, Garden Center Manager, American Fork IFA Country Store; and Marvin Potter, Garden Center and Live Plants Category Manager, IFA Country Store