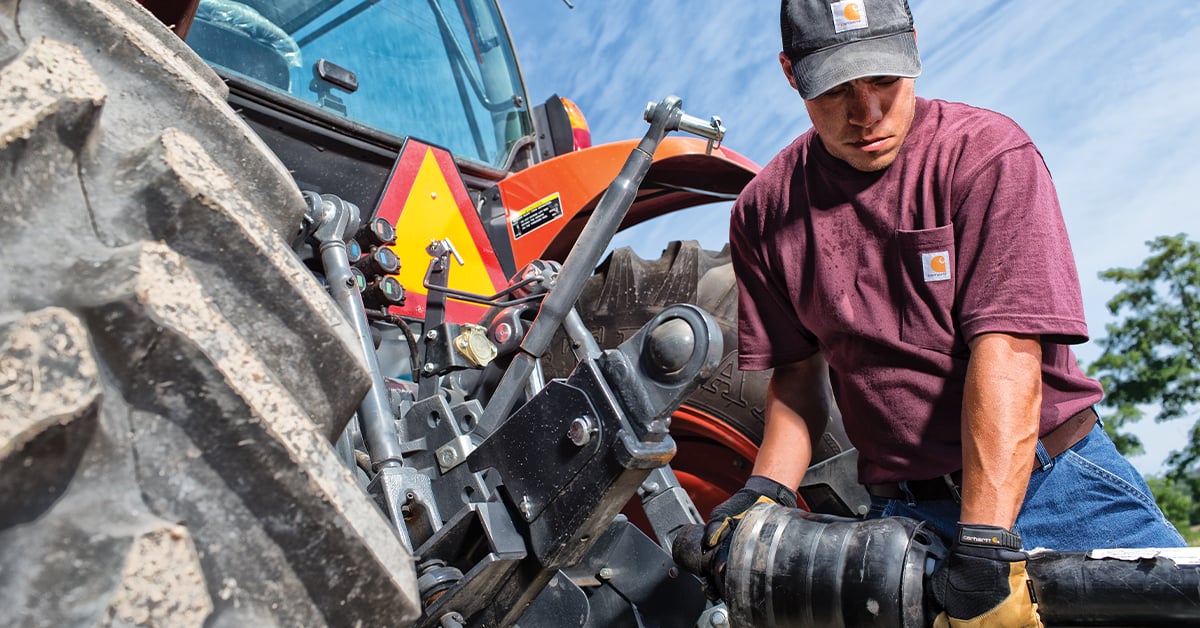 Every business and job has essential "tools of the trade," skills and equipment that are critical to getting things done the right way. We understand the right work gear is a key "tool" for our customers to safely and confidently get their jobs done.
Our B2B Workwear Program was developed to support the demanding needs of some of our hardest-working customers and members. With a wide selection of the most dependable outerwear, clothing and footwear, this program is designed to let farmers, ranchers, trade workers, factories, and more get the best gear for their workers, at great prices.
We know our B2B Workwear Program is going to be good for your business, here's why...
What is IFA's B2B Workwear Program?
Our B2B Workwear Program is designed for businesses ranging from small farms and ranches, to large-scale industrial plants and facilities. For business owners looking to outfit their crew with long-wearing work clothing and footwear, the workwear program is an ideal way to get top-quality gear at a discounted price.
Under this program we've helped outfit harvest facilities, processed food production plants, construction companies, mining operations and cutting-edge medical-science manufacturers. In other words, if a business needs dependable, quality workwear then our workwear program has a perfect fit.
In many demanding industries mandates or legal regulations are frequently in place which require specific workwear to ensure safety. Since these essential "tools" need to be engineered to keep people safe, this work gear often comes with a higher price tag. We created the B2B Workwear Program to cut down these prices, so you and your employees save money while still getting top-of-the-line workwear.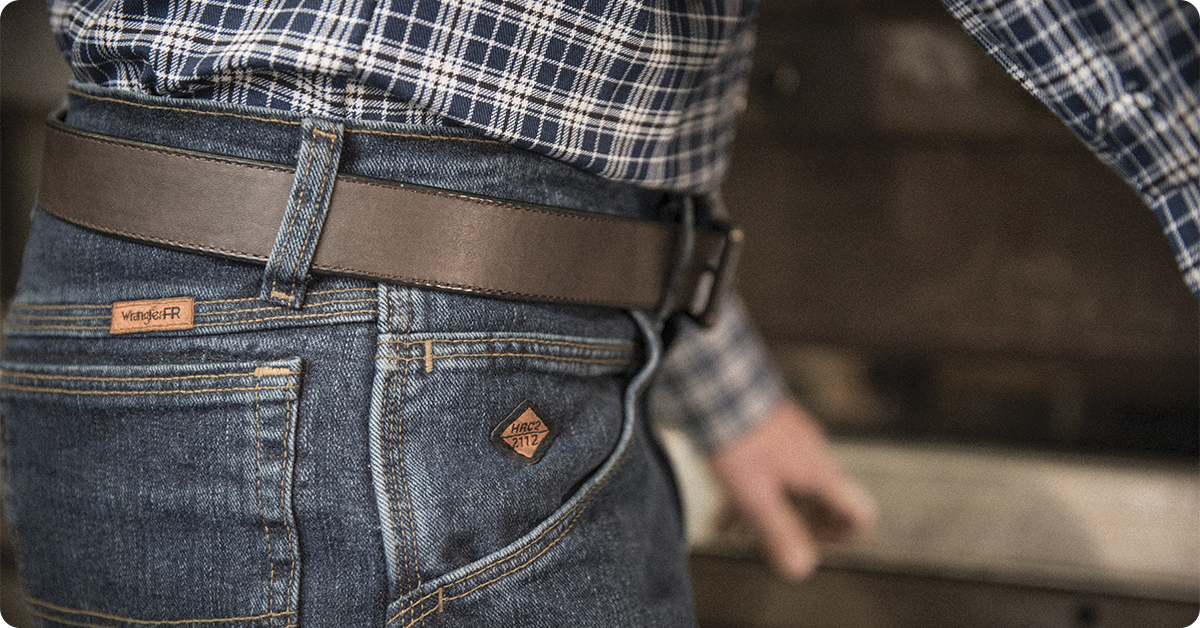 Outerwear, Clothing, Footwear, etc.
We know one size does not fit all, so our workwear program covers a wide array of men's and women's outerwear, clothing, footwear and gloves from the most reliable, durable brands on the market, including:
Our aim is to always have the best gear for any job, in any place and any weather, so we always have lots of season-appropriate work gear in stock, including outerwear with a range of insulation levels to handle the temperamental intermountain west weather, along with breathable, light-weight options to manage hot summer temps.
We also offer flame resistant (FR) options for mining, drilling and other folks, and hi-visibility clothing for our road-workers and other customers who need to stand out from the crowd.
Whatever gear is right for your job, it's important to get a great fit. We stock a large range of sizes for both men and women, but if your size is not available we will special order it for you.


Getting Set Up
To get your business signed up for the B2B Workwear Program you need to have a cash or credit business account set up with IFA. You can sign up for the account and our workwear program at your local IFA Country Store, just ask for the clothing department manager or branch manager to get started.
Once your business account and workwear program are up you will receive program cards to give to your employees, then they can visit any IFA Country Store to get expert assistance to ensure they get the right gear for your work.
When they're ready to buy, your employees will just need to show their workwear program card during check-out to make sure your discount is automatically applied to their purchase.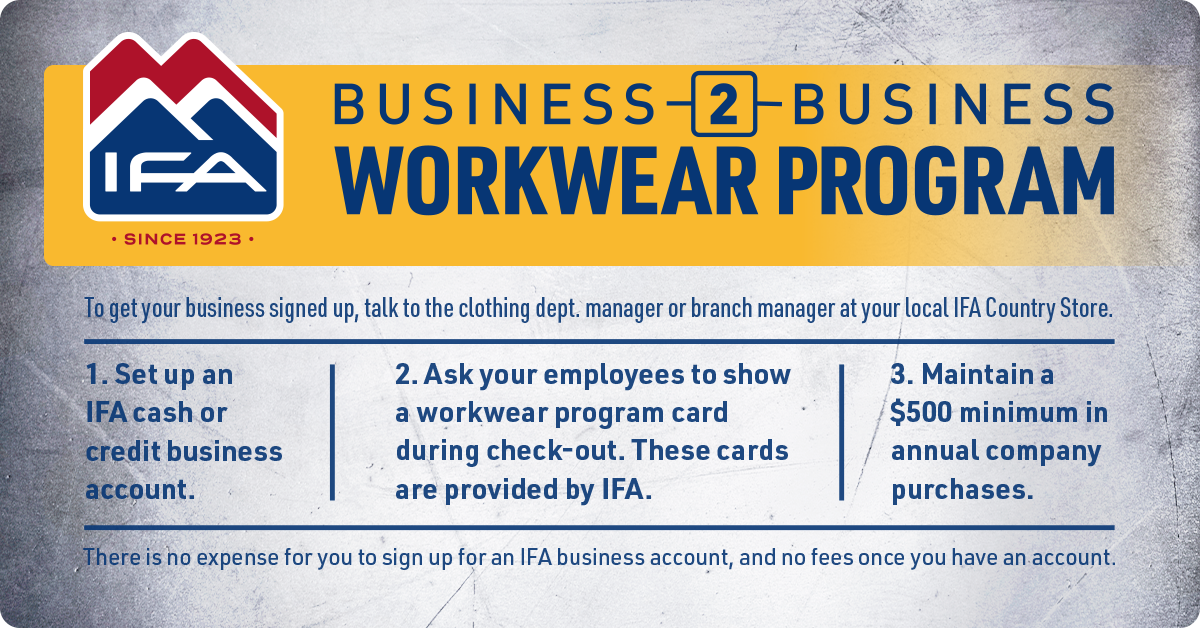 A Program for Local Businesses
The best part of our B2B Workwear Program? It's 100% free.

There is no expense for you to sign up for an IFA business account, and no fees once you have an account—the only requirement to maintain your workwear discount is a $500 minimum in annual company purchases.
We stand behind our motto of "helping to grow the things you love." We meet people like you in our stores and out in the community every day who can benefit from our workwear program.
Along with saving your business money and providing affordable workwear, this B2B program makes you a natural IFA business partner. Our experience shows us partnerships like these keep business local and help strengthen our communities.
We promise to be a valuable partner to you and your business, and to always give you and your employees personal, friendly, knowledgeable, dependable service.
Come join us! Just head into your local IFA Country Store and ask for the Clothing & Footwear Dept. Manager, Branch Manager, or an Assistant Manager to help you get signed up—and ready to gear up!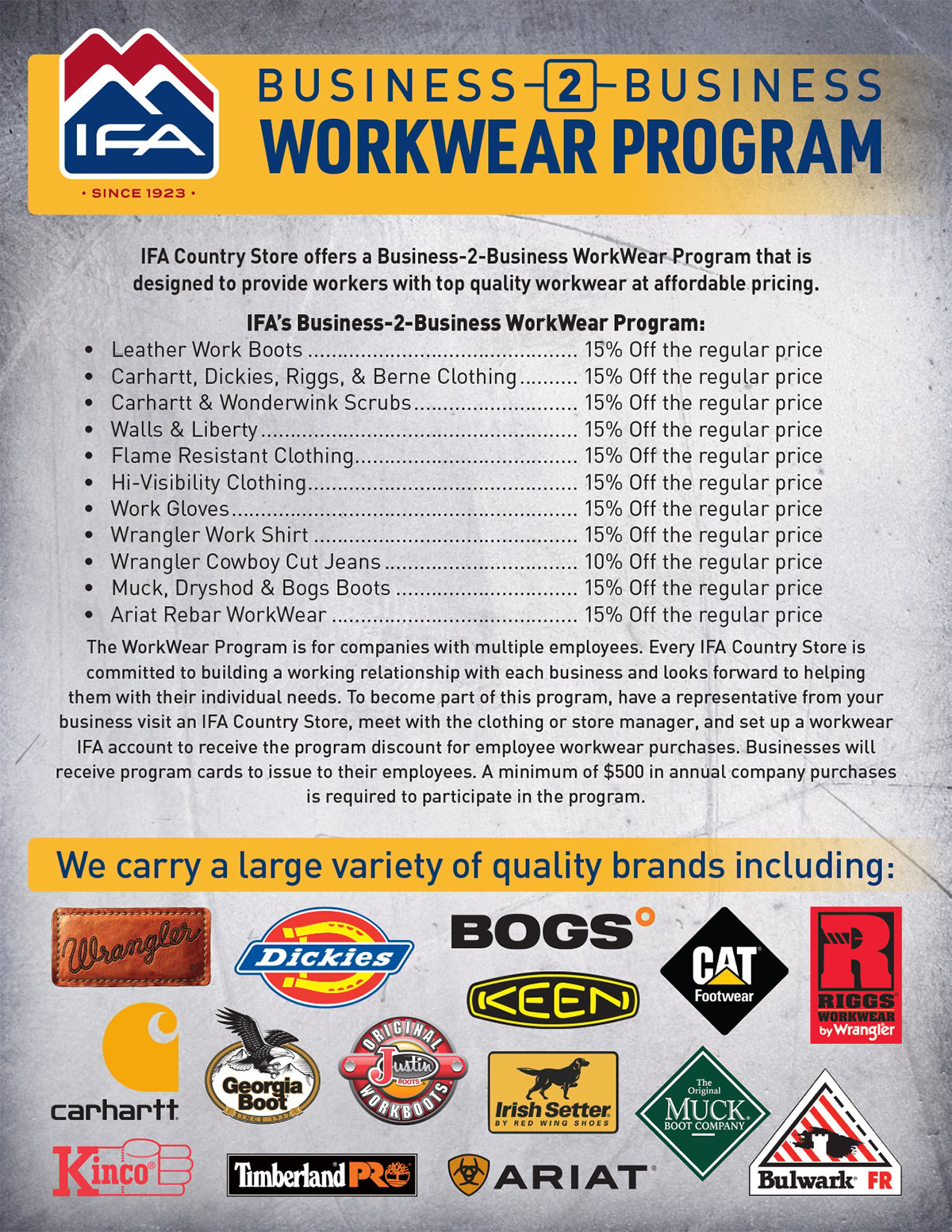 ---
Information for this article was provided by Jade McKendrick, Clothing, Footwear & Accessories Dept. Manager, Logan IFA Country Store; Allie Wallentine, Clothing & Footwear Associate, Logan IFA Country Store; Katie Dodge, Office Manager, Elko IFA Country Store; Rebecca Broadus, Clothing & Footwear Dept. Manager, Tremonton IFA Country Store; Dagan Allen, Clothing & Footwear Dept. Manager, Vernal IFA Country Store; Sandra Plaga, Clothing & Accessories Category Manager, IFA Country Store; and Terry Boren, Tack, Farrier & Footwear Category Manager, IFA Country Store.