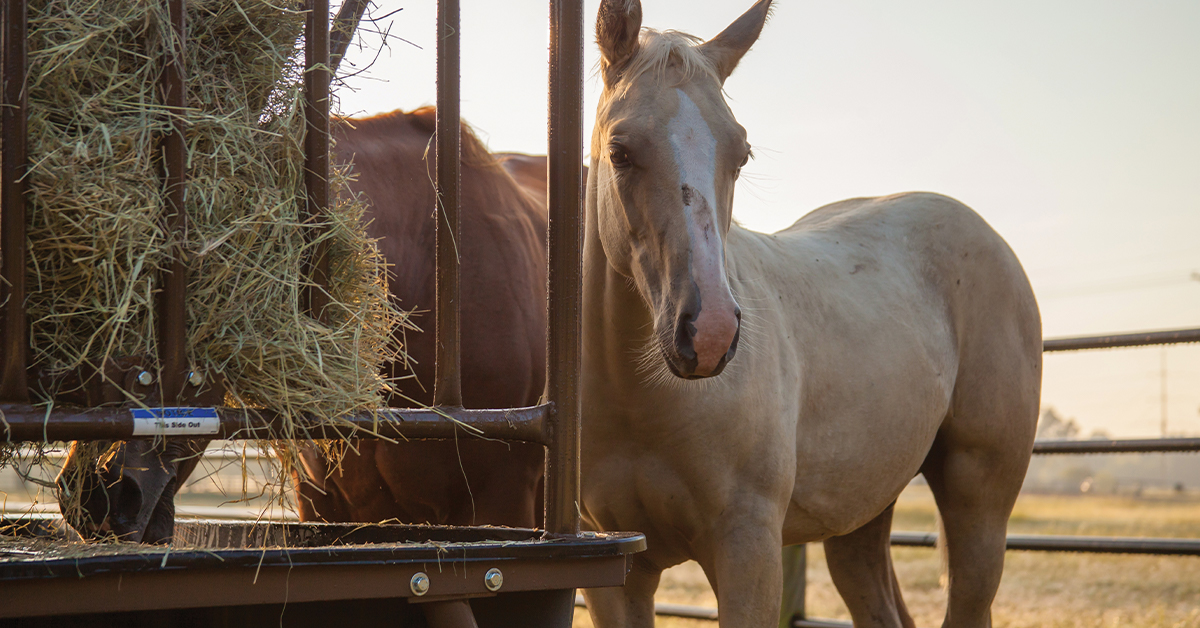 Because of my job as a nutritional formulator, I have the opportunity to create, review, and be involved with hundreds of different formulas. I have the opportunity to be involved with almost all species of animals. Even though at times it is a very challenging job, I am grateful for the ever increasing opportunity to learn and become familiar with nutritional requirements and demands for animals in production and companion agriculture.
During my 17 years of employment at IFA, there have been a handful of formulas that have played a dynamic part in their assigned specie purpose as well as for IFA as a whole. I would like to highlight one of these formulas – the IFA Safe Horse Conditioner. I do not pick this particular formula because of any sort of prejudice on my part, but rather because of the feedback we have received and the many feeding situations it can fit into.
Feed for Horses with Unique Dietary Needs
This formula was originally developed for horses with unique dietary needs including insulin-resistant horses. It is a grain-free, low-sugar feed so as to promote healthy metabolism in horses. It is also enhanced with Omega-3s for better health and brain development, yeast to increase digestibility and optimal fiber digestion, and a 14% crude protein level for optimal weight maintenance/gain and muscle development.
This is a pellet feed which also helps with ease of feeding. I would recommend this feed against any "safe" horse feed on the market today. I would also recommend this feed in many other types of feeding situations.
Feeding IFA Safe Horse Conditioner
The IFA Safe Horse Conditioner has been fed to horses competing in the Alltech FEI World Equestrian Games. It has been fed to endurance and eventing horses. It has been fed to broodmares raising colts. It has been fed to high performance rodeo horses. It has been fed to old loved trusty steeds that have now become pasture ornaments. This feed is one of the best horse feeds produced by IFA – with success stories reported in each situation.

A Case Study for IFA Safe Horse Feed
Several years ago I happened upon a research trial that I didn't know would be a research trial until I was in the middle of it. That research trial ended up being a very powerful testament to the power of good nutrition and the force it can be when used properly.
I had a horse that developed a large lump at the base of his jawbone. After a surgery to remove the lump and a biopsy on the mass, test results showed that it was a malignant nerve sheath tumor. This meant that the tumor would probably return and could possibly come back even larger. Sure enough, the tumor returned a little more than a month after the surgery.
At this time, I had to weigh my options. Was the horse worth doing another surgery? His temperament was such that just seeing the vet pull down the driveway sent him running full speed around his pen. I knew another surgery would probably result in either him or the vet losing their life. Three months after the surgery, the tumor had returned to almost full size.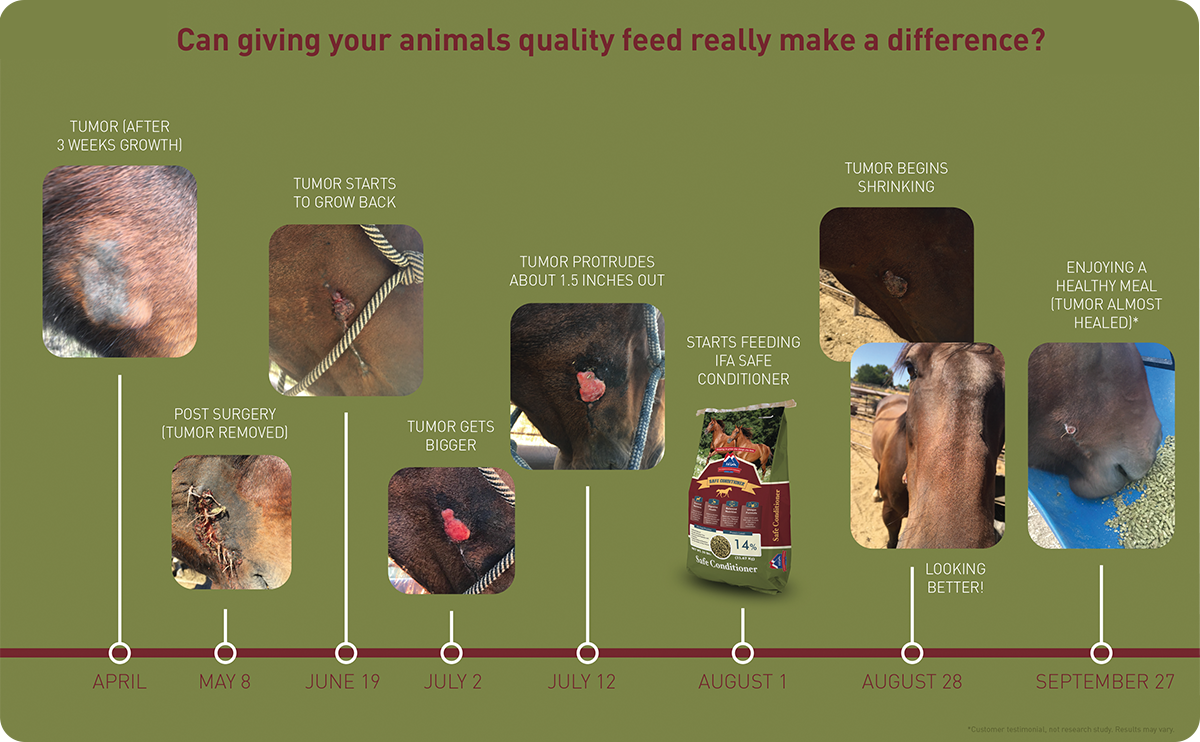 The Role of Nutrition in Immune System Health
I began doing research on tumors and what caused them and learned they were a result of an immune system deficiency. I started feeding the IFA Safe Horse Conditioner along with a dense mineral package and an immune building supplement.
To my surprise, the tumor began to shrink within a month of feeding the supplements. One month later, the tumor was almost completely gone. Now, I know what you're thinking – yeah right! She's making this up!...I would have said the same thing had I not experienced it myself.
The Need for Balanced Nutrition
Now, I'm not saying that every situation will yield the same results. Obviously, I had found the perfect combination for that horse and what his body needed. However, I do believe that providing good balanced nutrition (along with good management) can make all the difference with how our animals grow, develop, and perform.
How IFA Feeds Can Help Grow the Horses you Love
Sound nutrition and premium feed will always reap improved quality of life for animals. The IFA Safe Horse Conditioner is just one example of the quality of feeds produced by IFA. The sound nutritional formulation will continue to provide successful results.
Whether yours is a purebred operation, or a hobby farm in your backyard, IFA will continue to do our part to provide you with quality feed. As an agricultural steward, are you doing everything you can to provide the best results for your operation? Are you doing your part to find that "perfect combination" to create success?
As always, we are here to answer your nutritional questions and provide direction for your feeding operations. Please reach out to your nearest IFA salesman/nutritionist to learn how you can tap into the power of quality feed.
---
Written by Heidi Simper, M.S., Nutritionist, IFA Feed and Nutrition, and originally published in the IFA Cooperator magazine (vol. 88, no. 1) Spring 2022.
Heidi was born in Perry, Utah. She graduated from Southern Utah University with a Bachelors' degree in Animal Science and a minor in Farm and Ranch Management, and from Utah State University with a Masters' degree in ruminant nutrition. Heidi has been employed with IFA for 17 years. Her current focus is lead formulator for IFA bagged feeds at the Draper feed mill. Heidi and her four children are active in 4-H and FFA showing market steers and bucket calves.