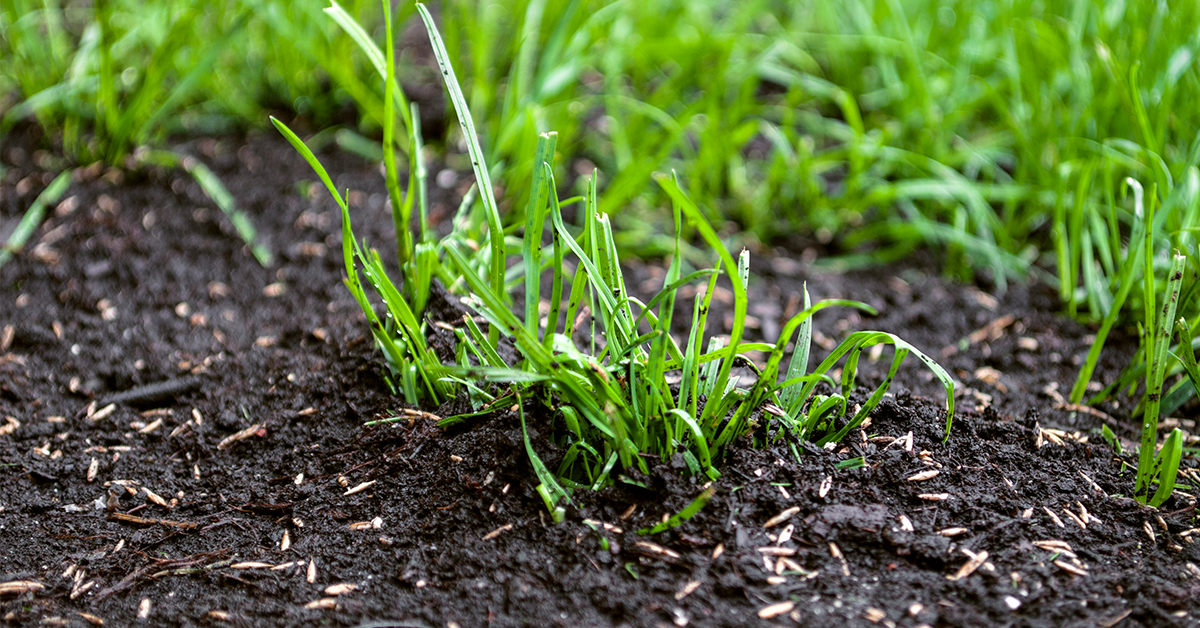 As summer fades and winter approaches, lawn maintenance and care are likely not at the top of your to-do list. But, after enduring the summer heat and providing a luscious backdrop for all your backyard activities, it's time to pay extra close attention to your yard.
The summer months are typically the most trafficked time of the year for your turf. In combination with water distribution problems, grub or insect infestations or just the scorching heat these stresses can leave your lawn looking sparse or even dead in some spots. Those dead and sparse areas may be hidden under a layer of snow before too long, but taking care of your grass and preparing for next summer are easiest to fix if you tackle them now.
Overseeding, or reseeding, is a great way to repair and rejuvenate your lawn this fall to ensure your turf returns to its brimming, beautiful state for many summers to come.
What is Overseeding?
Overseeding is just as it sounds—spreading new lawn seeds over the top of your lawn's existing turf. These seeds will settle into the dirt and fill any troubled patches with healthy, lush growth with a little extra care. It's also an excellent way to diversify your lawn's grass varieties so that it's better prepared for heat, shade and traffic.
Why It's Important to Overseed
Whether or not you overseed or reseed your lawn is entirely up to you. Still, if a spectacular yard perfect for any occasion is important to you, you might add it to your seasonal lawn care routine.
Repair Dead or Bare Patches
Consider reseeding bare patches, or overseeding the whole lawn, to repair sparse areas and restore your yard to a thick, green appearance. Be aware that some dead patches could result from a problem, such as a broken sprinkler head or poor soil conditions that should be mended before introducing new grass.
Introduce New Grass Varieties
IFA grass seed varieties have been selected and produced for heat and drought tolerance, pest resistance and performance in shady and high traffic areas. Introducing new seed varieties to your lawn by overseeding can aid in the longevity and appearance of your grass, even in undesirable conditions.
Restore Aging Lawns
Grass, like any other plant, has a lifespan. Regularly overseeding your lawn can help you rejuvenate and maintain your yard's healthy appearance by ensuring you have enough new and young grass to replace any aging turf.

How to Overseed, or Reseed, Your Lawn
Your grass's success is largely reliant on the health and conditions of your soil, making it important to ensure it is properly mended and provides the necessary nutrients to help your grass grow and perform. To improve your chances of successful seed growth, follow these steps.
1. Aerate Your Turf
Sometimes dead or sparse areas in your lawn result from compact soil that does not allow adequate water filtration. You might consider aerating your lawn before reseeding or overseeding to open the soil.
Aeration can also provide your new seeds with great areas for soil contact. Be careful to only use completely clean aerating equipment to prevent contaminating your lawn with unwanted weeds or fungus.
2. Fertilize for Stronger Roots
While fertilizer is not required for seeds to grow, adding one that is high in phosphorus can encourage stronger root growth. A garden fertilizer such as IFA 16-16-16 Grand Champion is a good option to help provide the nutrients your new seeds will need to get a healthy start.
Learn more about caring for new grass seed by reading How to Seed a Lawn From Scratch
3. Choose the Best Grass Seed
Grass is sensitive to the conditions it grows in, making it vital you choose a variety that meets not only your personal preferences but also fits your particular environment and growing conditions.
The Green Team: Bluegrass Seed Mixes

When you envision a luscious deep-green lawn there is a good chance that you are thinking of Kentucky Bluegrass. Kentucky Bluegrass is a cool-season turfgrass and the most popular lawn grass grown in the intermountain west thanks to its versatility, drought tolerance and excellent resistance to extreme cold. IFA's GreenStar 5 is another great bluegrass seed option that combines Fargo, Pivot, Wildhorse, NuBlue Plus and Everest Kentucky bluegrass varieties to provide strong disease resistance, high wear tolerance and extremely dense turf.

Hot Weather & Sunny Grass Seed Mixes

Although the Intermountain West is praised for spectacular snow, it is also home to many hot and dry desert landscapes that present special challenges to grass. For those desert environments, we offer heat and drought-tolerant seed mixes that are capable of thriving. Escalante, Liberty, Cabin Mix and Dixie Heat are all great varieties with various benefits to consider if you live in a hot and dry area.

High

Traffic Grass Seed Mixes

If you and your family enjoy playing on the lawn, hosting backyard barbecues or you have a major celebration to begin prepping for, a high traffic seed variety might be right for you. Quick Green is a fast-growing and high-traffic tolerant grass you might consider, while Chipmate is a perennial ryegrass mix with excellent traffic tolerance and disease resistance.

Grass Seed Mixes for Shade

A small patch of shade can be an oasis from the sweltering summer heat, but the limited sunlight is not ideal for most grasses. Real Shade is a great seed option for growing superior turf that will make that shady spot a little more enjoyable.
4. Spread the Seeds
There are several ways to go about spreading your new grass seeds. The most common is using a broadcast spreader, but many choose to simply spread the seeds by hand. Whichever you choose, the key is evenly spreading the seeds across the desired area.
Using an Broadcast Spreader
An overseeder ensures the seeds are evenly distributed across the lawn. Add your seed mix to the spreader at the recommended rate and then walk at an even pace overlapping your paths as you go.
Hand-Spreading Seeds
If you choose to spread the seeds by hand, you will want to do so as uniformly as possible. Take a scoop of seeds and distribute them in a half-circle in front of you as you walk. The more consistent the size of your scoop of seeds, your motions and pace are, the more uniform your seed distribution will be.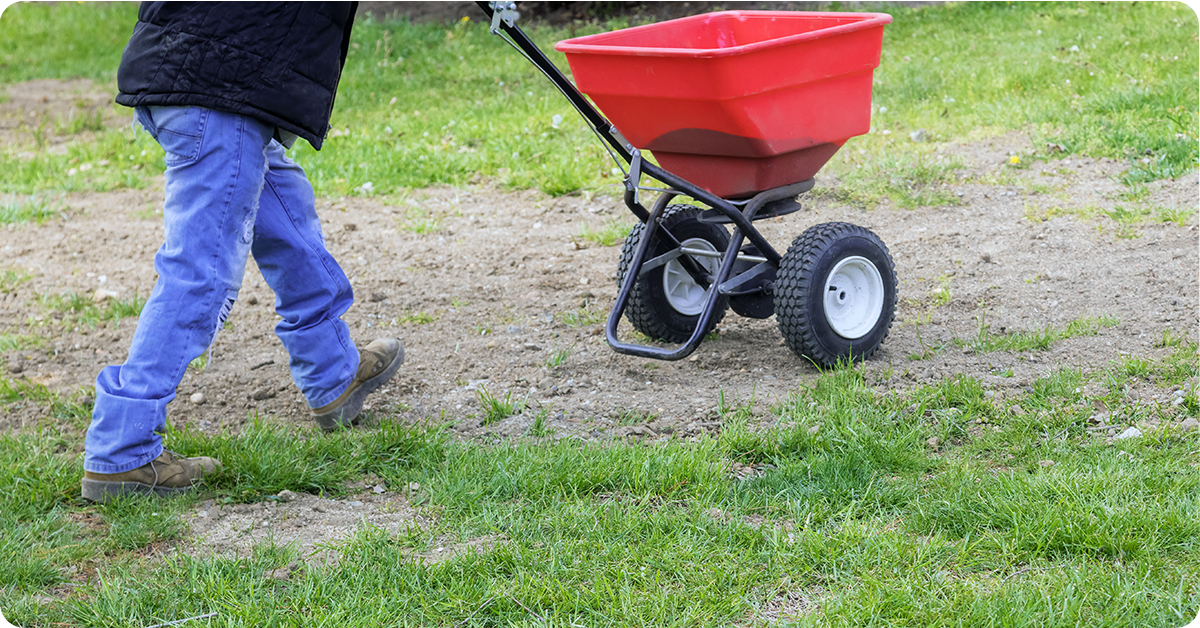 5. "Scratch" the Seeds
Once your grass seed is distributed, you will want to "scratch" the seeds into the soil using a rake or harrow. Good soil contact is vital for new grass seed to take in your lawn. The more contact the seeds have with the soil, the better their chances will be to grow.
6. Determine How Much to Water
Grass seeds require frequent irrigation and are prone to drying out, so you will want to water regularly while the seeds germinate.
Don't Stop!
The grass seed mix or variety you choose to plant will determine the amount of water your grass seeds will need as it grows. Ryegrass is a faster-growing seed that germinates in 7–10 days and should be kept moist for 15–20 days after planting. Fine fescue germinates in 14–21 days and should be kept moist for 30–40 days after planting. Bluegrass germinates in 21–30 days and should be kept moist for 40–45 days after planting.
| | | |
| --- | --- | --- |
| Type of grass seed | Average number of days for germination | Number of days to keep moist after planting |
| Bluegrass | 21–30 | 40–45 |
| Fine Fescue | 14–21 | 30–40 |
| Ryegrass | 7–10 | 15–20 |
Some seed options contain a mixture of these different varieties. Make sure you are aware of all the grass seed types you are introducing to ensure your lawn is kept moist for the right amount of time.
Insulate with Mulch
You can also help your seeds stay moist by adding a mulch or straw covering to your yard. This helps insulate and keep more water in the soil. Kellogg Garden Organics Topper is a great option specifically designed to help your lawn retain moisture while providing a starter fertilizer for your new seeds.
Oakdell Organic Compost and peat moss are also great organic options that do well at insulating your lawn along with a basic covering of straw—opt for certified weed-free straw to be extra careful.
The Best Time of Year to Overseed Your Lawn
Fall Seeding
Fall is the best time to establish new grass. The seeds generally germinate quickly during this time of year since temperatures are close to the ideal of 60–75°F. Also, the soil is better able to hold moisture once temperatures have cooled—which is also very important to new grass seed.
Soil temperatures generally lag a few weeks behind air temperatures, so you will want to hold off on planting even when daily temperatures drop. However, don't wait too long to reseed since your new grass needs time to establish roots before the winter months.
Spring Seeding
Seeds generally take longer to grow in the spring due to the rate at which the soil warms up, but new grass can be established under the right conditions. Plant new seeds when leaves are beginning to come out on the trees in your area. This typically indicates that the soil is warm enough for seeds to germinate, but they will need plenty of water to get established before the summer heat kicks in.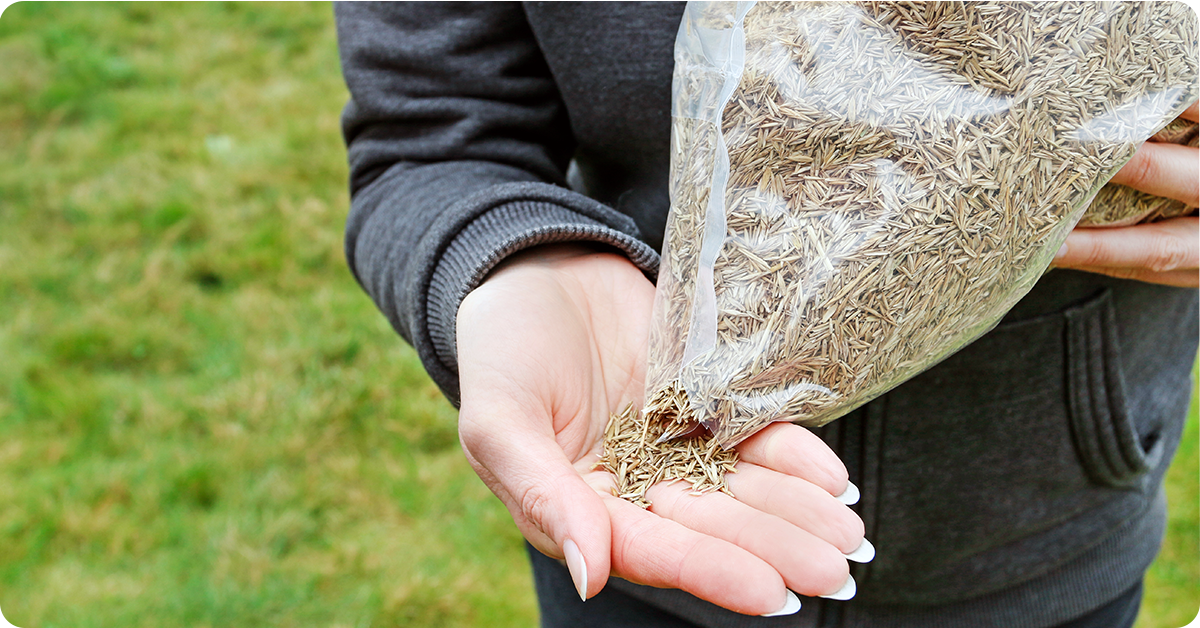 We Want to Help
Caring for your lawn entails more than just watering, but taking these extra steps ensures you are meeting your "greenest" goals for many years to come. Stop by your local IFA Country Store to pick up the tools and equipment that you may need for reseeding or overseeding your lawn this year.
Let one of our lawn experts help you find the perfect seed variety to complement your environment while meeting your specific yard goals and don't hesitate to ask questions.
See our selection of grass seed mixes chosen specifically for intermountain soils
---
Information for this article was provided by Nick Loveland, Certified Arborist; Aaron Jaussi, Branch Manager, Provo IFA Country Store; and Marvin Potter, Garden Center and Live Plants Category Manager, IFA.