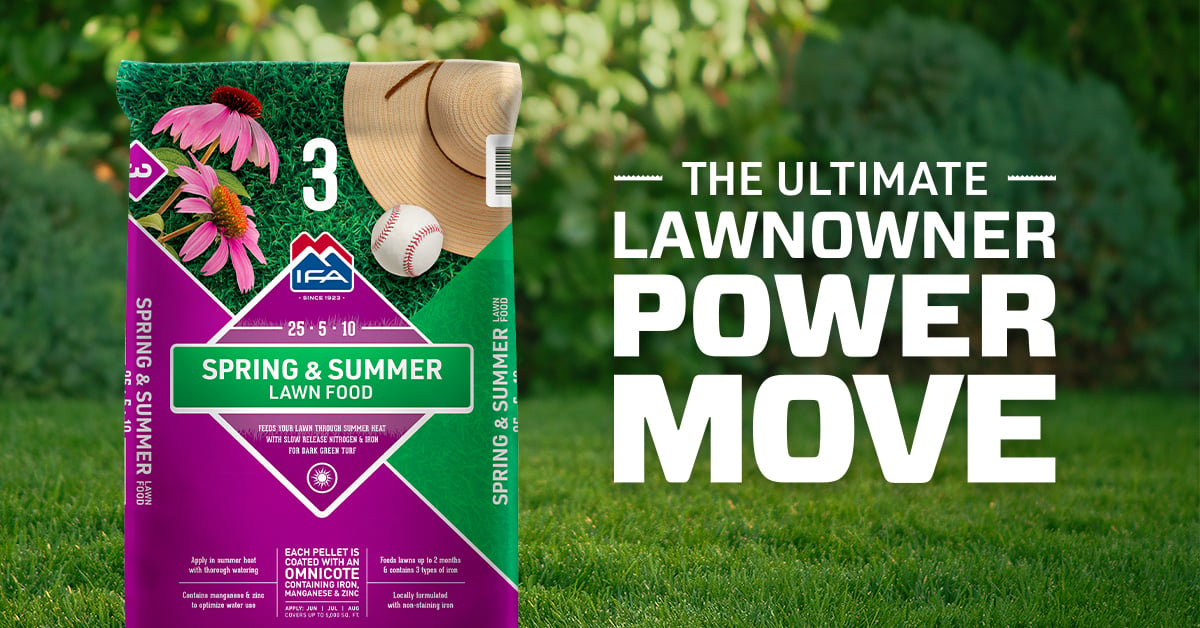 Summer is FINALLY here! Along with the wealth of outdoor activities and social events that take place in your front and back yards. Make sure your turf is up to the challenge and ready to beat the heat once these summer festivities are fully underway.
By now you should have applied step one and step two fertilizers in the IFA 4Plus Fertilizer program. If not, it's time to give your yard the jumpstart that it needs to out-green the rest when it comes time to get out and enjoy.
By applying IFA Spring & Summer Lawn Food you are providing the necessary nutrients to strengthen and protect your lawn for the hotter and oftentimes drier months to come. Specially designed in the intermountain west, our step three fertilizer offers specific advantages for the semiarid climate and soil found across much of Utah and parts of Colorado, Idaho, Nevada and New Mexico.
A Fertilizing Must To Help Your Lawn Beat the Heat
IFA Spring & Summer Lawn Food contains a special mixture of nitrogen, phosphorus, potassium and IFA's exclusive Omnicote Technology with micronutrients for a complete blend of nutrients to protect your lawn and promote performance throughout the heat of an intermountain west summer.
Slow Releasing Nitrogen
Nitrogen is a must-have for growing and greening up lawns. IFA's step-three fertilizer contains both slow and fast-releasing nitrogen to keep your lawn fed and properly nourished for up to two months from a single application.
Phosphorus and Potassium Boost
IFA's spring & summer lawn fertilizer contains a higher amount of both phosphorus and potassium than the earlier spring fertilizers to support plant performance and healthy root growth to maximize water absorption for improved drought resistance on hot, dry days.

IFA Exclusive Omnicote Technology
The specialized spring/summer micronutrient blend is specially formulated with zinc, manganese and sulfur, along with slow, medium and fast release iron to promote water efficiency and help your lawn remain green during times of summer stress.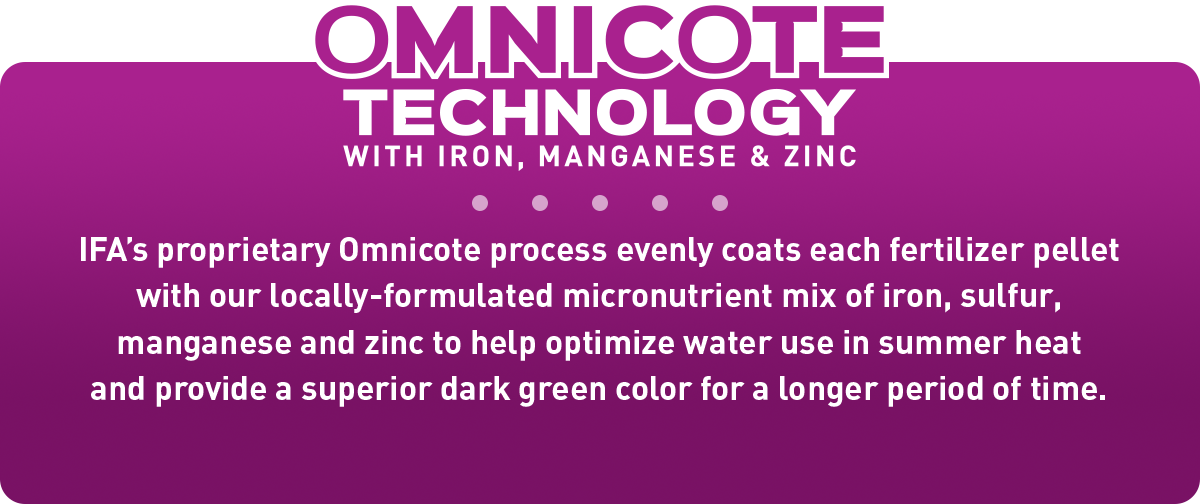 When to Apply The Third Step
Capitalize on the benefits of IFA Spring and Summer Lawn Food when temperatures are high. This lawn fertilizer can be applied anytime between June and August, just make sure to wait 4–6 weeks after your last fertilizer application.
How to Apply Spring & Summer Lawn Food

Get Ready to Fertilize
Before applying you must prepare. start by determining the square footage of your yard then divide that number by 200 to get the number of pounds of Step 3 fertilizer you will need to cover your lawn.
yard width (ft) × yard length (ft) ÷ 200 = lb of Step 3

Keep in mind a 25 lb bag will feed up to 5,000 square feet while the 50 lb bag feeds up to 10,000 square feet. It's a good idea to add 10% to make sure you don't run out during the application.
As with previous fertilizer applications, you should use a broadcast spreader for a more even fertilizer application. You can use the same spreader to apply different types of fertilizer, just remember that the recommended fertilizer applications rates may differ between products.
If you don't already have a broadcast spreader, your local IFA Country Store has several spreader options for you to choose from when you pick up your step-three lawn fertilizer.


3 Steps to Correctly Apply Fertilizer
Once you have the lawn food, spreader and other tools, it's time to start applying.
1. Set your spreader to the proper rate
Adjust your broadcast spreader to the correct setting to ensure the correct rate of application. There are many spreaders on the market, so be sure to adhere to specific guidelines for your specific make and model.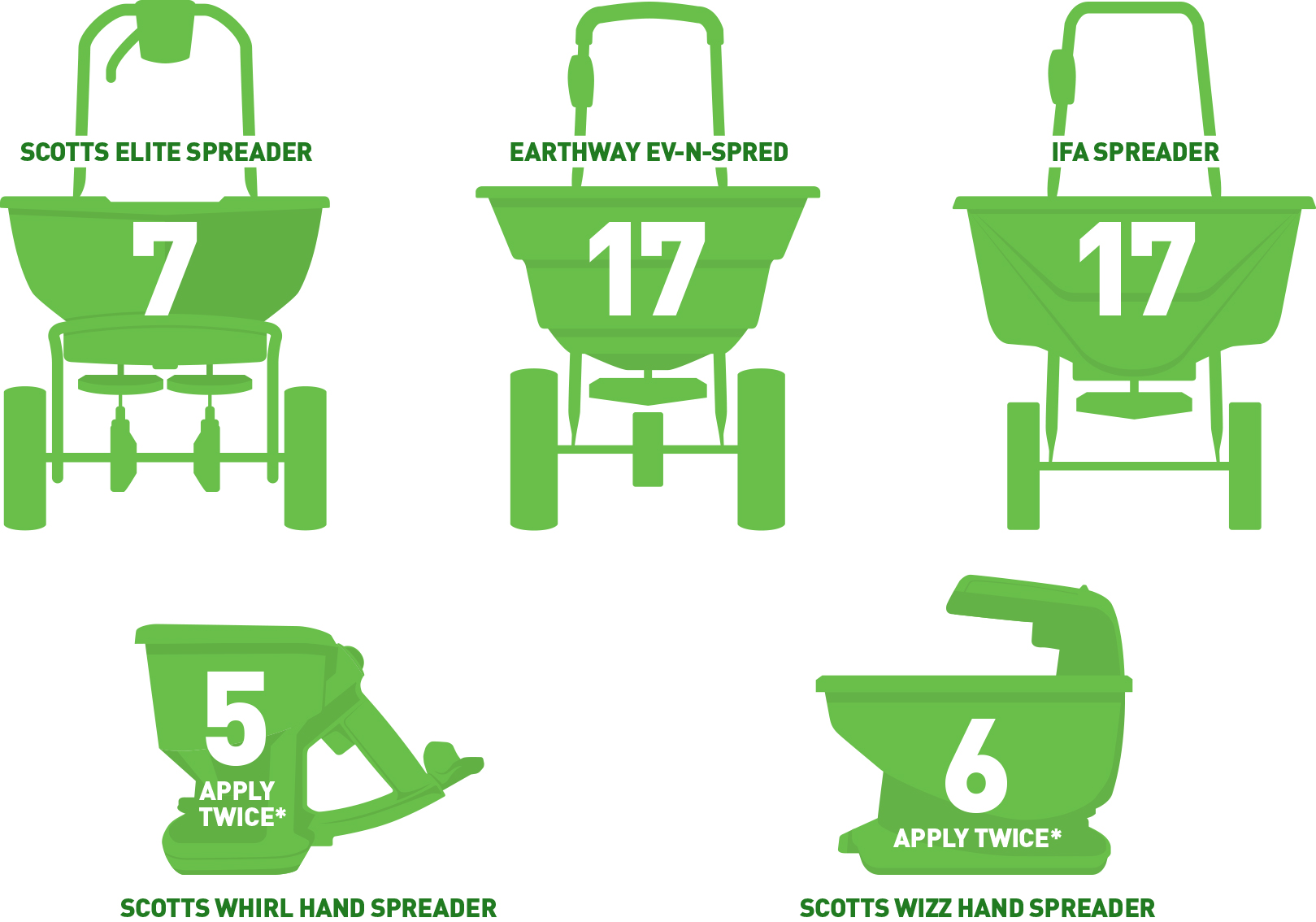 Recommended Spreader Settings
Earthway Drop: 17
Earthway Broadcast 17
IFA Broadcast: 17
Spyper Broadcast: 4.5
Chapin All Season Broadcast: 19
Scotts Elite Spreader: 7
Scotts Classic Drop: 8
Scotts EdgeGuard DLX: 8
Scotts Edgeguard Mini: 8
Scotts Speedy Green 1000/3000: 7
Scotts Speedy Green 2000: 8
2. Apply uniformly to dry (non-wet) lawn
As a general rule, open your spreader to one-fourth inch and walk normally. Keep in mind, if you walk faster, you will want to open the spreader a little more to compensate for your stride. 3-mph is a good walking pace for fertilizer application. Be sure to overlap your walking paths to achieve uniform application and to avoid lines.
3. Water the lawn thoroughly soon after application
Water the lawn thoroughly soon after applying Spring & Summer Lawn Food to ensure it is distributed into the soil. This helps the nutrients travel through the soil to be absorbed by the roots.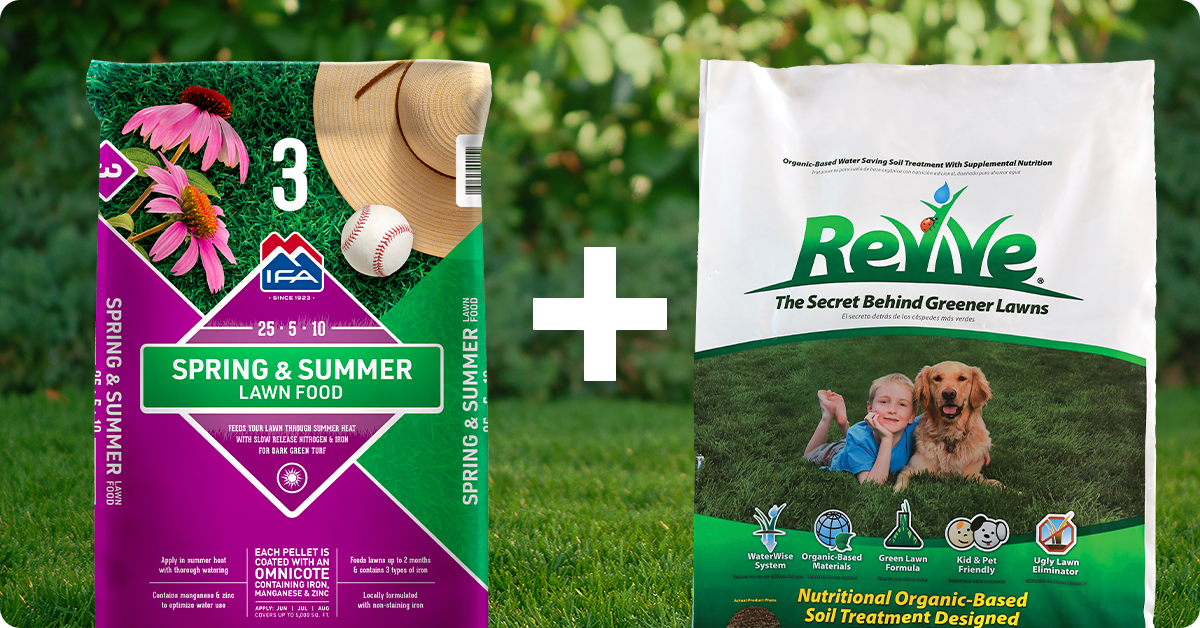 The Perfect Plus for Summertime Lawn Care
Summer heat poses high levels of stress to your lawn, especially in the dry intermountain climate. Help your turf save water, make the most of each irrigation and/or recover from heat stress by adding a liquid or granular soil wetting product to your summer lawn care program along with IFA Spring & Summer Lawn Food.
Applying Revive or Aqua-Drive to your yard can help your grass make the most of each watering and promote a longer, stronger green through the heat of the summer.
Both Revive and Aqua-Drive are soil treatment products that make it easier for water to move through the soil. This is especially helpful for dense, compacted soil or lawns with heavy thatch since these products increase nutrient accessibility and absorption, as well as help your lawn retain moisture, especially during the dry summer months.
Revive
Revive products are organic-based soil treatments available in liquid and granular forms. Using Revive helps your grass conserve moisture in the summer months by allowing your lawn to store more water between irrigations, reduce runoff and loosen up compacted soil.
Your entire yard can benefit from the advantages of Revive, but they are especially great for treating problem areas such as brown spots and puddles. Revive's mixture of soil-wetting agents, natural organic lignosulfonates and iron work to improve soil health and restore nutrient access and absorption to the grass in these troubled areas.

Aqua-Drive
Aqua-Drive is a liquid soil wetting treatment that is easily applied to the surface of the soil to promote efficient water utilization and conservation in your lawn during the dry summer months.
Aqua-Drive promotes soil wetting, reduces toxic build-up, increases filtration and encourages diverse soil microbe growth and development. All of which help your lawn conserve water and remain green in the heat of the summer.


Do You Have Brown Spots That Just Won't Go Away?
When water, fertilizer and a helpful dose of Revive or Aqua-Drive fail to green up a troublesome brown spot, the culprit is not likely a lack of water or nutrient availability but grub worms.
Grub worms are a lawn owner's nightmare. June beetles and, more commonly in the intermountain west, billbugs lay their eggs in growing lawns. As these eggs hatch the developing larvae, otherwise known as grub worms, feed on and destroy the root system of the grass. This not only kills your healthy turf but also leaves unsightly brown spots.
Treating Grub Worms
If you find yourself plagued by these crawling critters, quickly eliminate them using Bayer 24-Hour Grub Control. The fast-acting solution quickly eliminates grubs, along with several other harmful pests so you can minimize the damage.
Preventing Grub Worms
The best way to protect your yard from grub worm harm is to prevent them altogether by adding Bonide Insect and Grub Control to your springtime lawn care routine. This systemic insecticide effectively manages grub worms by working with your lawn to kill larvae as they begin to feed.
As a preventative, Bonide Insect and Grub Control should be applied in May or June to be present and active when the larvae begin to hatch and feed in early July across most of the region. In warmer areas of southern Utah, the preventative should be used earlier as the larvae are prone to hatch sooner.
Let Us Help
The health and beauty of your lawn is just as important to us as it is to you. Just grab any IFA team member the next time you're walking down the fertilizer aisle at your local IFA Country Store and we'll be happy to help in any way we can.
---
Information for this article was provided by Ken Holt, Lawn & Garden Category Manager, IFA Country Store.