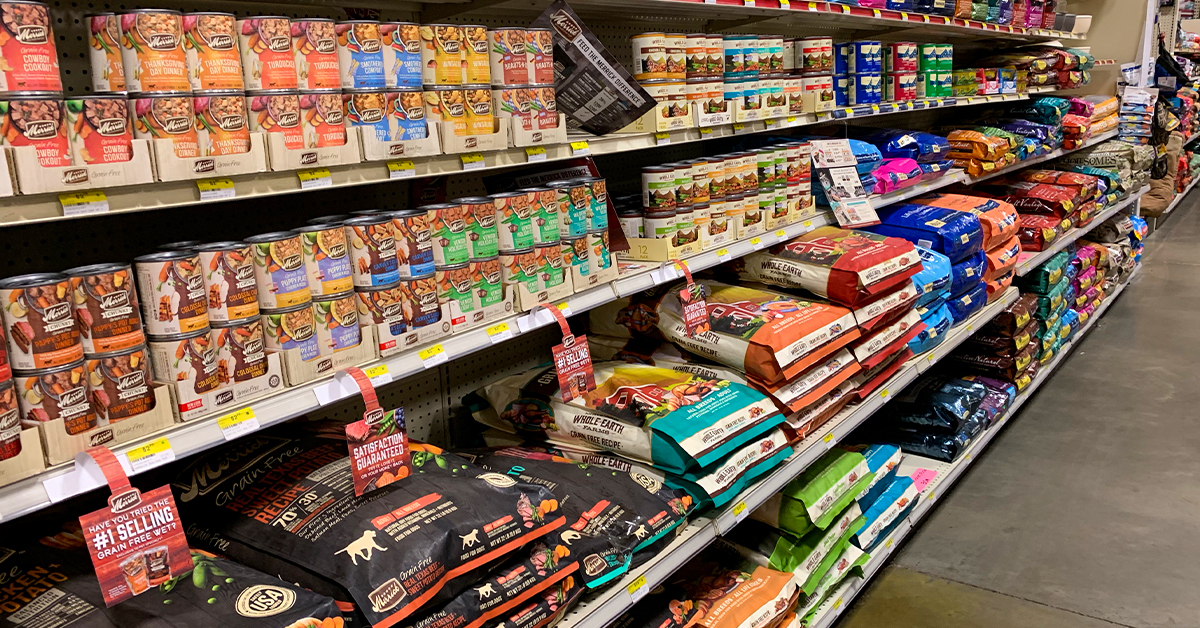 Let's face it, choosing a pet food is no easy task. Do you choose meat or fish? Grain or no-grain? Budget or boutique? Whole meat or meat meal? Here's something you may not know: It's more important to consider the weight (by percentage) of ingredients, over the individual ingredients themselves.
Pet food labels provide the best details: ingredients, recommended daily feeding amounts and the percentage analysis of protein, fat and fiber. Nutrient density needs to line up with your pet's needs by age, weight and activity level.
Check out a few expert tips to help you choose the right fit for your furry friend.
Why Read Pet Food Labels?
Nutrition and cost rank high on reasons to read pet food labels. In the same way we like to know what is going into our bodies, it is our responsibility as a pet owner to make sure we know what our pets are eating. Knowing what is on your pet food label also helps to determine what will be the best fit for your pet's needs and activity levels, which will lead to a happy and healthy furry friend.
Only reading an ingredient panel will not give you enough information on the pet food. With prices increasing on raw ingredients, finding a good pet food that you can budget for, is even more important. Paying close attention to the packaging as a whole, and utilizing the internet, you can learn alot about the company and the products you are feeding to your pets.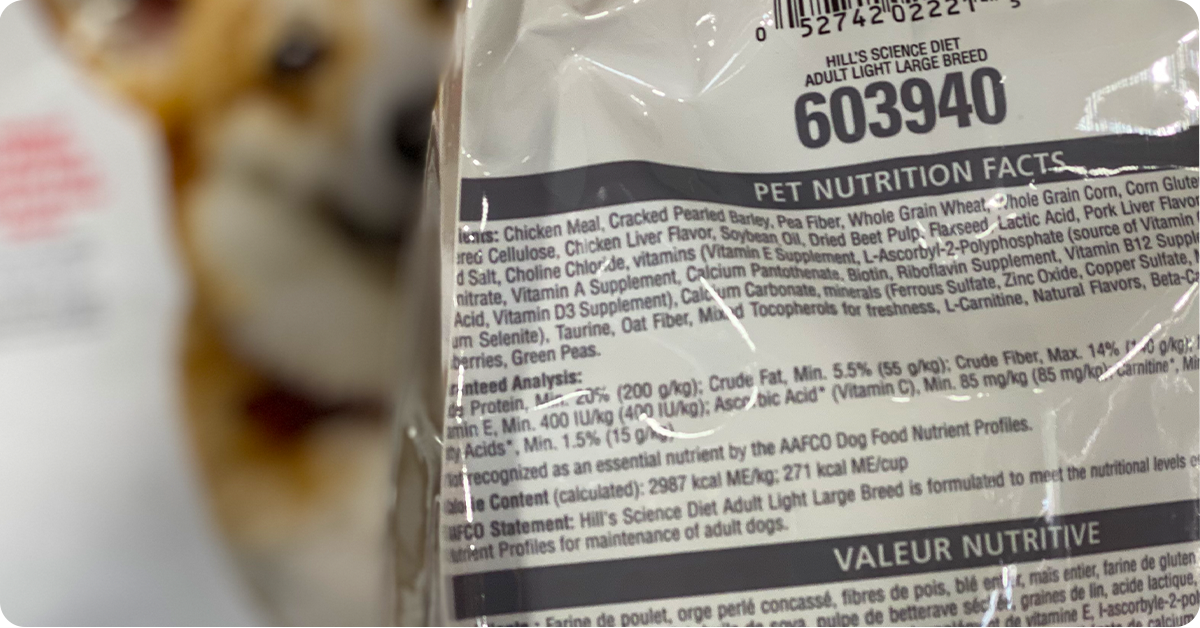 Elements of a Pet Food Label
Nutrient density is key when it comes to reading a pet food label. The label lists: (1) how much protein and fat are present and (2) how many kcals or how much energy is in each cup of food. This determines how many cups per day your dog or cat should get based on their caloric needs, i.e. puppy or senior, high activity or weight loss.
The Association of American Feed Control Officials (AAFCO) requires labels to list the minimum amount of protein and fat, plus the maximum amounts of fiber and moisture. Look for the AAFCO statement at the label's bottom.
1. Guaranteed Analysis: Protein, Fat and Fiber
A great place to start when comparing pet food labels is the Guaranteed Analysis. This will give you the percent breakdown on protein, fat, fiber and other important ingredients such as vitamins and minerals. These are important elements to consider when choosing the right percentages to match your pet's activity levels, health challenges and your vet's recommendations.
2. Ingredient List: Beef, Chicken or Fish
Next, you'll find the Ingredient List. Ingredients are listed in descending order by weight. The higher an ingredient is on the list, the more present it is in the product. However, ingredients like beef, chicken or fish can contain water weight, meaning items farther down the list may actually provide more protein, but weigh less than items at the top of the list. When "whole chicken" is listed, for example, it means water weight is included. But where does it fall in the ingredient list once it's been dehydrated and processed for the food?
Learn more about the best dog food ingredients for your canine
The best cat and dog food ingredients list meat — as a "whole meat" or "meat meal" — first. Avoid brands that rely heavily on by-products. Also, stay away from brands that are high in corn, wheat or soy instead of more nutrient-dense grain options.

3. Recommended Daily Feeding Amounts
First and foremost, always check the Recommended Daily Feeding Amounts. Not only is this a feeding guide based on your pet's size, it also gives you a good idea of the portion's nutrient density in the form of calculated kcal content per cup of food.
Choose food that provides the maximum amount of nutrition and decrease the amount of waste that eventually ends up on your lawn.
How to Choose a Brand? Here's What Pet Food Labels Don't Tell You
It's important to note that ingredient labels only give you a snapshot of quality. Do your research by looking up the company, the brand and the product you're considering. Strongly consider foods that have been formulated by animal nutritionists such as IFA Farm and Ranch pet foods.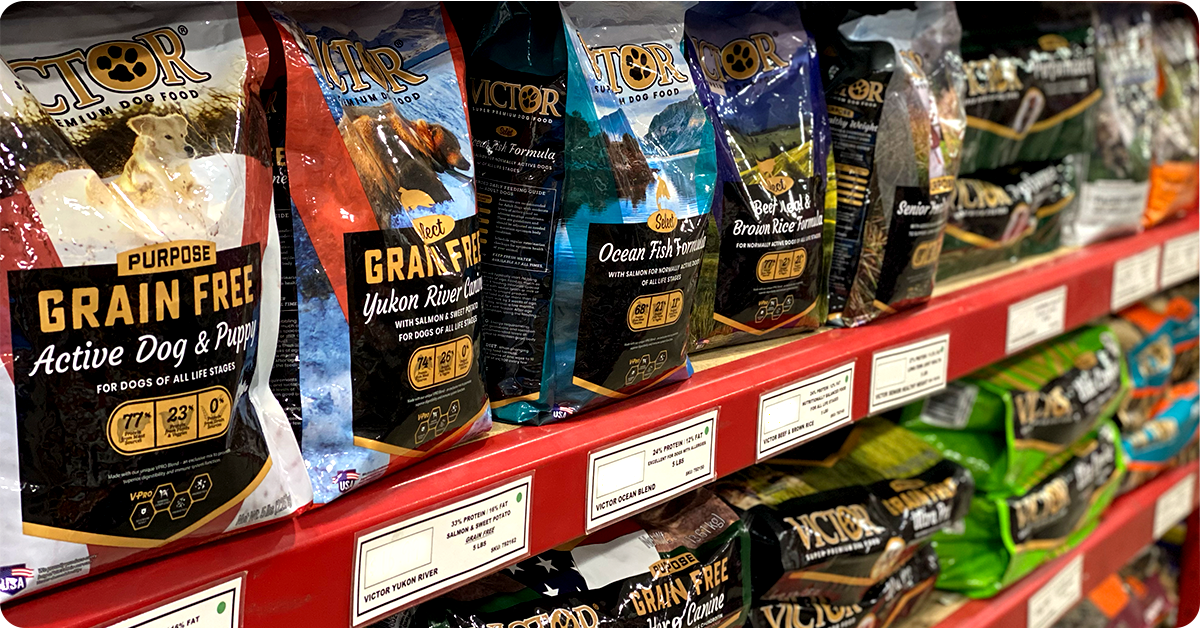 Choose the right food for your dog based on age, size and activity level
Be aware of marketing ploys and legal definitions. Companies often use language that meet regulatory requirements but aren't exactly accurate. For example, "holistic" is not a term that's currently legally defined by the FDA, but "natural" and "organic" have specific requirements for legal use.
For additional assistance when selecting pet food, treats, health care products and supplies, swing by your local IFA Country Store. Our pet experts are always happy to help.
---
Information provided by Maddie Stephens, Ogden IFA Country Store; and Martha Page, Pet Food & Supply Category Manager.