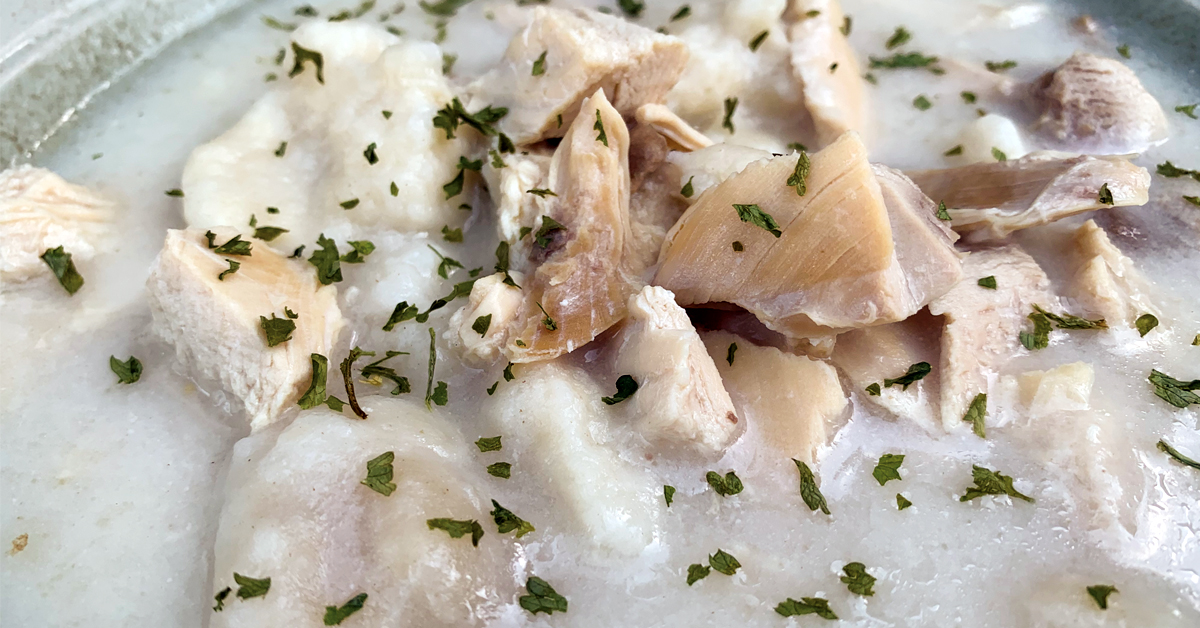 Life in a small town was certainly an adjustment for Kim and her family, but it was not entirely new to any of them. "My mom grew up in Idaho on a ranch, so I was familiar with the lifestyle but was a little nervous about moving from a city with millions of people to a small town," says Kim. Her Idaho ranching grandparents, Charlie and Pauline Buehler, had a favorite family recipe: "Chicken 'n Dumplings," which was a work incentive for the hired hands–among other things.
"Each year when the hired men would come to the Malad/Daniels, Idaho, area to work," Kim says. "They were all told that being hired by Charlie Buehler was the best way to go because his wife, Pauline, was an amazing cook. (Or was it because he had four teenage daughters? One will never know!)"
Ingredients:
1 chicken
1 cup milk
2 rounded Tbsp. flour
1 can cream of mushroom soup
Bisquick dumplings
Directions:
Boil chicken for 1 hour with just enough water to cover it. Once cooked, remove the chicken, let it cool, and then dice the meat.
After removing the chicken, add milk and flour to the chicken water and whisk to remove lumps. Let it cook while you dice the chicken.
Add cream of mushroom soup and the diced chicken.
Make Bisquick dumplings (follow the recipe on top of the Bisquick box) and spoon on top of the chicken pieces.
Cook for 8 minutes or until the dumplings are cooked through.
Small Town Transitions
Behind every successful rancher is the backbone of the whole operation: the ranch wife–who usually works in town! Kimberly Cannon, wife of John Cannon and co-owner of Cannon Angus Ranch, didn't know she'd one day claim the title of "ranch wife," but 400 acres and 235 cows later, she's still supporting her husband's dream. Los Angeles–born and raised, Kim says she's a "city girl," but that didn't stop her from trading in her L.A. life for a quiet country scene.
"John always wanted to have a ranch," says Kim. So it was not a "complete shock" when one day that dream became a reality, and Kim, her husband, and their three kids dove head first into small-town life.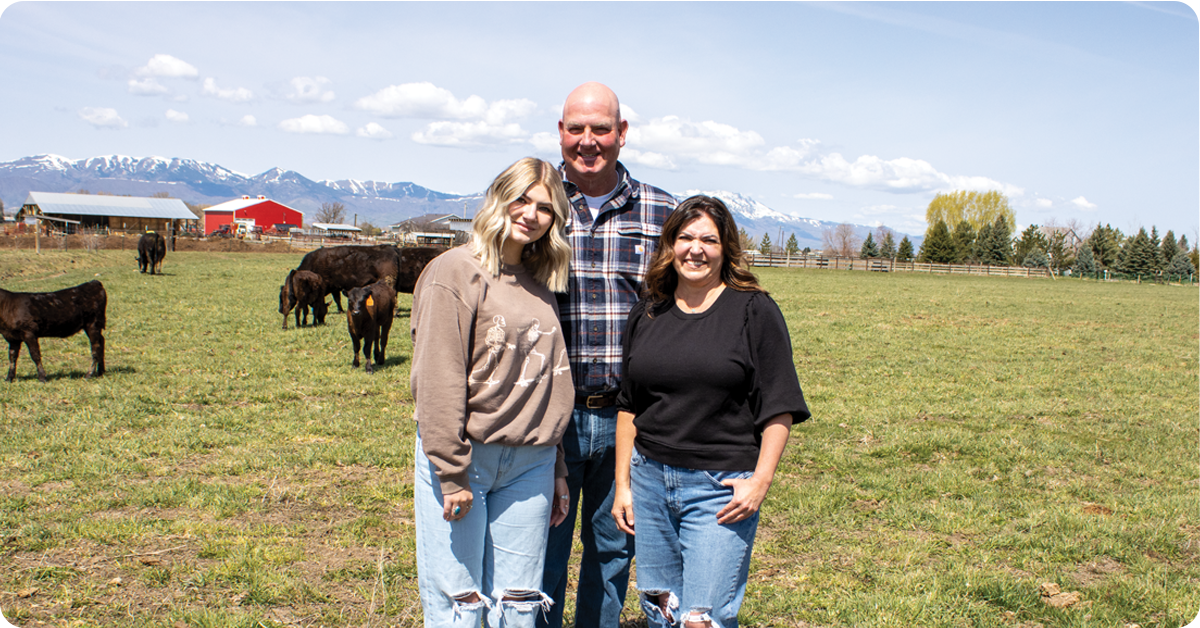 With a new town came many new adjustments (winter being the biggest, according to Kim) but also new opportunities. For Kim, those opportunities included starting and operating not one but two successful businesses.
Both Kim and John's families were originally from Idaho, so visiting the area was commonplace long before moving to the ranch. Kim remembers going to the small main street of Preston on those many trips and seeing quaint gift shops, most of which have since shut down.
"We were adjusting to farm life, and I just decided one day to open a gift store in our town of Preston," says Kim, recognizing a unique opportunity.
"Olive and Jo," named after Kim's two daughters, is a small-town gift shop offering souvenirs and heartfelt gifts, but Kim didn't stop there. A few years later, she experimented with a new enterprise that resulted in Pipermoonxo, a line of blankets that Kim distributes and sells in her shop.
Adjusting to small-town life can have its ups and downs, but Kim stays busy. "I'm kind of helping on the farm and running my two businesses, and taking care of my kids," she says.

---
Recipe courtesy of Kimberly Cannon, granddaughter of Charlie and Pauline Buehler, and originally published in the IFA Cooperator magazine (vol. 88, no. 3) Fall 2022.