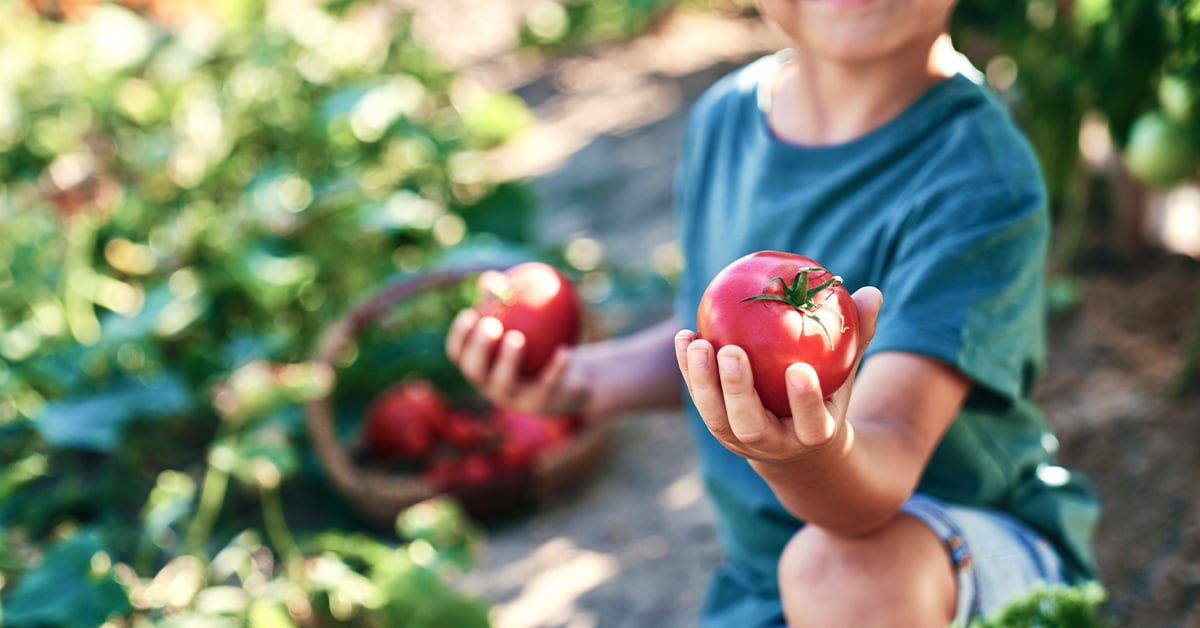 Come on a growing journey with me as I rediscover my love of gardening. I'll be sharing tips, tricks and ideas from IFA gardening enthusiasts and experts with you as I build a kid-friendly garden for my own toddler.
by Emily Newhouse
This past summer, after my mother-in-law passed away suddenly, I spent a day in my father-in-law's garden picking green and wax beans, then two more days prepping & preserving them. With all the turmoil, grief and shock of unexpectedly losing his wife of 59 years, my father-in-law was anxious about his bean harvest because it was a simple thing he could manage when everything else felt out-of-control.
Picking and freezing beans was a small act, but it was something real I could do to show my love and support. A skill I've learned from my own mother. After I'd bagged up the last of the frozen beans, my father-in-law seemed visibly relieved to know there was an ample supply of fresh-frozen beans in the chest freezer for him to share with his fellow parishioners throughout the long Midwest winter.
This unexpected event helped me realize the gardening skills my mother passed down to me are a gift I can share. And while sometimes we don't understand nature and its plan, it certainly connects us, and became the inspiration to pass down the love of growing and preserving to my own child.
Picking the Right Plants
You've picked which kind of garden to build with your kids, found the perfect sunny location and prepped or bought all your soil and amendments. Now it's time to choose which plants to grow.
Your kids might have tons of ideas about what they want to plant, or they may need guidance in deciding. The best thing you can do at this stage is to help them pick plants that they are excited to grow. Aim to help them find plants that mature at different times in the growing season to ensure there is always something new and exciting happening in their little garden.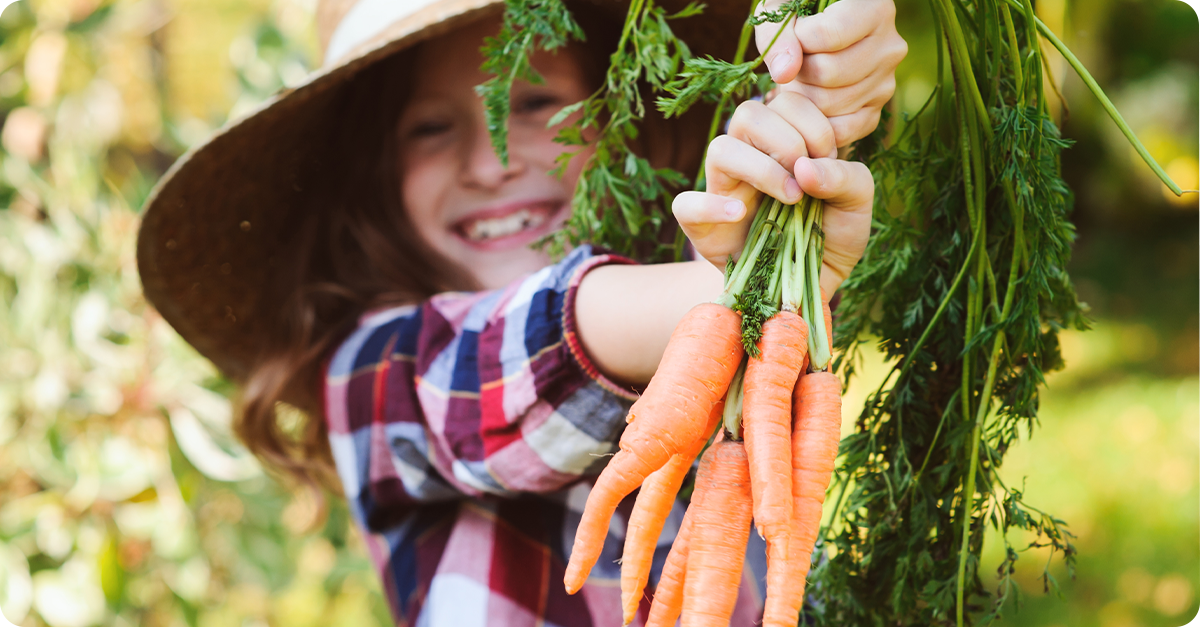 Kid-Friendly Veggies & Fruit
Snow peas or snap peas
Snow peas or snap peas are early growers and a great choice for kid gardens. You need to plant these guys early, so they reach maturity before the summer heat really kicks in. In most regions of the intermountain west, February or March usually have ideal conditions for planting peas.
Additionally, these plants love to grow up a support. Simply plant them around a teepee or trellis and in 60–70 days your little ones will be picking and munching away. In some climates, pea plants tend to stop producing if the temperatures rise, so you might decide to plant something else in their place for summer. Not only does this help you maximize growing potential in a small space, but it will also help keep your kids interested in the garden.
Cherry tomatoes
Another popular edible plant for kid gardens is cherry tomatoes. These pint-sized veggies grow quickly, ripen early, and many types keep producing till the end of the growing season.
Three cherry tomato varieties that kids especially love—Sungold, Sweet 100, and Sun Sugar—are all indeterminate so a single plant can produce hundreds of tomatoes throughout the summer. Make sure these plants have tall, sturdy cages for support. They start off small but grow quickly, so purchase cages at the same time as the plants.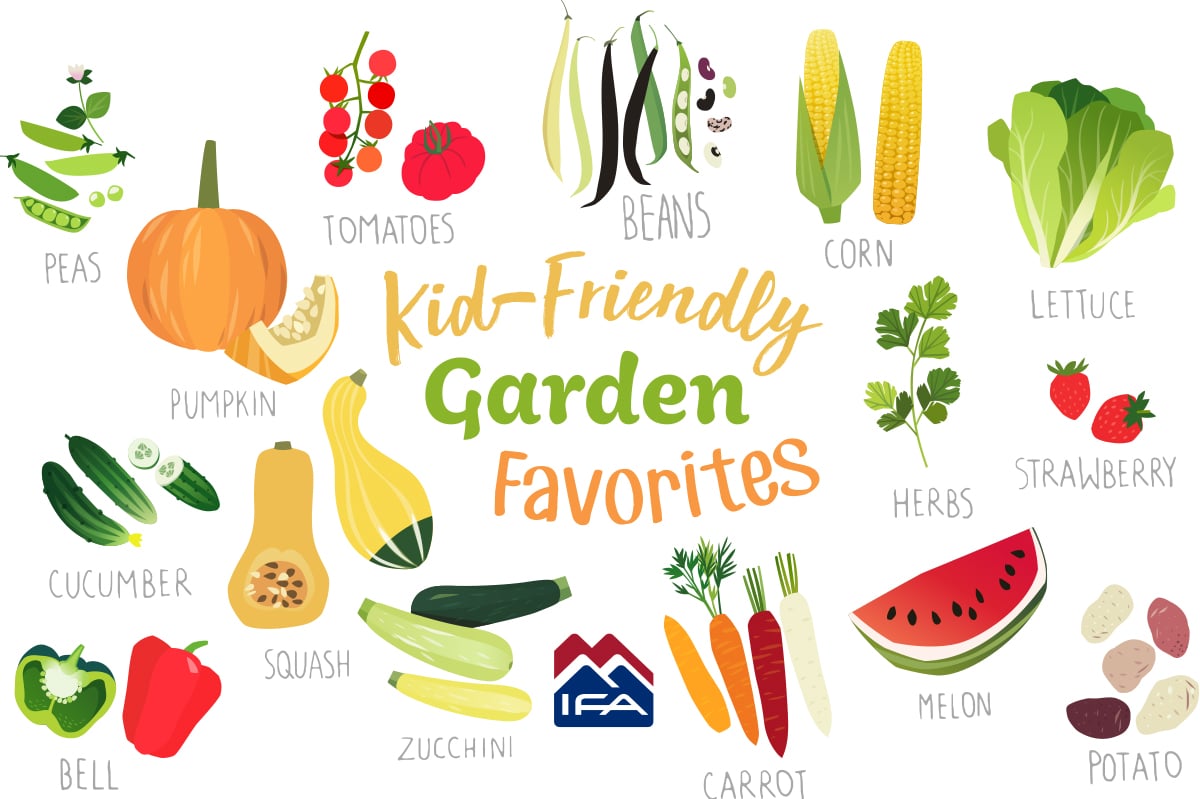 Pumpkins
Pumpkins are a great fall-harvest plant, but they can be notorious for taking over a lot of space. Fortunately, a quick solution to this problem is to grow your pumpkins (or squash, or zucchini) on a trellis. Not only will this let you grow pumpkins in a much smaller patch, it is also exciting for kids to see their pumpkins dangling from the vines as they grow.
Jack-Be-Little pumpkins are ideal for trellising, but regular-sized pumpkins also grow well. Make sure to use a sturdy, well anchored trellis and consider adding hanging nets around any pumpkins that grow larger than a few pounds to help take some of the weight load off the stem and vine.
Try something new
Beans, carrots, lettuce, watermelons, strawberries, corn, and potatoes are a few other kid-friendly growing suggestions. But the sky is literally the limit when it comes to what you decide to plant.
Order a few seed catalogs and help your kids cut out the plants they want to grow, create a vision board to help them get excited, and get their input in mapping out a planting plan. Pinterest is a great resource for creating a digital gardening board, check out IFA's Gardening Fun with Kids Pinterest board for fun activities, easy projects and tips on gardening with your littles.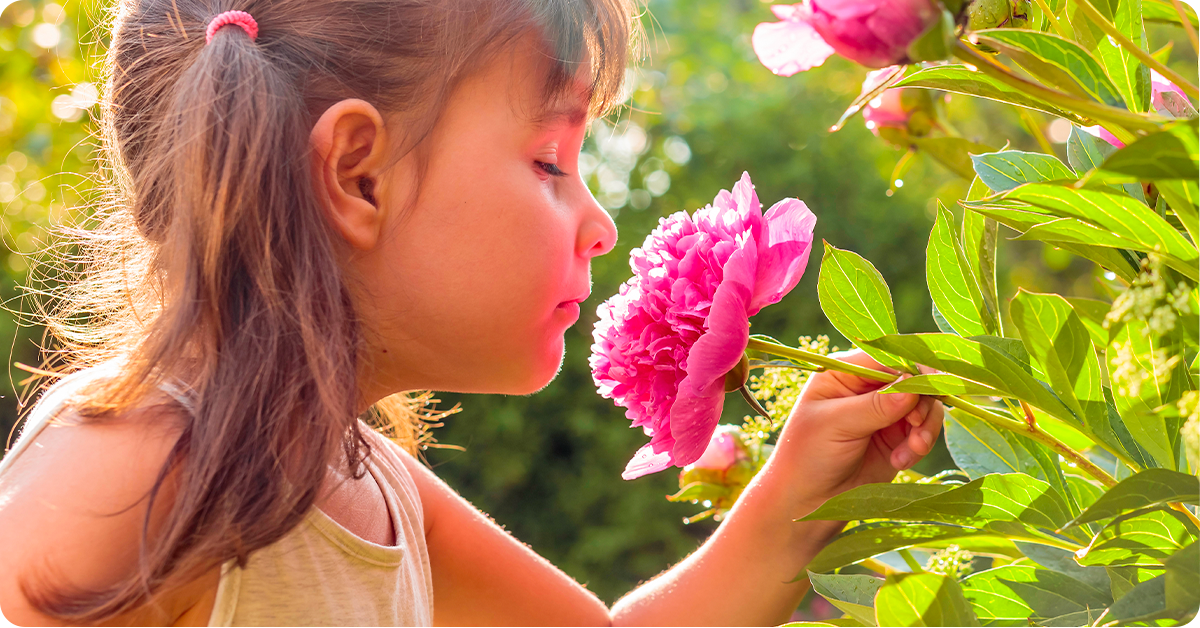 Flowers That Add More Than Color

Nasturtiums
As your peas are ending their production time, nasturtiums are just about ready to bloom. These cheerful flowers start blooming in May and come in a range of vivid colors with bright greenery. They boast edible flowers and leaves, require minimal care and can be used to lure aphids away from more sensitive plants in your garden.
Even today, mom's garden is home to a vibrant, voracious patch of nasturtiums I planted 25 years ago, the first time I was given a patch in the garden to plan and design myself.
Marigolds and zinnias
Marigolds and zinnias are two other low-maintenance flowers that are a fun and beneficial addition to any garden. Marigolds are available in a range of oranges, yellows and reds, and are known to help protect tomato plants from harmful nematodes. Their flowers are edible (but not all varieties are equally tasty) so they're safe for kids to plant and play with. When it comes to attracting good bugs, Zinnias are favored by butterflies and hummingbirds for their abundant nectar and explosive colors. Both flower types bloom from late spring through the first fall frost and require little care to thrive.
Sunflowers
Sunflowers are a happy addition to any garden that add height and excitement for children. They come in a wide range of sizes and colors, and you can roast the seeds or leave them for birds to eat once the flowers are done blooming.


Herbs for Budding Chefs
For families with littles who love to cook, don't forget to add some herbs! Herbs add wonderful scents to any garden and are a perfect addition to fresh salads and light summer food favorites.
Many people don't realize that most common herbs prefer very different growing conditions, so it is useful to make sure you put herbs around plants with similar soil, light and water requirements for the best results.
Rosemary, thyme, oregano and lavender are all relatively drought-hardy and grow well in the intermountain west. Moisture-loving herbs such as basil, cilantro or parsley do well when planted together, just make sure they get the extra water they need to thrive. If you decide to grow mint for virgin mojitos, plant it in a container since mint will absolutely invade into other plants' garden space if given a chance.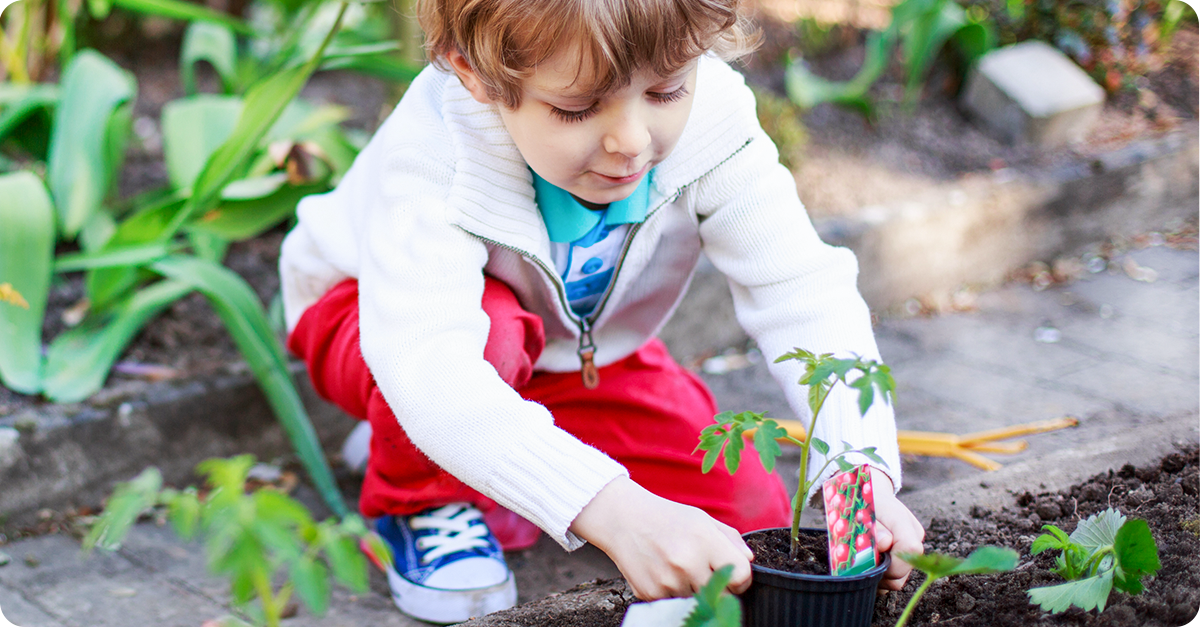 Grow the (little) people you love
Spring is underway in Utah and prime pea-planting weather is finally here. I'm headed outside with our toddler to start planting. Right now she loves digging and playing in the rich, dark soil of our raised beds, and trying to eat our pea seeds. And I love watching her enthusiasm grow.
Hopefully the more she learns to connect with nature, the more inclined she will be to help preserve it when she grows up. And eventually pass along her own gardening memories and skills to future little ones.
---
Information for this article was provided by Marvin Potter, Live Plant Category Manager; Brenda Christopherson, Garden Center Manager, Ogden IFA Country Store.