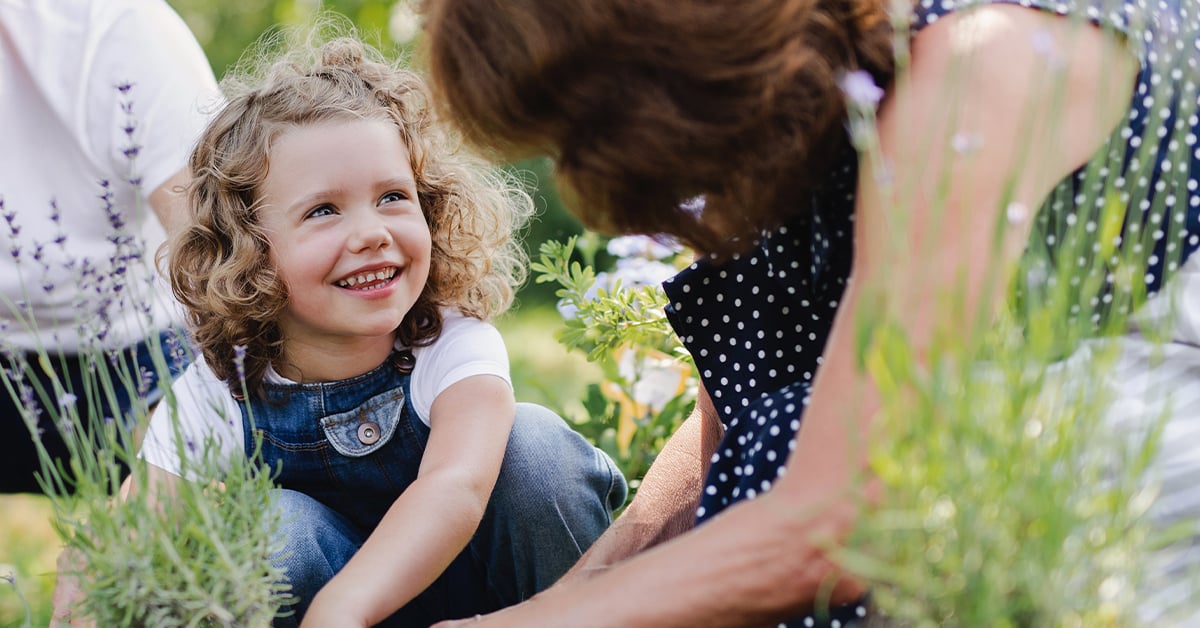 Come on a growing journey with me as I rediscover my love of gardening. I'll be sharing tips, tricks, and ideas from IFA gardening enthusiasts and experts with you as I build a kid-friendly garden for my own toddler.
by Emily Newhouse
25 years ago, my mother gave me a patch of her garden to call my own—planting, growing and harvesting snow peas and other assorted vegetables, flowers and herbs that I got to choose myself after sifting through her annual seed catalogs. To this day, the nasturtiums I planted in my little patch still bloom every summer, along with the memories of days spent together in the garden. It was precious time with my mom, learning skills that have lasted a lifetime, along with a sense of accomplishment.
My parents always supported and encouraged curiosity, and gardening was no different. In the garden with mom, and in my own little patch, I could try anything, grow anything. I still remember being awed at the first peek of a seedling bursting through the soil, watching small yellow flowers turn into ruby red tomatoes, and how cool it was to grow my own jack-o-lantern every Halloween.
Now it's my turn to support and encourage my own daughter's curiosity—and boy does she have a lot!
Let Your Kids Help With Every Step
This is the single most important part of creating a garden for your kids. Gardening together is something you should all enjoy and look forward to, and there are plenty of ways to make that easy.
Having your littles help with each stage of building their garden—whether it is choosing the location or containers, picking out what they want to grow, planting and/or potting, watering, weeding, harvesting—will help them get excited and stay interested all summer long.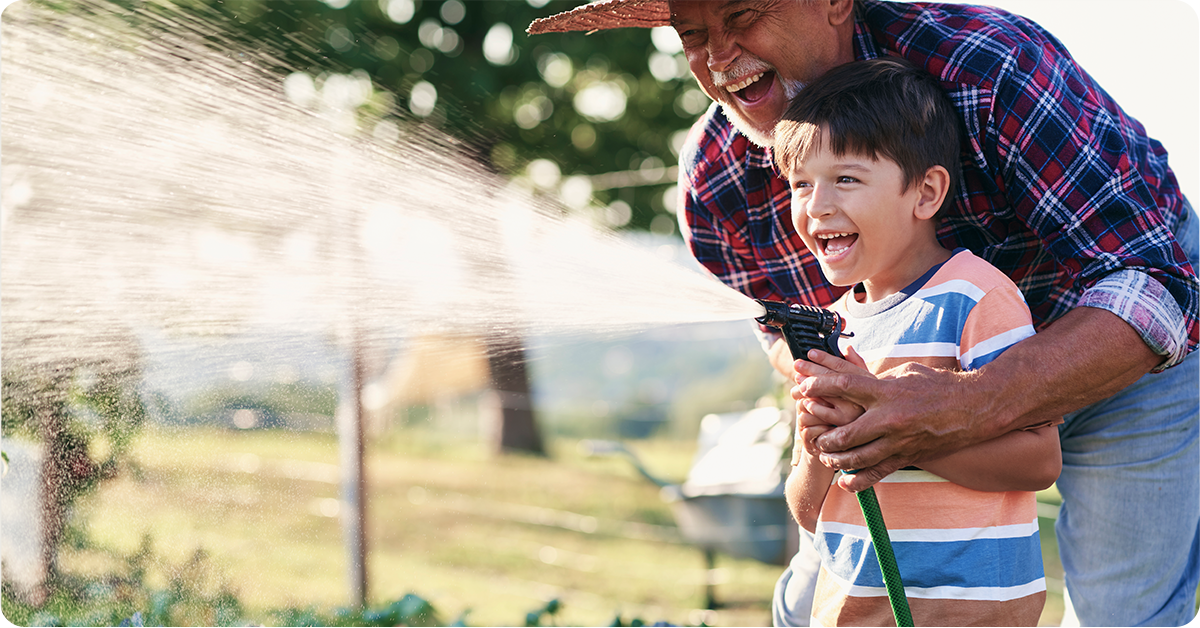 Starting From Seed
If time allows, you can start their garden even when there is still snow on the ground. Starting seeds indoors gives you a wider range of varieties to choose from and will also help you save money, in addition to being a fun project for your kids.
An online seed catalog will help you determine how soon you can start different varieties of plants and learn what you should prepare to get started. You can start your seeds in peat pellets, peat pots, egg cartons, or even old food storage containers, just be sure to poke holes in the sides near the bottom of the container for drainage. Keep in mind that depending on what seeds you are starting since you may need to transplant them into a larger container before they make their way into the garden.


Make a Plan
Once the plants do make it to the garden, create a daily schedule of 'Garden Time' together. The routine will not only give you quality time to spend with each other but will also help alleviate boredom or abandonment of the project which could lead to neglected plants.
Since many plants grow quite quickly once in the garden, each day will be an exciting journey to the backyard to see the progress.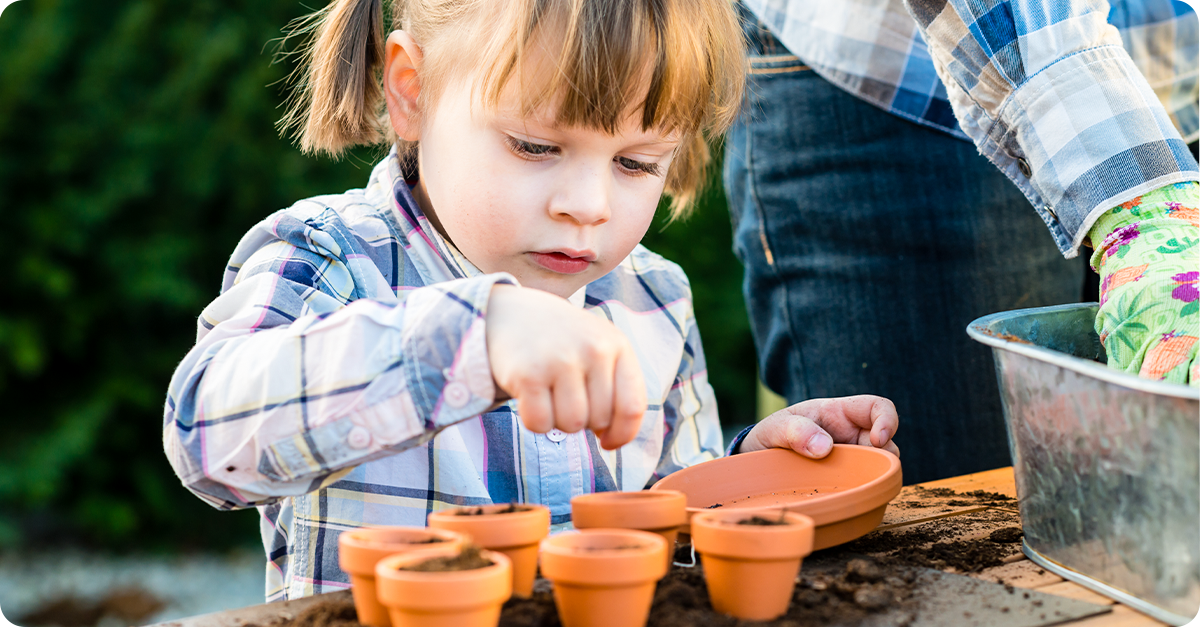 Get Crafty
Break out the paint and glitter to create fun and fancy labels for your seed pots. Kids love to help make labels for plants out of popsicle sticks and labeling your seeds right away is essential to ensure you know what to put where when it is time to move the seedlings to the garden. And once you do move the plants to their permanent home, put the labeled popsicle sticks at the head of their rows so they can learn to identify them.
When the seeds begin to sprout, your littles will love watching them emerge through the soil. Some good plants to start indoor as seeds are beans, peas, pumpkins, lettuce, zinnias, and sunflowers.
Tools, Tables & Tea Parties
When it comes time to plant your kid's garden, it is fun for them to have their own garden tools that are small enough for little hands to easily use. Kid-sized gardening gloves will help minimize the time spent scrubbing little fingernails after each gardening session. Kiddos love watering their plants if they have a small watering can they are able to use without spilling on themselves. And don't forget a child-sized basket when it comes to harvesting their veggies, herbs, and flowers.
A few final touches will help make your little's garden complete. Add a kids' outdoor table and chairs so they have a comfy place to enjoy their freshly picked veggies and fruits, rest after some weeding, or play with friends. A little tea party round the thyme, anyone?
Include a colorful birdhouse or insect hotel to make birds and bugs feel welcome. These critter friends will not only be a source of excitement, but they also provide natural pest control to keep your fruit and vegetable plants healthy.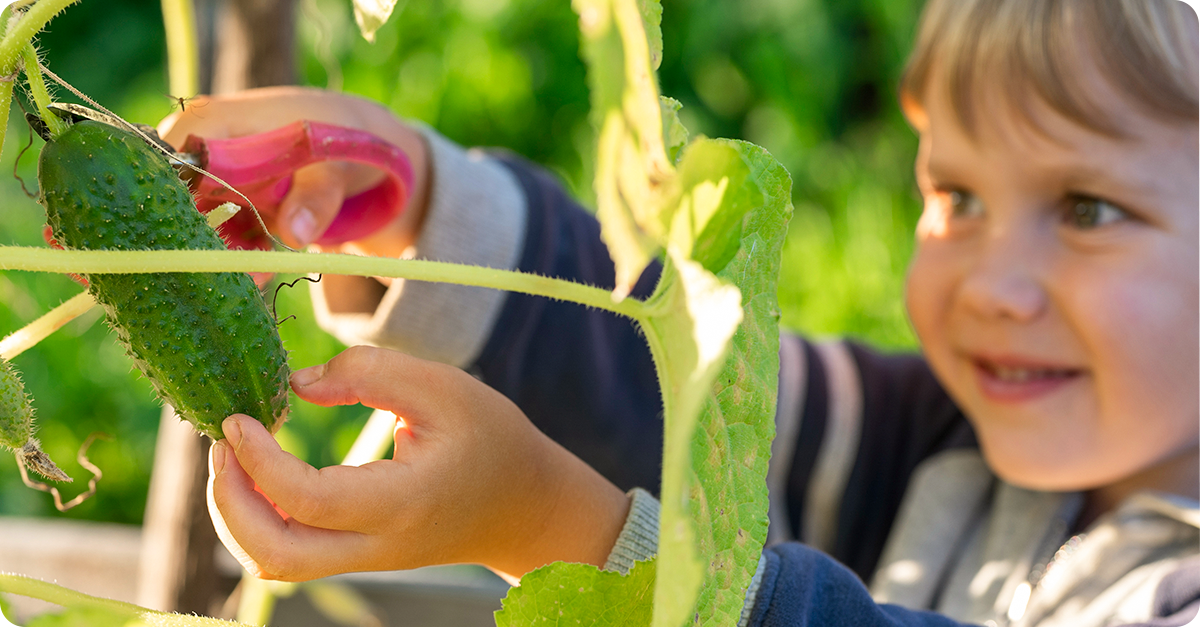 Reaping the Rewards
The most fun is the harvest! When a child sees what they planted, grew, and nurtured themselves, there is a sense of pride. And this encouragement tends to put the gardening bug in them to want to continue year after year. Once they've gathered up their freshly grown produce, you can find simple, kid-friendly recipes online to turn their bounty into family meals, preserve them through canning, pickling or freezing, and even harvest seeds to save for next year. And drying herbs is a cinch.
If your little chose a flower garden, you can create bouquets and arrangements using greenery from your surrounding property or teach them to dry or press the flowers to use on other craft projects you can do together on those rainy, non-gardening days.
The garden doesn't end in the dirt for teachable moments.


Grow the (little) people you love
Your kid's garden can be as wild as their imaginations, from design to decoration. Just make sure to choose plants that are safe, easy to grow in your climate for quick reward, and things they'll actually enjoy eating and growing.
If something doesn't sprout up the way you hoped, that's okay. There's always next season. Besides, it is the time spent together and the skills we're passing down that will grow into lasting memories. And even garden-ripe tomatoes can't match the sweetness of precious shared memories.
Let Us Help
Our associates are passionate about gardening, and family.
Your local IFA Country Store has the tools and plants you need to help make your kid's garden special. While you're there, we're happy to answer any questions or help you solve any garden problem, big or little.
---
Information for this article was provided by Marvin Potter, Live Plant Category Manager; Brenda Christopherson, Garden Center Manager, Ogden IFA Country Store.