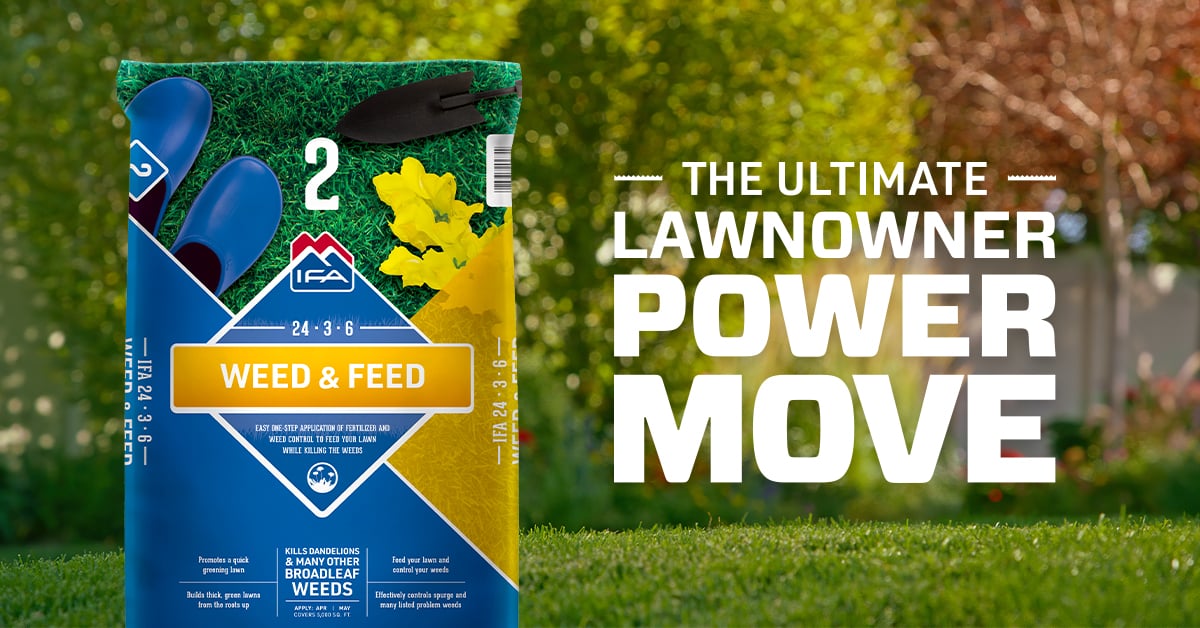 Summer vacations and warmer weather are just beyond the horizon. As the days grow longer and brightly colored flowers begin making their appearance, it is time to start planning and applying step two of IFA's 4Plus Annual Lawn Care Program.
IFA Weed & Feed is a great addition to your annual lawn care routine. This step-two lawn fertilizer is specially formulated to provide intermountain grasses with the nutrients and protection they need to transition from winter to summer while fending off many troublesome weed varieties.
Adding IFA's Weed & Feed fertilizer along with Bonide Insect and Grub control to your lawn care program this spring is an excellent way to strengthen and protect your turf while promoting a healthier, happier and ultimately greener lawn during the coming summer season.
Necessary Spring Nutrients for Intermountain Lawns
Weed & Feed fertilizer is exactly what your springtime lawn ordered, with a specially formulated mixture of nutrients to complement the intermountain west environment, plus a three-way post-emergent herbicide to combat more than 60 varieties of common broadleaf weeds.
Nutrient Boost
Designed with a blend of vital macro and micronutrients, IFA's step two fertilizer promotes strong roots and vibrant color in your yard.
This nutrient boost will help your lawn produce more energy by aiding leaf and chlorophyll production, as well as encouraging healthy root growth for better absorption and overall hardiness in the plants.
Postemergent Herbicide
Pesky weeds can get the best of any lawn and lawn owner. Luckily, you can combat these problem plants and promote healthier and more vigorous growth of your grass by simply eliminating the culprits.
IFA's Weed & Feed fertilizer contains a three-way post-emergent herbicide that effectively clears out and controls over 60 common broadleaf weeds—including dandelions, chickweed and spurge.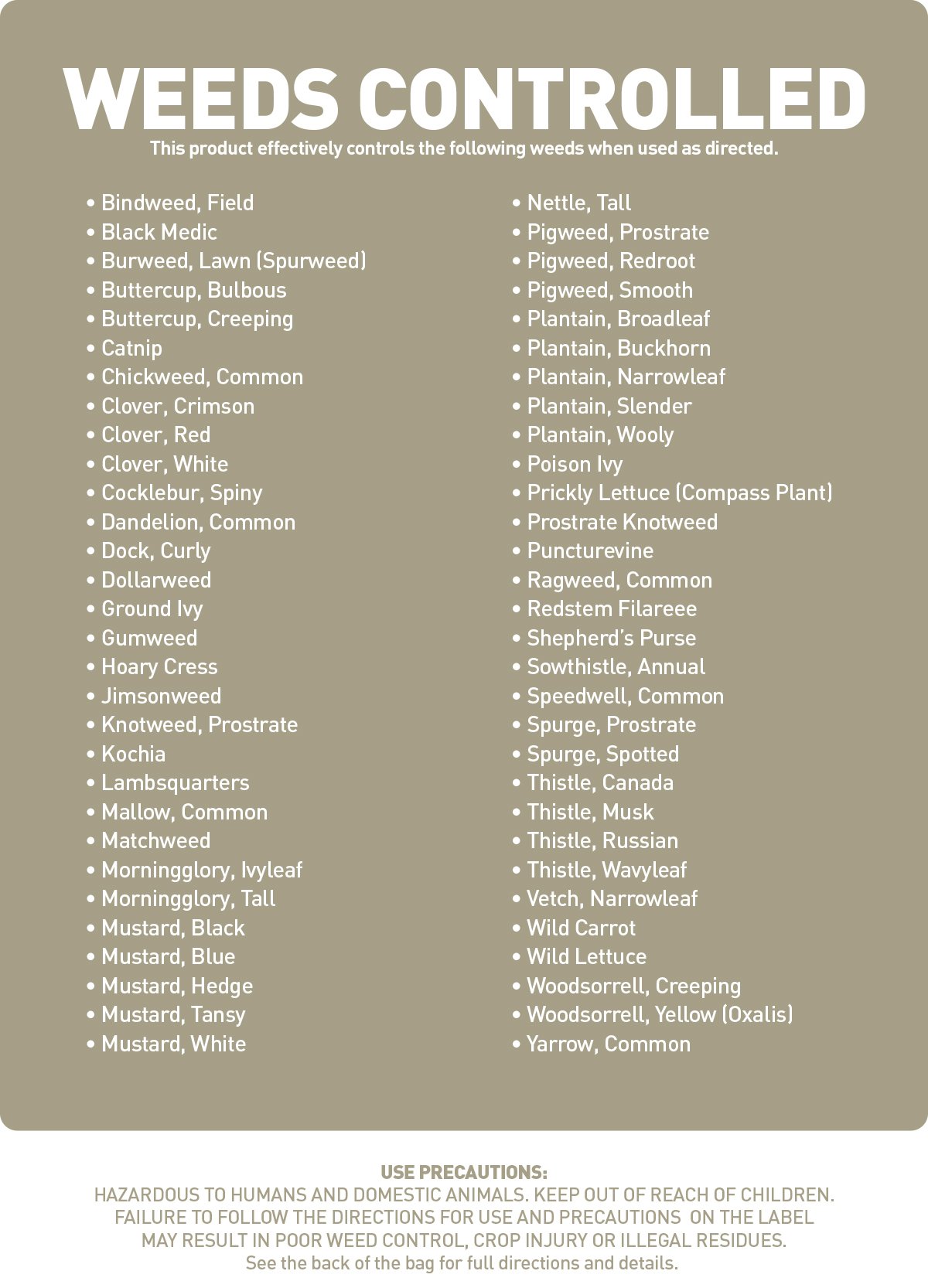 When to Apply The Second Step
Time is of the essence to capitalize on the benefits of IFA Weed & Feed fertilizer. The recommended application period is generally April to May but this will vary due to differences in seasonal temperatures across the region.
This fertilizer must be applied four to six weeks after you applied Crabgrass Preventer + Lawn Food step one AND while daily temperatures in your area remain below 85°F, so getting the timing right takes a little planning.


How to Apply Weed & Feed Fertilizer
The IFA Weed & Feed application process differs from those of the three other fertilizers in our four-step program. Make sure you understand and adhere to specific guidelines and instructions to ensure proper application for a healthy lawn.
Get Ready to Fertilize
The complete procedure for applying Weed & Feed step two is designed to take place over three to five days including lawn prep, actual application and post-application watering.
1. Make sure you have the right spreader and enough fertilizer
Start by determining the square footage of your yard then divide that number by 250 to get the number of pounds of Step 2 fertilizer you will need to cover your lawn.
yard width (ft) × yard length (ft) ÷ 250 = lb of Step 2

Keep in mind a 20 lb bag feeds up to 5,000 square feet while the 40 lb bag feeds up to 10,000 square feet. It's a good idea to add an additional 10% to make sure you don't run out during the application.
Like with step one fertilizer, we strongly recommend using a broadcast spreader for the most even application. You can safely use the same broadcast spreader for this fertilizer application as you did with step one. If you don't have a broadcast spreader, your local IFA Country Store has several options for you to choose from when you pick up your IFA step-two fertilizer.
2. Cut your grass
Mow your lawn to normal height 1 to 2 days before application. Make sure to remove any clipping after mowing.
3. Pre-water the lawn
Water the lawn thoroughly at least 1 day before application to sustain moisture until the next watering.


How to Correctly Apply Fertilizer
Once you have your supplies and prepped the lawn, it's time to start applying.
1. Set your spreader to the proper rate
Adjust your broadcast spreader to the correct setting to ensure the correct rate of application. There are many spreaders on the market, so be sure to adhere to specific guidelines for your specific make and model.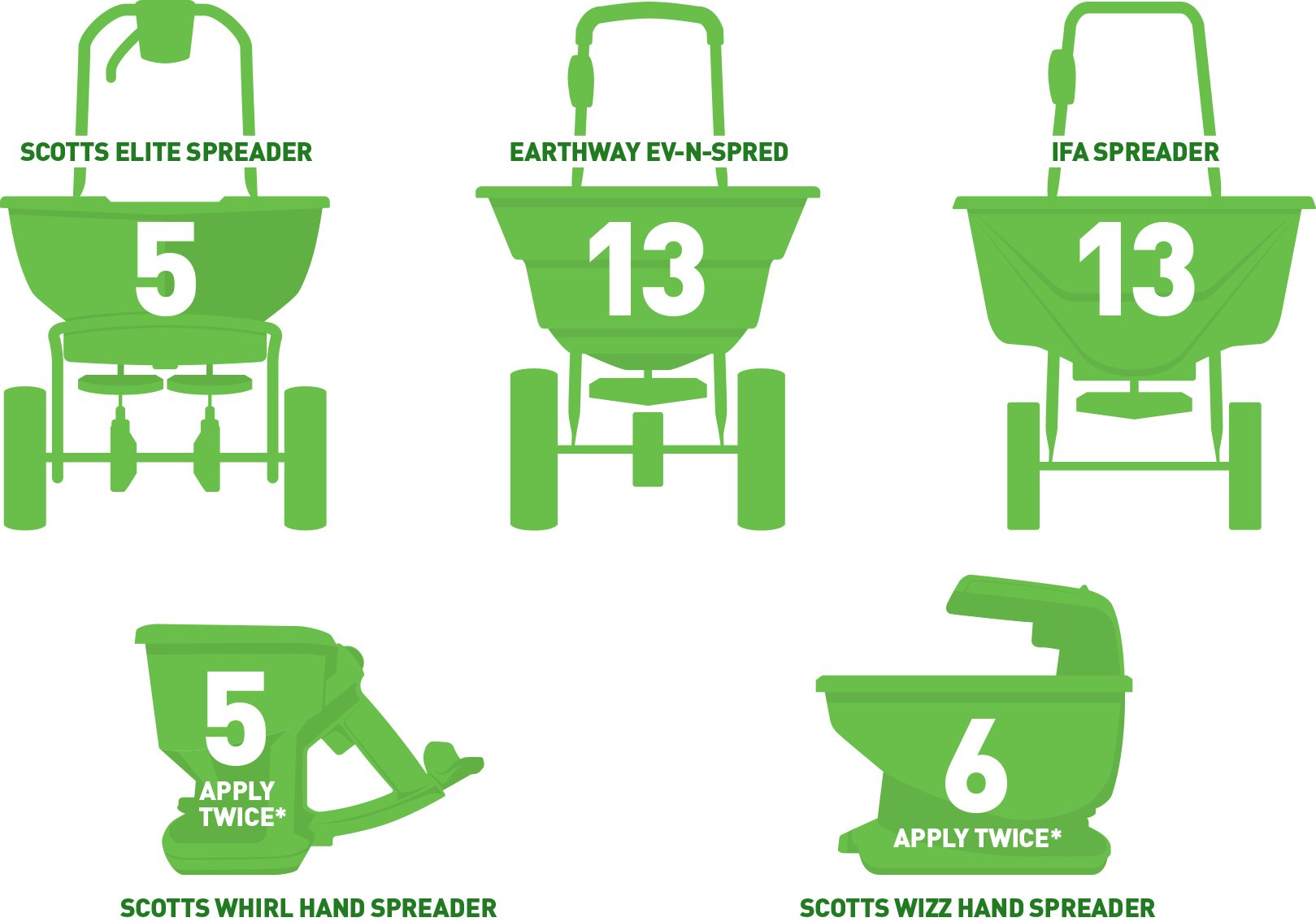 Recommended Spreader Settings
Earthway Drop: 13
Earthway Broadcast: 13
IFA Broadcast: 13
Spyker Broadcast: 4.1
Chapin All Season Broadcast: 6
Scotts Elite: 5
Scotts Classic Drop: 8
Scotts EdgeGuard DLX: 5
Scotts Edgeguard Mini: 5
Scotts Speedy Green 1000/2000/3000: 5
2. Apply uniformly to slightly damp lawn
Apply fertilizer when weeds are young and growing actively, preferably in the morning when dew is on the grass. If the grass is not moist at the time of application, sprinkle lightly with water to allow the granules to adhere to and remain on the leaf surface of the weeds.
As a general rule, open your spreader to one-fourth inch and walk normally. Keep in mind, if you walk faster, you will want to open the spreader a little more to compensate for your stride. 3-mph is a good walking pace for fertilizer application.
Be sure to overlap your walking paths to achieve uniform application and to avoid lines.
3. Wait to water
Do not wash from weed leaves for 1 to 2 days after application. After 1–2 days, water your lawn thoroughly.
Weed & Feed fertilizer should only be applied once. 4–6 weeks after applying step two, your lawn will be ready for step three: IFA Spring & Summer Lawn Food.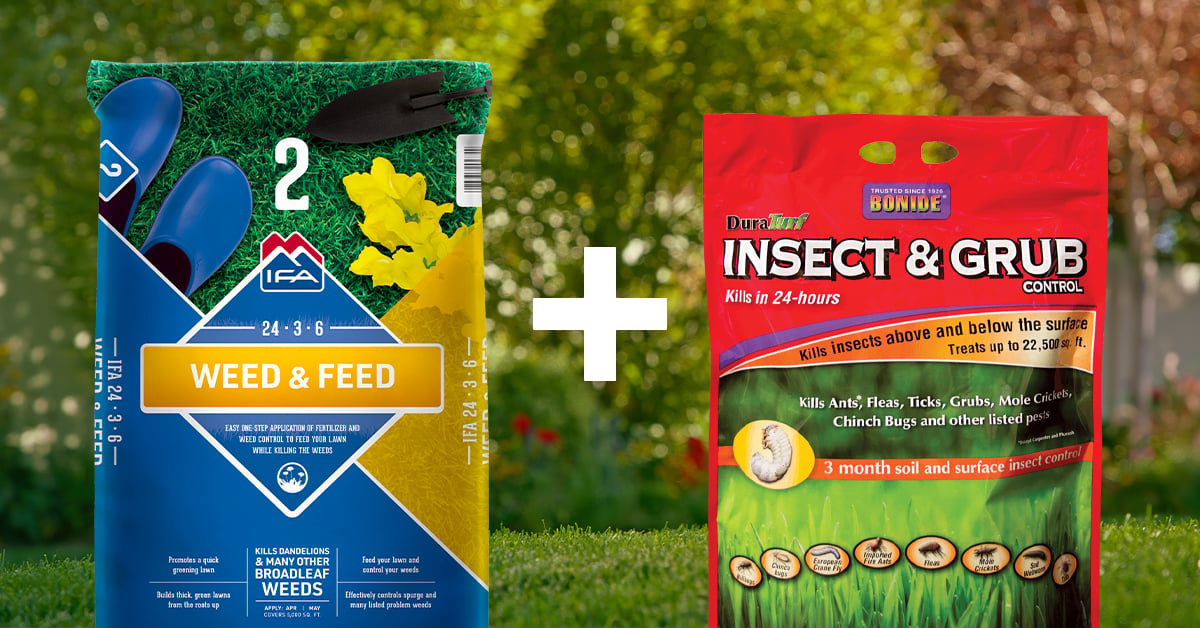 Protect Your Lawn With Bonide Insect and Grub Control
Does the thought of brown spots taking over your lawn make you cringe? You are not alone. Should you find your yard burdened by one of these unwanted eye-sores, thirst could be a likely obvious culprit so be sure to thoroughly check your watering systems and habits.
However, if your lawn is receiving the water it needs but the brown spots still won't go away, you might not be dealing with a thirsty lawn, but an infested one.
Grub worms are a lawn owner's nightmare. June beetles and, more commonly in the intermountain west, billbugs lay their eggs in growing lawns. As these eggs hatch the developing larvae, otherwise known as grub worms, feed on and destroy the root system of the grass. This will not only kill your healthy turf but leave an unpleasant brown spot.
Luckily, you can combat these pesky grubbers in one of two ways: prevention or treatment.
Treating Grub Worms
If you find yourself plagued with a case of crawling critters you want to jump straight to treatment by applying Bayer 24-Hour Grub Control to kill off the existing infestation.
Preventing Grub Worms
However, the best way to protect your lawn from grub worm harm is to prevent them completely. You can do this easily by applying Bonide Insect and Grub Control directly to your lawn around the same time you apply Weed & Feed.
Bonide Insect and Grub Control is a systemic insecticide that works with your grass to kill larvae as they begin to feed. As a preventative, the Insect and Grub Control should be applied in May or June to be present and active when the larvae begin to hatch and feed in early July across most of the region. In warmer areas of southern Utah, the preventative should be used earlier as the larvae are prone to hatch sooner.
Applying Insect and Grub Control at the same time as the IFA step two fertilizer can help you ensure the timing is right for your area and your lawn is ready to defend itself in the coming months.
Let Us Help
The health and beauty of your lawn is just as important to us as it is to you. Just grab any IFA team member the next time you're walking down the fertilizer aisle at your local IFA Country Store and we'll be happy to help in any way we can.
---
Information for this article was provided by Ken Holt, Lawn & Garden Category Manager, IFA Country Store.