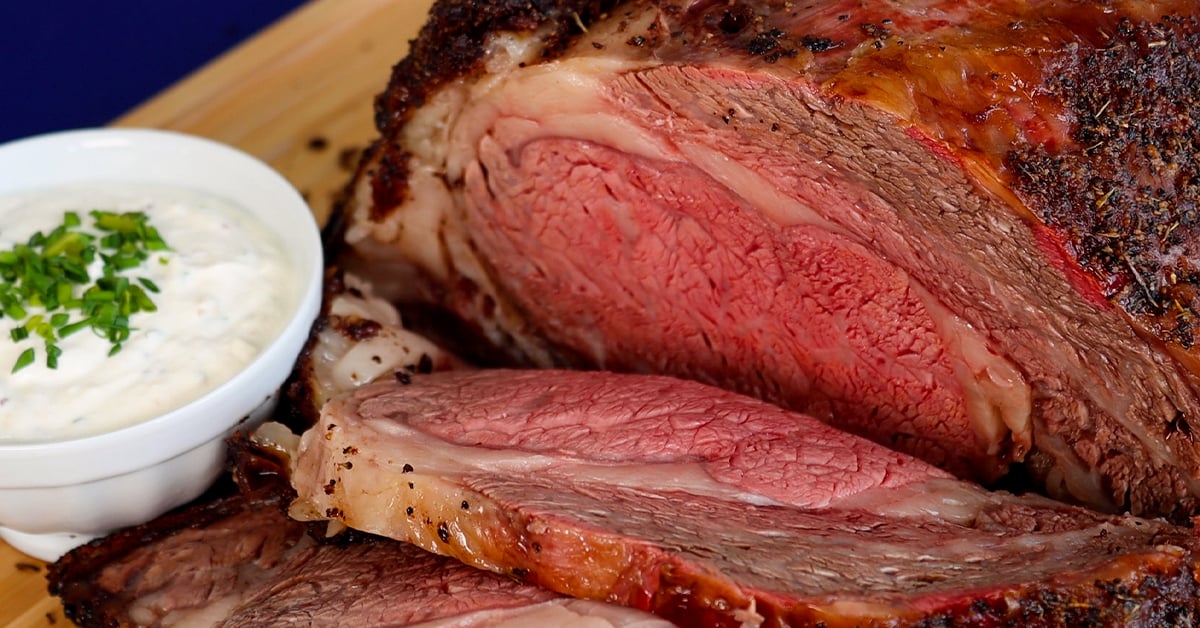 Prime; enough said. Tender, juicy and full of marbled goodness, there is no question that a prime rib dish is the perfect centerpiece for holidays, celebrations and more! With this "prime" cut of beef, a tantalizing masterpiece need only be slow cooked or smoked to perfection.
Smoked Prime Rib Roast
Ingredients:
1 (8-10lb) Prime Rib Roast
¼ cup Worcestershire Sauce
4 Tbs Coarse Black Pepper
Horseradish Sauce Ingredients:
¼ cup Prepared Horseradish
1 cup Sour Cream
1 tsp Fresh Lemon Juice
1 Tbs Mayonnaise
1 Tbs Whole Grain Mustard
Directions
Preheat the grill to 225

°

F.
Trim excess fat from the roast while the grill preheats.
In a small bowl, combine salt, pepper and thyme. Lightly pour the Worcestershire sauce over the roast until it's completely covered. Then, sprinkle the salt mixture evenly on the roast until it's coated entirely.
Place the roast directly on the grill grates, close the lid, and cook until the internal temperature reaches 100℉ (approximately 35-40 minutes per pound).
Next, turn the heat up to 450℉ and continue to cook the roast until the internal temperature reaches 125℉ (rotating halfway).
Remove the prime rib from the grill and wrap in foil.
Let rest for 20-30 minutes so the internal temperature rises another 10-15℉ and the juices settle.
While the roast is resting, mix horseradish sauce ingredients in a small bowl. Then slice and serve with sauce on the side.
Want the perfect side? Try these delicious Garlic Butter Rolls too!

Tips for Choosing a Tasty Prime Rib
The first step to any tasty dish is acquiring quality ingredients. Selecting the perfect prime rib is no exception.
1. Selecting a Grade
While "prime" might be in the name, not all rib roasts actually meet this high standard. "Prime rib" has become a more general reference to the cut of the meat rather than its quality. As expected, a prime grade roast will be expensive but it will also have the best flavors and tenderness. If you are looking to satisfy a budget, look for meat that is choice or select grade.
2. Look for Color
Color of the meat as well as the fat can be a good indicator of a rib roast's quality. Look for a prime rib with a bright red color and fat that is milky white. Meats with a dull color or yellow fat tend to have less flavor and overall quality.
3. Marbling Matters
As any beef producer and most consumers can attest, marbling matters. Marbling is the distribution of fat within the meat. Prime rib with better marbling tends to have more veins of fat distributed throughout the meat along with a good layer of fat around the ends. This will add to the flavor of your roast as well as make it more tender.
Support Your Local Rancher
Before you scour the nearest grocery store shelves for your next prime rib, you might consider talking to a local rancher. The COVID-19 pandemic has brought to light opportunities for beef consumers by prompting interest in purchasing quality beef directly from the producer.
Why Buy Local Beef
In the intermountain west, cows and calves are the top agricultural commodity produced. Yet, grocery stores are finding it hard to keep beef on their shelves. Working with and purchasing beef from your local rancher is a great way to not only stock your freezer, but ensure that you are involved and informed throughout the production process.
What may seem like a costly "hunk of meat" up front can actually save you money down the line. Purchasing a full or half beef can provide you with 440-220lbs of beef up front. Not to mention the peace of mind that you are enjoying a quality product from a rancher you know and trust.
(Plus, you'll TASTE the difference!)

---
Information for this article was provided by Dan Jensen, IFA Foods and Outdoor Cooking Category Manager, and Adam Fox, IFA Marketing Communications Creative Director.