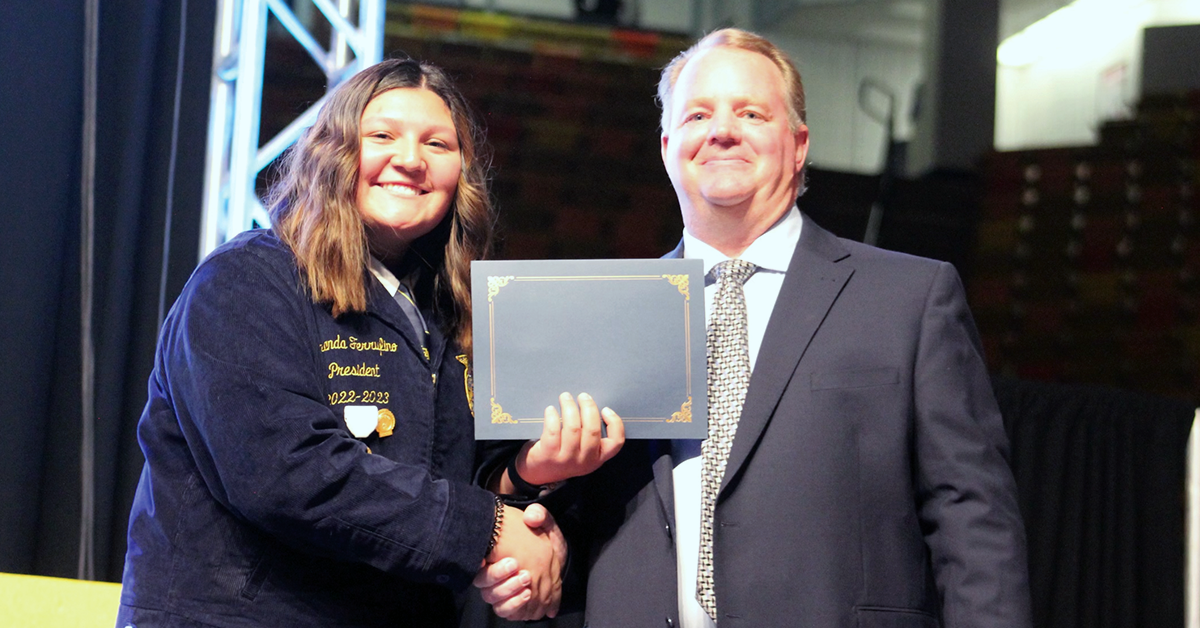 "As IFA begins its second century of business, it will be a priority to honor and remember our rich heritage by continuing to actively support the agriculture community, especially in helping to prepare the rising generation in pursuit of their agricultural goals and aspirations."
– Matt Swan, IFA President & CEO
This past March, IFA awarded seven scholarships to deserving Utah Future Farmers of America members as a way to give back to the agriculture community during this historic centennial year. Scholarships were awarded to worthy and well qualified young agriculturalists who demonstrate their passion for agriculture.
IFA is proud to continue providing financial support to the Utah State FFA Foundation as a way to strengthen, develop and prepare our young men and young women for a bright future in the agriculture industry. Congratulations to the 2023 recipients of our IFA Scholarship awards.
IFA and Western AgCredit New Era in Agriculture Scholarship
Brinley Rhodes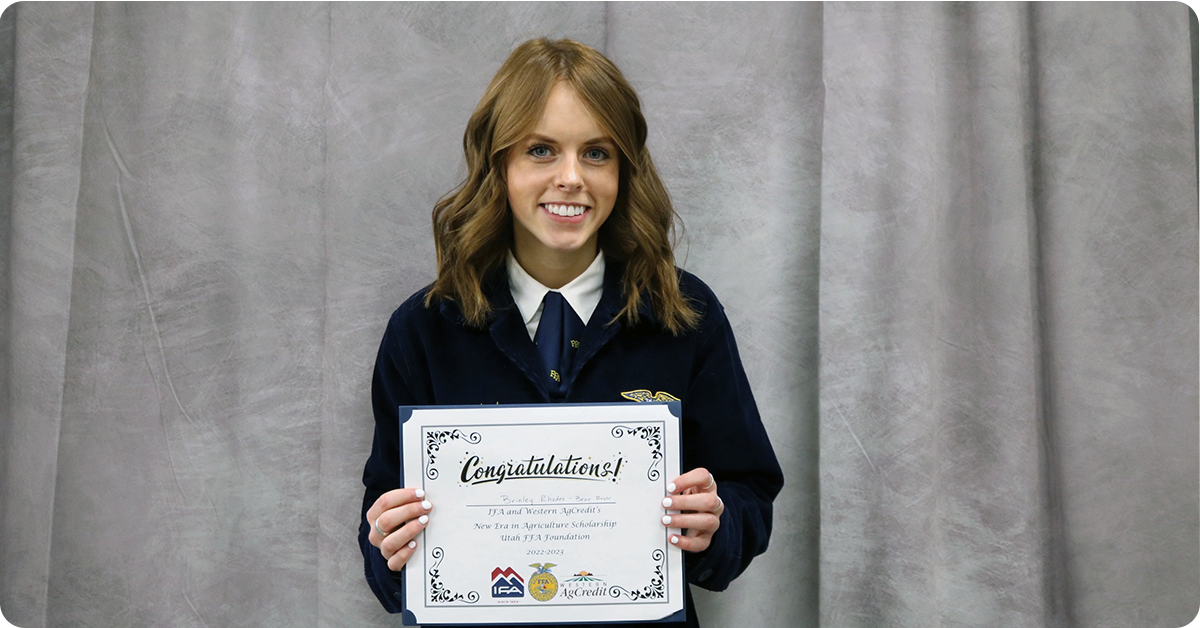 Brinley is an active member of the Bear River FFA chapter where she served in multiple leadership positions including her current role Chapter President. During her FFA career, Brinley gained valuable agricultural experiences through her SAE projects which included raising her own herd of boer goats for livestock showing and conducting a research study on the mental health of farmers and ranchers. Brinley hopes to continue advocating for agriculture by pursuing a career in agricultural communications.
IFA Future of Agriculture Scholarship
Miranda Ferrufino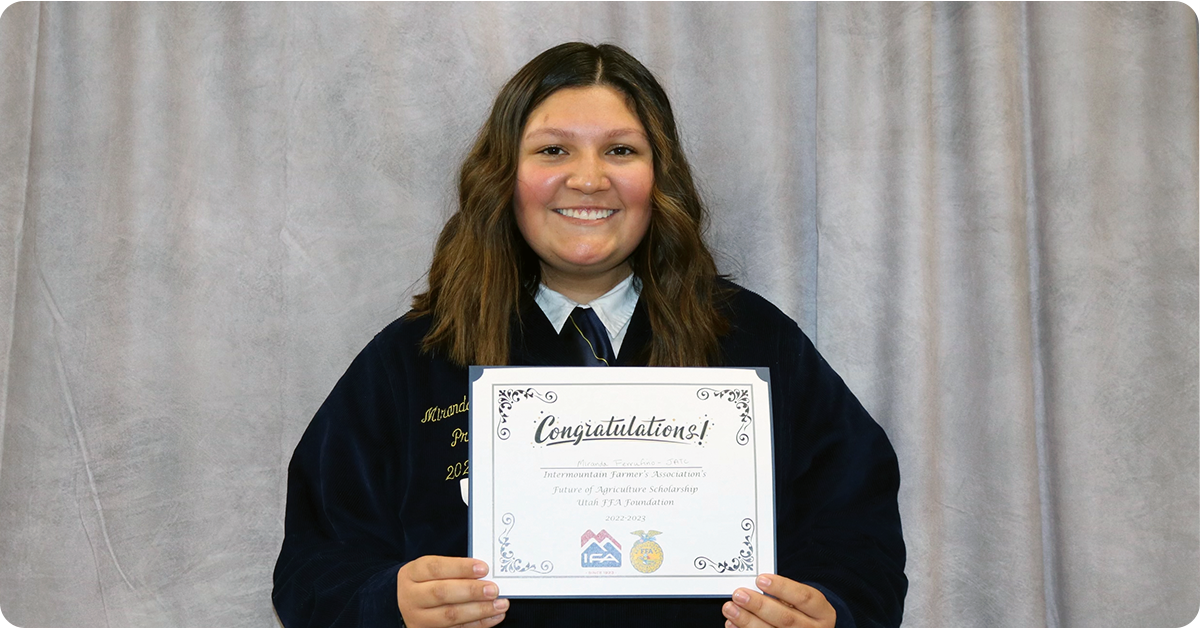 Miranda hails from the JATC FFA chapter where she is active in her school and community. Throughout her time in FFA, Miranda explored various facts of the agriculture industry by completing multiple SAE projects including growing market lambs, goats, and turkeys. Additionally, she volunteered with the Copper View Animal Hospital where she learned to draw blood and conduct technician visits. Miranda plans to use her talents in public speaking and presenting to advocate for agriculture in the future.
Introducing the IFA Legacy of Leadership Scholarship
To commemorate IFA's 100 year legacy of leadership in agriculture, IFA proudly sponsored the new Legacy of Leadership Scholarship program in support of agriculture's future leaders. This scholarship awards $2,000 to each representative of the Utah FFA state officer team in recognition of their accomplishments and service to agriculture at the completion of their officer year.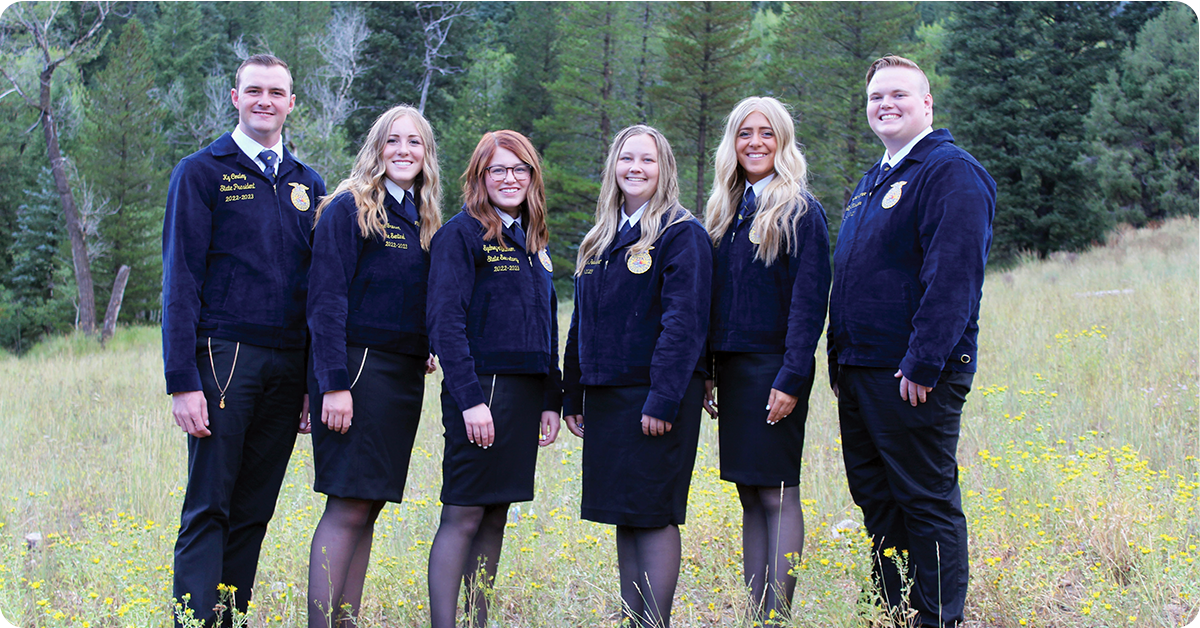 The six retiring 2022 Utah state FFA officers represent the first class of scholars receiving this distinctive award and we are happy to recognize their dedication to the Utah FFA organization and its members. IFA is excited to continue this scholarship program for future state FFA officers and wish our retiring officers the best in their future endeavors.
Congratulations to the 2023 IFA Legacy of Leadership Scholarship recipients (shown left to right above):
Ky Cowley, 2022 Utah State FFA President
Paige Freston, 2022 Utah State FFA Sentinel
Sydney Wilkinson, 2022 Utah State FFA Secretary
Kariann Mays, 2022 Utah State FFA Vice President
Chloe Seitz, 2022 Utah State FFA Reporter
Shaden Tanner, 2022 Utah State FFA Treasurer
Also read about IFA's "Contributions to Local Communities and Livestock Shows"
---
Originally published in the IFA Cooperator magazine (vol. 89, no. 2) Summer 2023.