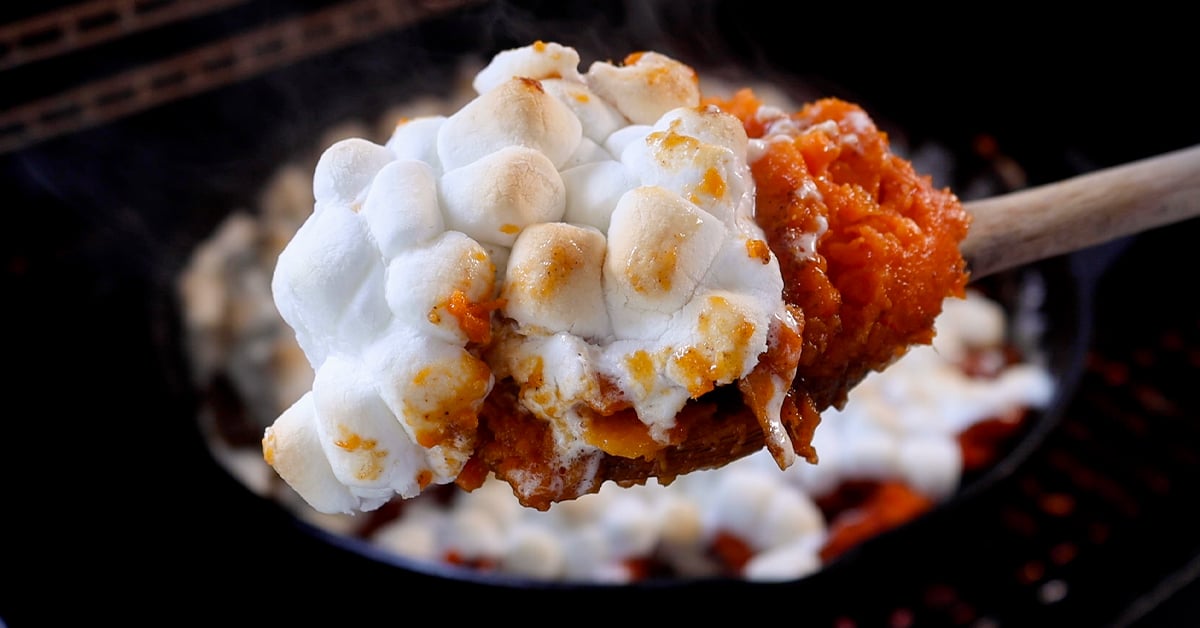 There is something about a candied yam dish that dredges up fond memories and holiday feelings. This rich, brown-sugar infused treat is sweet enough to be served as a desert but far too good to wait till the end of the meal; so we call it a side dish.
With the holidays comes feelings of nostalgia and comradery perfectly complemented with this comfort food. Sweet potato lover or not, we think that this candied yam recipe deserves a place at your holiday meals.
Plus this dish adds some eye-catching color to your tables. Just try not to drool when the sweet and steamy goodness touches your lips.
INGREDIENTS:
6 Yams
½ c. Unsalted Butter
¾ c. Brown Sugar
¼ c. Maple Syrup
½ tsp Ground Cinnamon
2 c. Miniature Marshmallows
DIRECTIONS:
1. Potayto, Potahto (Prepare the Sweet Potatoes)
Start by preheating your pellet grill to 375°, we recommend using cherry maple or a premium wood pellet blend. Once the grill is set up, you should thoroughly wash each sweet potato and prepare them for baking by poking holes in the skins with a fork or knife and wrapping each one in tin foil. Place the wrapped yams in the heated pellet grill and allow them to bake for 1 hour.
Once the yams are done, peel away the skin then slice into ½ inch thick pieces and place in a greased 12" cast iron skillet.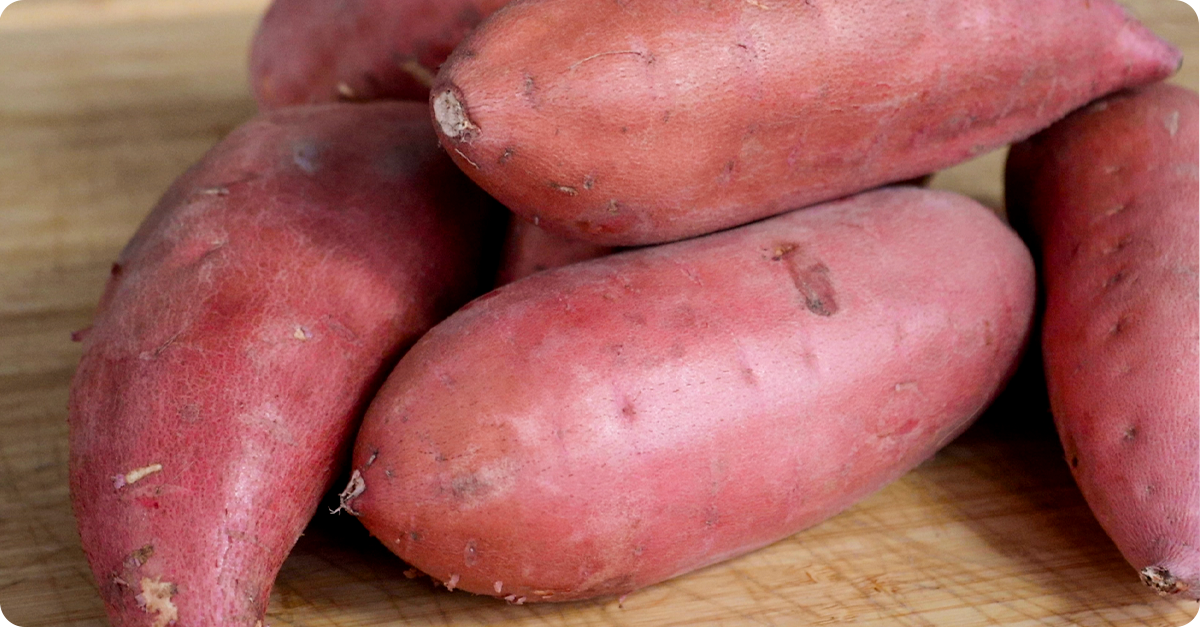 2. Mixing up the "Goodstuff"
In the smaller 6" skillet, combine butter, salt, brown sugar, cinnamon and maple syrup over the stove. Turn the stove to medium heat and warm while stirring until sugar is dissolved.
Pour the sweet butter mixture over the yams. Gently stir and then place the skillet in the pellet grill to cook for 30 minutes at 375°.
3. Here Come the Marshmallows
After allowing the yams to bake for 30 minutes, remove them from the pellet grill and increase the temperature to 450°. Add marshmallows generously to the top of the yams as the pellet grill heats up and then return the skillet to the grill for an additional 3-5 minutes or until golden brown on top.
Why Should Candied Yams Make Your Holiday Table?
Whether you're a yam lover or not, this dish is a crowd pleaser for more reasons than one.
Too Good to Wait 'Till Dessert
Sweeter than the pie you'll be eating for dessert, this dish is practically candy. Between the brown sugar, marshmallows and maple flavors, you would think this sweet potato dish got put on the table by mistake when it was really meant to be with the pies and pastries for dessert.
But we simply can't wait that long.
A Colorful Addition
Between a golden-brown turkey, golden brown roles and the endless brown hues of mashed-potato gravy, stuffing and more, your holiday table will need a little color! From the deep burnt orange of the sweet potatoes to the glow of the marshmallows on top, this dish is more than tasty, it is beautiful.
And because we love our intermountain west landscapes, we'll just say this dish is as mesmerizing as the rocks of Bryce Canyon with a covering of fresh snow (it just tastes better).
We Consider it Tradition!
Besides looks and sweetness, we consider this dish a tradition and think you should too. There is a certain home-style feeling that comes with sweet potatoes that is simply amplified in the holiday season.
Give this dish a try and we think you'll feel the same.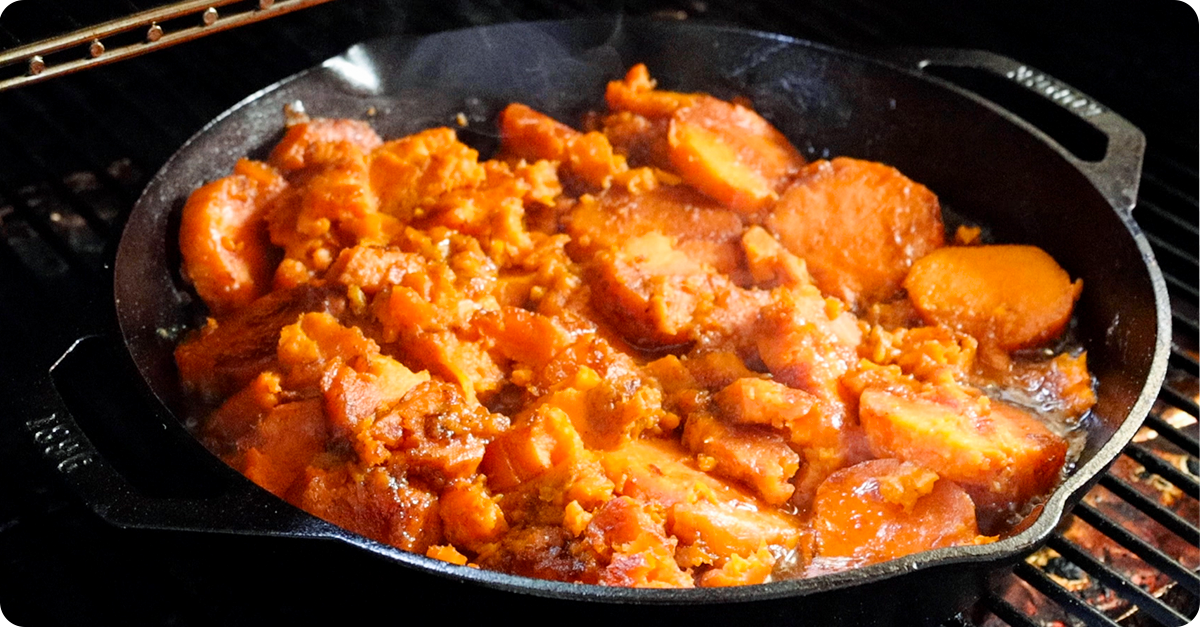 Why Pellet Grills are the Best Way to Bake Candied Yams
You might think of your pellet grill for the holiday turkey, roast or brisket but what about candied yams? Pellet grills are regarded for the fantastic flavors that they bring to meats and grilled food selection but don't stop there.
Items that you commonly bake can be easily prepared in your pellet grill to add an extra hint of flavor and open up needed space in your kitchen oven when preparing a holiday feast. The smoky-finger prints that your grill leaves on food selections can elevate any dish, including your candied yams.
Savory and sweet dishes have grown in popularity and we think that this candied yam dish should top the charts. While delicious when prepared in a normal oven, our candied yam recipe offers a new level of sweet and savory flavor when cooked with the right pellets.
Ingredients You Can Trust Make All the Difference
Any chef and/or food connoisseur can attest that a perfect dish begins with high quality ingredients. With so many options and brands available on grocery stores shelves for the same basic products, it can be difficult to shift through and find a quality ingredient for your desired dish.
Before scouring the shelves and reaching for just any generic brand, we think you should know why we are a little particular about a few of our ingredients.
Salt might seem like a minor factor to consider when crafting this sweet holiday dish, but quality begins in the smallest details. Redmond Real salt is a pure and clean ingredient that is even just a little sweeter than its Himalayan counterpart.
The best part, it is an intermountain west product mined in Redmond, Utah. Out of all the brands available, we choose Redmond Real Salt because it is a quality ingredient that we know and trust.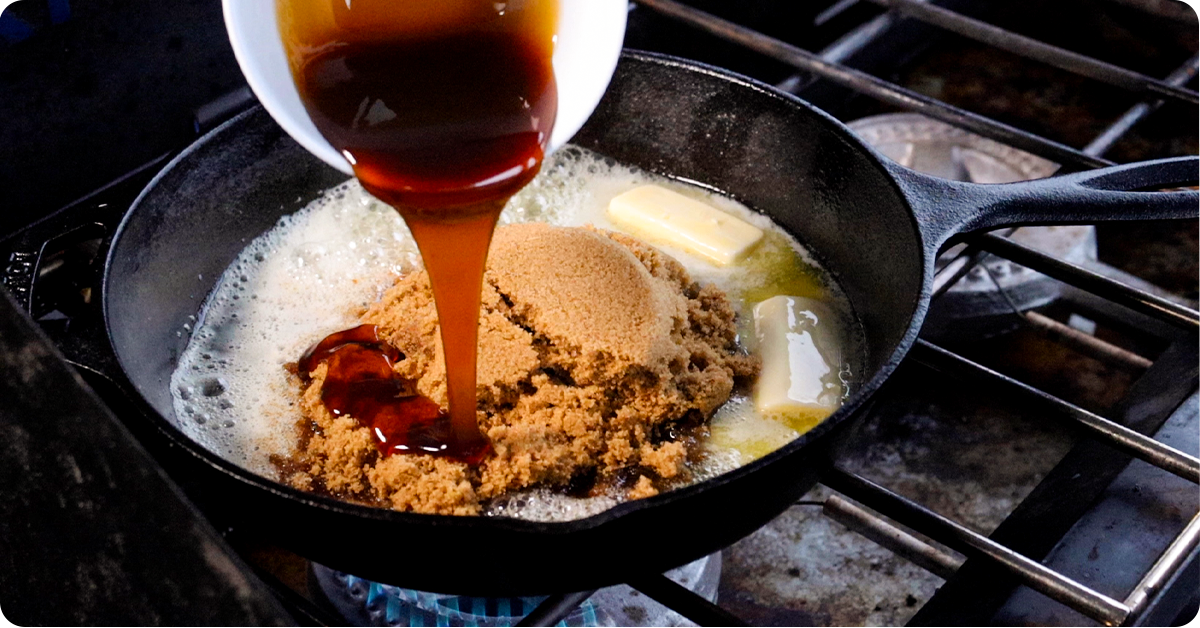 Make or Break Maple Syrup
What's the secret to truly spectacular candied yams? Using the right maple syrup! The sweet and homestyle feel of this dish is in large part attributed to the quality of your maple syrup.
Lawford's Maple Cream
Lawford's Maple Cream is a rich and creamy maple syrup that adds a good texture and flavor. We chose to use this specific maple syrup for the recipe simply because we trust it as a quality ingredient.
100% Pure Maple Syrups
While we chose to use Lawford's for this recipe, you can substitute this with other maple syrup varieties. Just make sure the type that you use is labeled 100% pure maple syrup and trust us when we say it makes all the difference.
Homemade
If you're feeling ambitious or just happen to have some on hand, homemade maple syrup is always a great option!
Stop by your local IFA before you start cooking to find Redmond Real Salt and Lawford's Maple Cream and other specialty syrups to ensure your candied yam and holiday dishes are all that they can be.
Make Your Holidays Just A Little "Sweeter"
Home, family and happiness paint the holidays in a sweet and sentimental way. These feelings are difficult to describe and even harder to replicate, but we think that this candied yam dish comes close.
Stop by your local IFA Country Store for cast iron cooking supplies, pellets and even quality ingredients that you need to bring this homestyle sweetness to your table this holiday season.

---
Information for this article was provided by Dan Jensen, IFA Foods and Outdoor Cooking Category Manager, and Adam Fox, IFA Marketing Communications Creative Director.