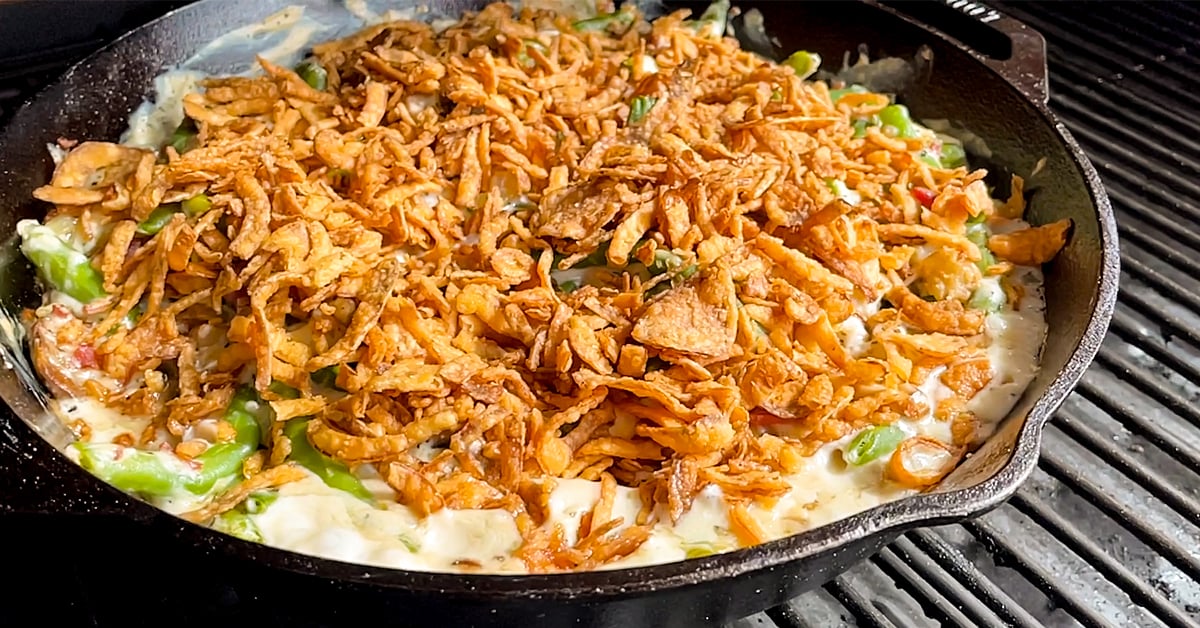 Green bean casserole. Before you make a face or turn-tail and run, let us just start by saying this is not your ordinary casserole dish (plus it has BACON)! Perfect for a cold day, holiday or any day for that matter, this green bean and bacon recipe will have you reconsidering any casserole-doubts or premonitions you might have had in the past.
Fire up the grill, break out some fresh, canned or even frozen green beans and find out just what you've been missing. Did we mention there's bacon?
INGREDIENTS:
1 lb. Fresh Green Beans, trimmed (or 1 qt home canned green beans, drained)
6 Tbsp Unsalted Butter
1 Yellow Onion, diced
8 oz. Mushrooms, sliced
1 tsp Black Pepper, coarse
1 Tbsp Garlic, minced
¼ c. All-purpose Flour
1 c. Chicken Broth or Stock
2 c. Half and Half
½ c. Parmesan Cheese, shredded

6 oz. Bacon, cooked & crumbled

1-½ c. Crispy Fried Onions
DIRECTIONS:
1. Cook and Blanch the Green Beans
A green bean casserole dish you can't resist begins with the basics. Start by preheating your pellet grill to 350°. Then prepare to cook your green bean by bringing a large pot of water to a rolling boil atop your outdoor stove (or indoor if you prefer). Prepare an ice bath to blanch the green beans after boiling by filling a large bowl with cold water and some ice.
Add your green beans to the boiling water and allow them to cook for 4-5 minutes or until softened. Then promptly transfer the beans into the ice bath using a slotted spoon or tongs and allow them to sit for an additional 4-5 minutes.
After allowing the beans to rest you should drain off the water and remaining ice.
2. Prepare and Add Supporting Ingredients
Once your beans are cooked, blanched and beautiful, you're ready to prepare your supporting ingredients. In a 12" cast iron skillet, melt 2 tablespoons of butter over medium heat. Add the diced onions and cook until tender, stirring occasionally, then introduce the mushrooms, minced garlic and ½ teaspoon of both salt and black pepper.
Stir lightly while the ingredients cook for 5-6 minutes or until mushrooms are golden brown. Once cooked, transfer mixture to the green bean bowl and gently stir in parmesan cheese and bacon.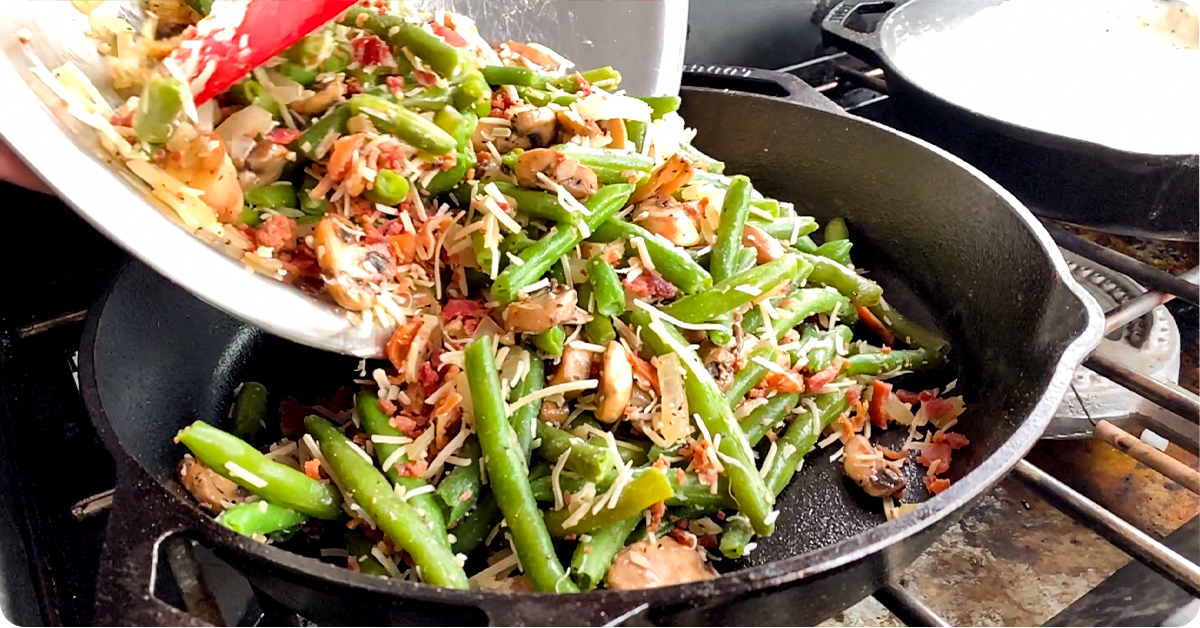 3. Create a Roux and Add MORE Supporting Ingredients
In the same 12" skillet, melt another 4 tablespoons of butter over medium heat. Whisk in flour and cook for 1-2 minutes or until golden brown to create a roux. Then gradually whisk in the chicken broth and half and half separately. Finally, stir in 1⁄2 teaspoon of salt and pepper.
Stir continuously for 3-4 minutes or until the mixture thickens. Remove the pan from heat and allow the ingredients to cool. Once cool, pour over the green beans and gently toss until evenly combined.
4. Return to the Skillet and Bake
Preheat your pellet grill to 350° and carefully return your combined ingredients to the 12" skillet. Use apple, pecan or a premium blend of wood pellets for best flavor and bake in the pellet grill for 30 minutes. Finish the bubbling concoction of ooey-gooey goodness with a thorough topping of fried onions and allow it to cook for an additional 5 minutes.
Remove the steaming casserole from the grill and allow time to cool. After serving, start making another batch because it is sure to disappear fast!
What to Pair with Your Green Bean Casserole
This hearty and steaming green bean casserole is a dynamic dish (that's also why we love it). It pairs well with a variety of flavors, making it a complimentary side but don't let this "side-dish" stigma fool you, mix in a little chicken and it can just as easily be the star of its own show.
Pairing Green Bean Casserole with Holiday Favorites
As a common thanksgiving side dish it should come as no surprise that green bean casserole is an excellent side for turkey and also pairs well with homemade cranberry sauce. The casserole's textures and flavors add a sort of home-style-comfort feel perfect for the holiday gathering.
Making Green Bean Casserole a Main Dish
We believe that green bean casserole has not received the credit that it deserves (especially this cast-iron explosion of flavor). This dish can easily be dressed up to make it a main dish worthy of cold days or even just an ordinary Tuesday night. Simply add a little smoked turkey or chicken and you'll have an excellent main course.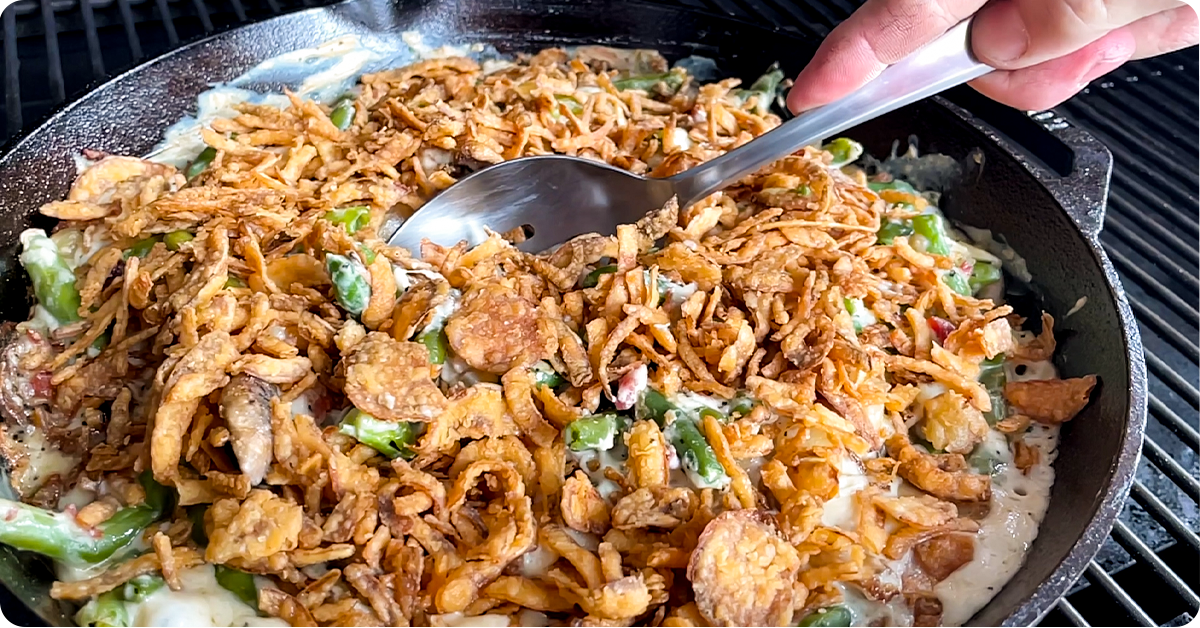 Grow Your Own Ingredients: Green Beans
The key to a delectable main dish, appetizer or side begins with quality ingredients. Fresh produce can be hard to come by and even "fresh" grocery produce will never quite stand up to the "true fresh" flavors of green beans grown in your own garden.
There are a number of green bean varieties that bring exceptional flavors to your casseroles and other dishes. Because there are so many green bean types to choose from, you should consider your goals (canning, cooking, etc), your climate and the space that you have to grow. Popular green bean varieties that do well in the intermountain west include:
Kentucky Blue Pole Beans
Jade Bush Beans
Top Notch Golden Wax Bush Beans
Provider Bush Beans
Slenderette Bush Beans
After determining the bean variety that you would like to grow you should prepare for planting by loosening the soil and adding a good garden fertilizer. Depending on the variety you decide to grow, the beans will be ready to harvest and use in your dishes anywhere from 50-60 days after planting.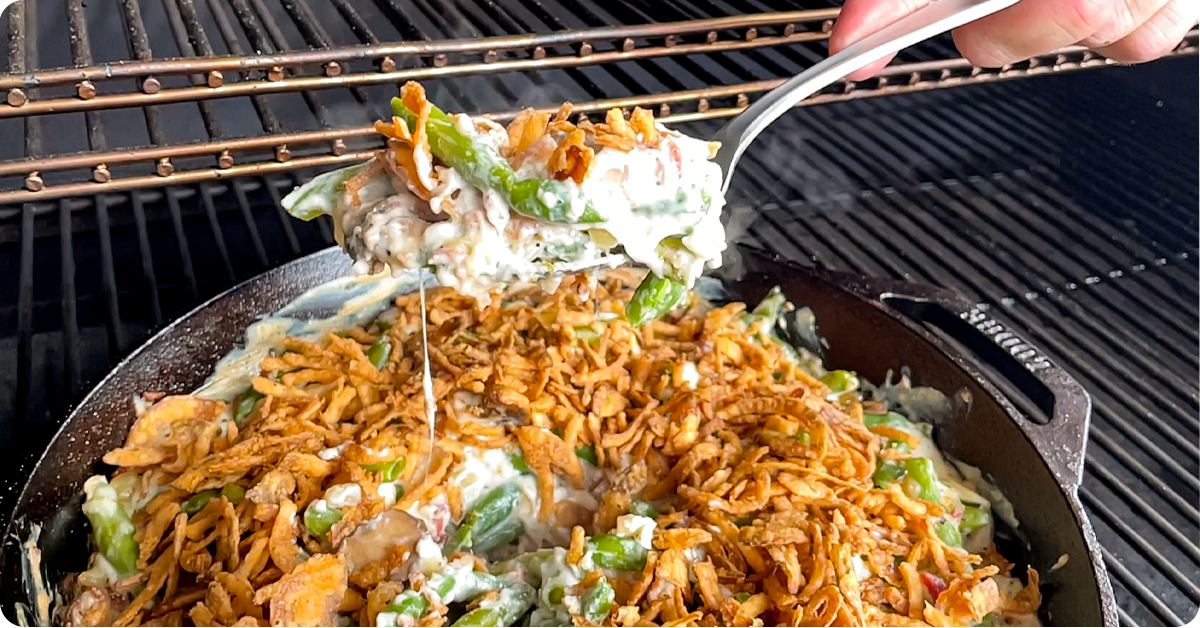 Enjoy a Holiday Classic All-Year Round
Despite the holiday hype, green bean casserole is a dish that can be enjoyed throughout the year. Enjoy it as a hearty meal when the snow is falling or use up your fresh green beans in the summer and fall.
Whenever and however you choose to enjoy it, we hope that you'll stop by your local IFA Country Store for the supplies and outdoor cooking equipment you need to complete this fantastic dish.

---
Information for this article was provided by Dan Jensen, IFA Foods and Outdoor Cooking Category Manager, and Adam Fox, IFA Marketing Communications Creative Director.