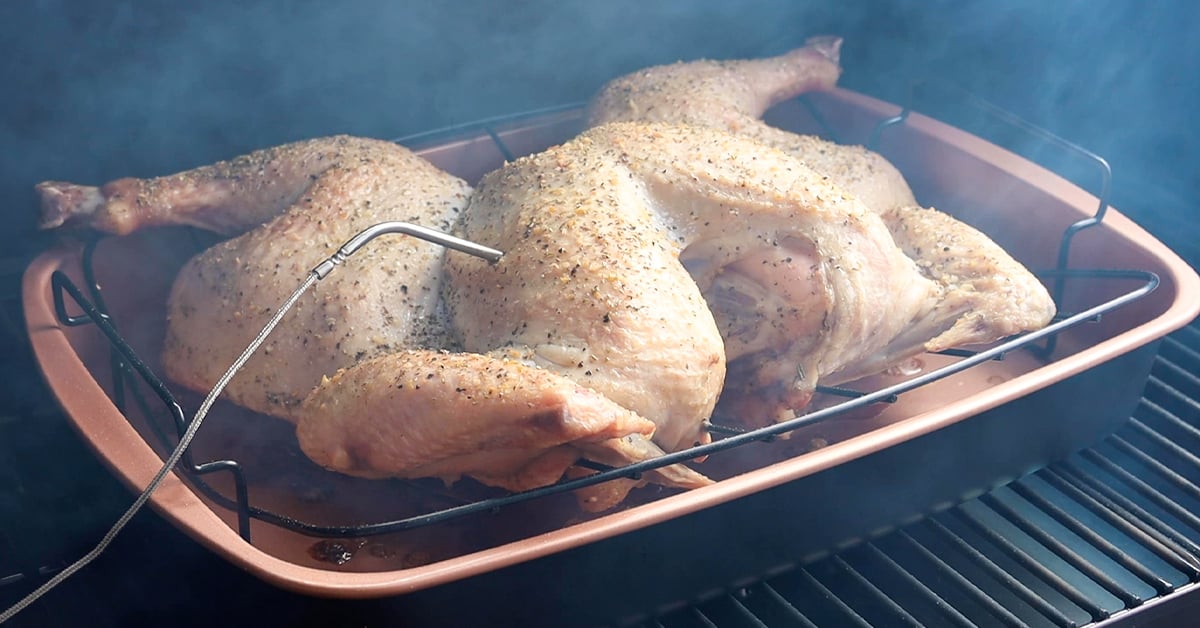 A flavorful, juicy turkey is the crowning centerpiece of almost all Thanksgiving tables. Preparing the perfect poultry dish is the goal of master chefs and first-time holiday hosts alike but with so many recipes, rubs and even cooking styles to choose from, where do you start?
Why not with a Smoked Spatchcock Turkey?
Spatchcock turkey is a style of preparing your Thanksgiving holiday masterpiece that ensures fantastic flavors and juicy textures that everyone will be talking about for holidays to come.
What You Need

Step 1: Brine
Brining your Thanksgiving turkey adds savory flavors, promotes juicy texture and even cuts down on cook time. Give this brine recipe a try to elevate your turkey dish this year and even use a few ingredients from your own garden!
INGREDIENTS:
1 Gallon Vegetable Stock

1 c. Redmond Real Salt

1 Tbs Fresh Rosemary, crushed

1 Tbs Thyme, dried

1 Tbs Sage, dried

½ Tbs Marjoram, crushed

1 Gallon Water
DIRECTIONS:
Combine brine ingredients in a large pot and bring to a boil. Stir the mixture until the salt is dissolved then remove from heat and let sit until it is room temperature. While the brine cools, rinse your turkey and then pat it dry. Remove innards/giblets and place them in a Ziploc bag to refrigerate for gravy later.
Once the brine is cool, put a brine bag liner inside an IFA food grade 5-gallon bucket or cooler and place the turkey inside breast-down (turkey may also be brined directly inside the IFA food grade 5-gallon bucket without a brine bag). Gently pour brine inside the bag making sure to completely cover the turkey. Close the bag and lid, and either place in the refrigerator or add ice to the bucket or cooler before closing the lid.
Allow the turkey to brine for 24 hours (preferably) or at least 1 hour per pound. Keep the turkey and brine at 40 degrees or below throughout the entire process. If you're using a bucket or cooler, check it a couple times to add more ice if needed.
Step 2: Spatchcock
A spatchcock turkey is a whole turkey that is prepared by removing the backbone so that the bird can be laid out flat to promote faster cooking and better flavors among other benefits.
How to Spatchcock a Turkey:
Start by removing the turkey from the brine and pat dry. Then you can remove the bones and lay your turkey out flat.
Lay the bird breast down and use kitchen shears to remove the backbone. Beginning at the tail end, cut along both sides of the spine until the full backbone can be removed and placed to the side.

Once the backbone is removed, open the turkey and turn it breast up. Now place your hand on one side of the beast close to the breastbone and push down firmly until you hear the breastbone crack. Repeat on the other side.
Step 3: Smoke
Smoked turkey continues to grow in popularity for the elevated flavors and juicy textures that are easily achieved. Preheat your pellet grill to 225 with Applewood, Traeger Turkey Blend or a premium wood pellet to best compliment your turkey and brine flavors.
Let the Cooking Begin
Once the grill is up to temperature, melt 1⁄2 cup of butter and brush it on the turkey along with your favorite poultry. Then place the bird inside your smoker and allow it to cook for 1 hour or until the internal temperature is 115 degrees in the thickest part of the breast.
Go for Gold!
After the first hour is up and your turkey is at 115 degrees, melt the remaining ½ cup of butter and mix with lemon juice to either brush on the turkey or use an injector to squeeze it under the skin in multiple spots. This will help create a crispier, golden skin.
Finishing Touches
Increase the pellet grill to 375 degrees and bake until the outside is golden and crispy. Let the turkey cook until the internal temperature of the breast is 165 degrees. Then remove the bird from your pellet grill, cover or wrap in foil, and let it rest for 30 minutes.
See more recipes and craft one our perfect holiday cast-iron side dishes in a pellet grill
Step 4: Carve
After hours of brining, spatchcocking and smoking your turkey, you will want it going to the table and onto eager plates looking as good as it tastes.
How Do You Carve a Spatchcock Turkey?
Start by removing the legs and wings by locating the joints where these meet the main body of the bird and cutting. This will allow them to be removed easily and cleanly.
After removing the legs and wings you should remove both breasts. Locate the sternum or the raised part on the turkey breast and cut away each side by following the breastplate with your knife.
Take both turkey breasts and slice against the grain for clean pieces and easier serving.
Step 5: Enjoy every Piece!
After passing around your perfectly prepared and expertly sliced spatchcock turkey, you might find yourself with leftover pieces and even scraps left on the turkey carcass. Make the most of your smoked turkey by upcycling leftovers into tasty sandwiches or even hearty soup!
Benefits of Spatchcock Turkey
The process of preparing the perfect turkey looks a little different for everyone but the ultimate goal is a tasty dish to enjoy with family and friends. Whether you have or haven't tried making a spatchcock turkey, here are a few reasons we think you should:
Faster cooking – spatchcocked turkeys cook in almost half the time as a whole bird. It's also more evenly-cooked.

More flavor – When the bird is flat, there's more surface area so there's more wood-fired flavor in every bite.

Crispier and juicier – Ensures ultra-crisp skin with an incredibly tender, juicy bite.

Easy carving – flattening your bird means carving is that much easier.
Grow Your Own Herbs
A flavorful turkey centerpiece begins with quality ingredients. Fresh herbs or seasonings from the store are a good option but nothing quite compares to the freshness and flavors of herbs the you grow yourself.
Thyme, Sage, Rosemary and even Marjoram all grow well in the intermountain west. Grow your own garden of herbs by starting seeds or transplanting young plants once all threat of frost is done in your area.
Because most herbs are accustomed to hot, dry climates, they do well in intermountain summers and require little watering.
Let Us Help Make Your Holiday(s) Tasty!
Nothing brings friends and family together like a holiday feast! We want to help you bring the smells and flavors to your holiday celebrations. Stop by your local IFA Country Store for pellets, grill accessories and even rubs to craft the perfect turkey centerpiece or even some fantastic side dishes.
Thanksgiving dinner isn't complete without dressing. Check out our Homemade Holiday Stuffing to pair with your smoked turkey.

---
Information for this article was provided by Dan Jensen, IFA Foods and Outdoor Cooking Category Manager, and Adam Fox, IFA Marketing Communications Creative Director.