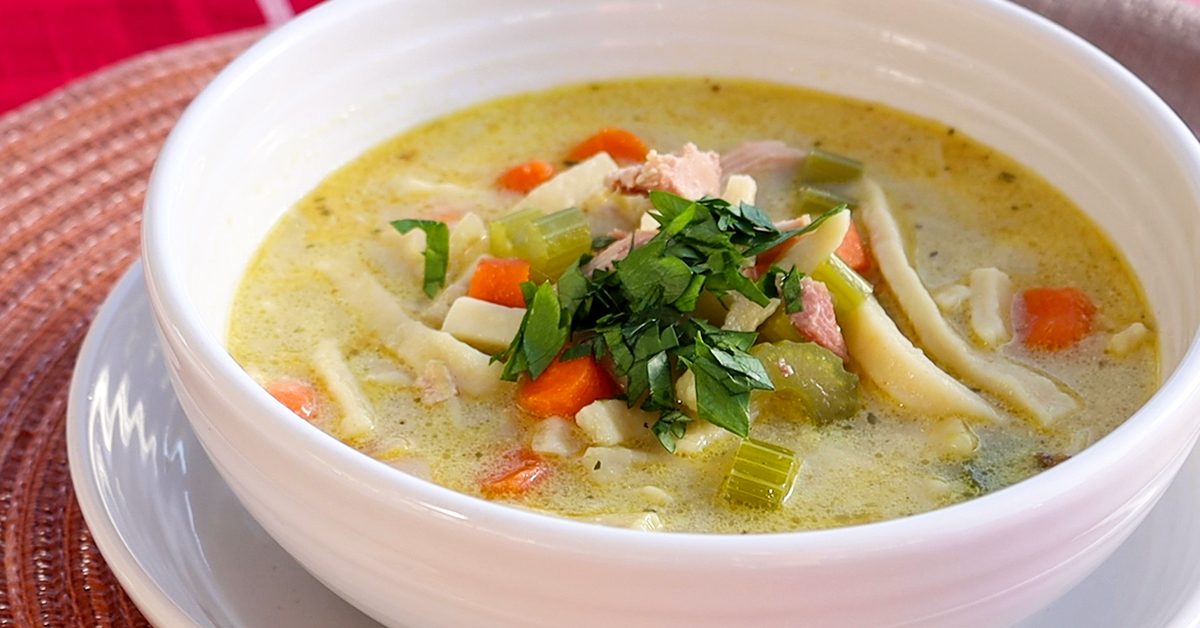 Hours of brining, smoking and carefully carving your holiday turkey culminate at the Thanksgiving table. But after passing around and enjoying the savory, smoky results of your labors you might be looking for ways to enjoy every morsel of your Thanksgiving turkey (even the parts not pretty enough for the table).
Wishbone soup (AKA Turkey Noodle Soup) is the perfect way to not only save but savor those finely tuned and delicately balanced smoked turkey flavors from every once of your leftover holiday bird.
Don't waste a single bite and make the perfect hearty dish full of meat and veggies that hits the spot on a cold winter day.
INGREDIENTS:
Turkey carcass from a 12lb Turkey

8 c. Water (or enough to cover turkey carcass)

2 cans (14oz) Chicken broth

½ c. Heavy cream

3 Carrots, chopped

5 Celery sticks, chopped

½ c. Onion, chopped

1 Tbs Redmond Real Salt Organic Season Salt

1 Pkg Frozen or Dry Homestyle Egg Noodles (homemade egg noodles are even better)

Fresh parsley to taste
DIRECTIONS:
Use a large cooking pot to add the turkey carcass and chicken broth. Then add water until the carcass is covered. Bring the ingredients to a boil and reduce heat to simmer for 1 hour.
After the hour is up, remove the turkey carcass from the pot. Add carrots, celery, onion and seasoned salt to the broth. Bring these ingredients to a boil and simmer for 20-30 minutes. While simmering, pull any meat from the carcass and chop other leftover turkey then add it to the pot. Cover the soup and stir occasionally.
Once the ingredients have simmered for 20-30 minutes you should add your noodles to the pot and simmer for an additional 30 minutes while still stirring occasionally. Finally, stir cream into the pot and simmer for 5 more minutes.
Your soup is ready to serve! Add fresh parsley to the top of each bowl and enjoy.
Don't Have Leftover Turkey? Use this Recipe for Chicken Noodle Soup
The great thing about turkey noodle soup is how easy it is to make and enjoy any time or day of the year. You can easily replace the turkey with a whole chicken or leftovers from the rotisserie bird from the store.
The ingredients and flavors will be tantalizing no matter the poultry that you choose to use.
Need More Leftover Turkey Ideas?
The holidays are notorious for bringing friends and family together and for every large gathering is a larger compilation of food. With numerous sides and a large turkey at the center, there is a good chance that you will have more than a few days worth of leftovers.
Don't let your holiday feast go to waste or even lose its taste. Create simple yet delectable new dishes with a unique take on leftover turkey.
Got Turkey? 3 Simple Sandwich Recipes to Upcycle Turkey Leftovers
The Best Noodles for Homemade Turkey Noodles Soup
Out of all the ingredients that go into making your turkey soup, noodles are among the most important. Not only do they add an important nutritional element that makes the soup filling, choosing the right noodles can make the difference between "good" and "great" homemade soup.
Homestyle Egg Noodles
Egg noodles are traditionally long or thin noodles that are a staple in many homemade and even store-bought soup varieties. They are great at absorbing the the flavors of the dish that they are added to and expand, making them the perfect noodle to bulk up Turkey Noodle Soup
You can make your own homemade egg noodles for the very best results or save yourself the hassle by purchasing quality homestyle egg noodles from the store. Dry, frozen or Kluski noodles are all great options.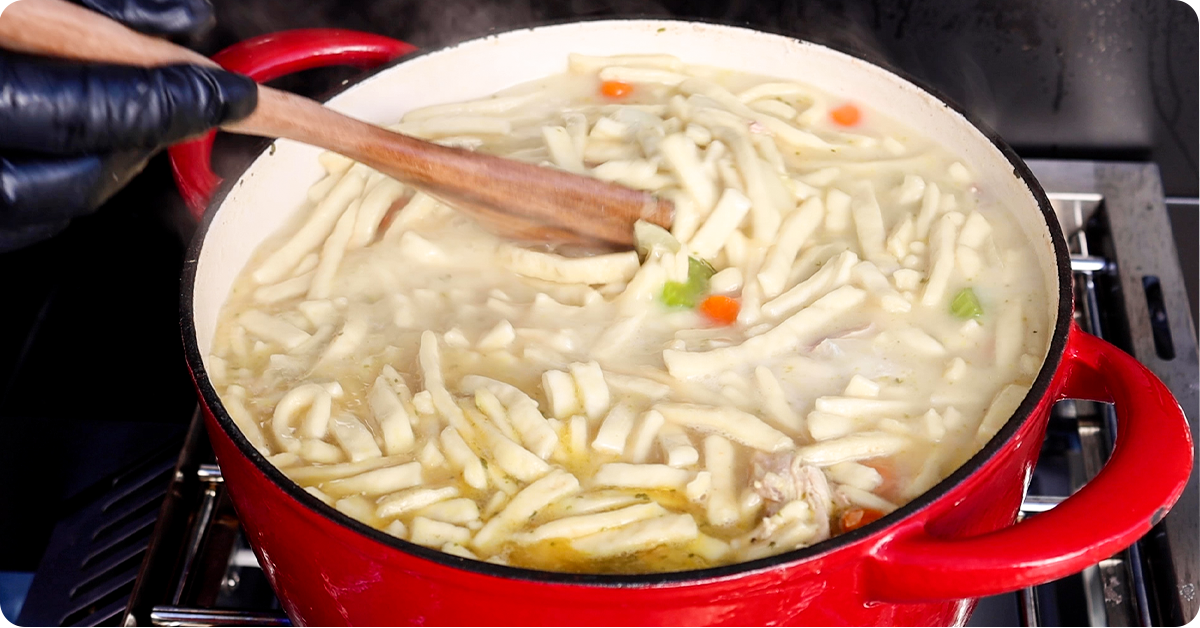 How to Thicken Your Turkey Noodle Soup
Soup is one of the most easily customizable dishes to make. Different tastes, traditions and styles of cooking often dictate your preference on not only ingredients but the desired textures you look for in a soup.
While some may prefer a runnier, more brothy soup, others prefer a soup that is thicker and heartier. If you belong to the latter group, there are a few simple ways to thicken your turkey noodle soup.
Adding cream, flour and/or cornstarch to your soup will help absorb some of the moisture and make the broth thicker. Add the additional ingredients in small increments and whisk them in completely. If this hasn't quite done the trick you can always add more noodles to soak up more of the water.
Grow Your Own Ingredient: Carrots
The ingredients used to build your soup will determine the quality and flavors of the dish you ultimately serve and enjoy. While grocery store carrots and produce can do the job, the home-grown flavors and satisfaction of using ingredients from your own garden cannot be beat.
Carrots do well in the intermountain west's fertile soil. Carrots can be started from seed and germinate in soil temperatures of 35 degrees (warmer soils will increase germination times). The variety of carrot that you choose to plant will determine the root type, shape and color.
Want to grow carrots from seed? Read "Early Spring Gardening: What to Plant and When"
Carrots require consistent watering and a weed-free environment for the best results. Sticking to a regular care schedule and utilizing a garden fertilizer such as Fertilome Tomato and Vegetable will help ensure an abundant harvest with plenty of carrots for your turkey noodle soup and other tasty dishes.
Unlock Savory, Smoky Flavors with IFA
Holidays, get-togethers or just a typical Tuesday night, the food you grow and enjoy brings people together. We want to help as you entertain and unlock new levels of flavor.
Stop by your local IFA Country Store for pellet grills, wood pellets, cast iron cookware and all the outdoor cooking equipment that you need to elevate your outdoor cooking.

---
Information for this article was provided by Dan Jensen, IFA Foods and Outdoor Cooking Category Manager, and Adam Fox, IFA Marketing Communications Creative Director.