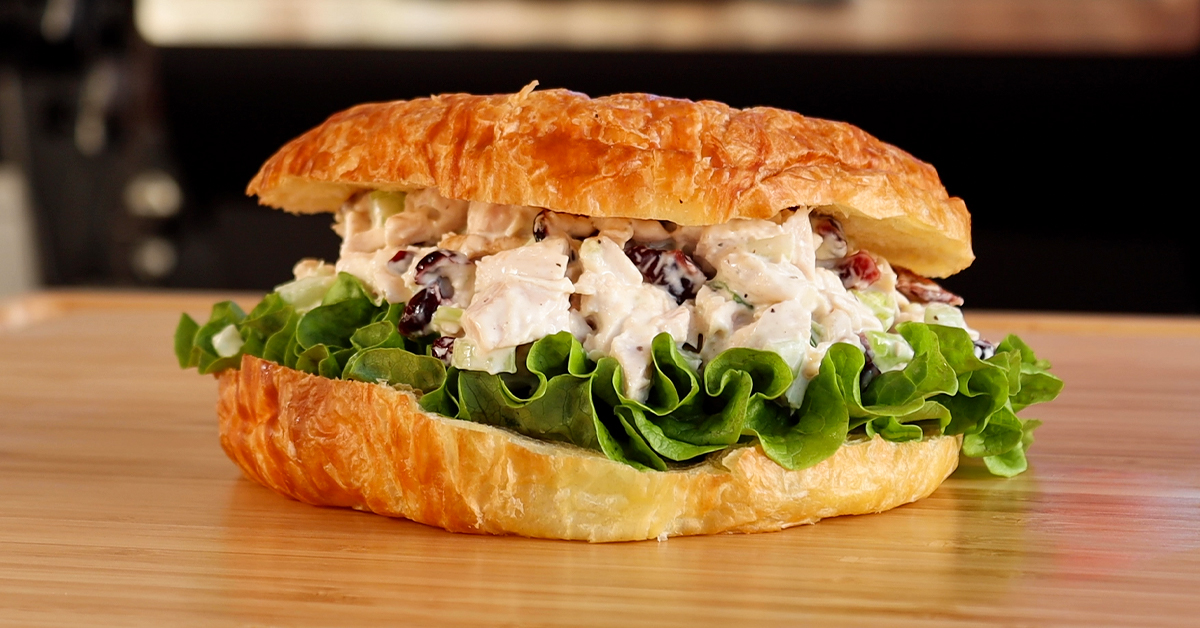 Potatoes have been mashed, stuffing has been stuffed and the fun, filling Thanksgiving holiday has come to a close. After recovering from a food induced daze, you might find yourself swamped in the aftermath that is mountains of leftover feast.
What now?
Don't Just "clean up" turkey leftovers, enjoy them! Upcycling your turkey is easy AND tasty with these leftover recipe ideas.
Try >> Smoked Turkey & Raspberry Mayo Sandwich

Try >> Smoked Turkey Salad Croissant Sandwich
Smoked Turkey & Raspberry Mayo Sandwich
After two or three rounds of the same Thanksgiving turkey it is time for a change. Add a pop of new flavor and transform your plain turkey leftovers into something you'll be craving year round with this Smoked Turkey and Raspberry Mayo Sandwich.
INGREDIENTS:
2 Wheat bread slices
2-3 Smoked turkey slices
2 Gouda cheese slices
1-2 Tomato slices
2 Red leaf lettuce leaves
1 c. Mayonnaise
1 Tbs Lemon juice
DIRECTIONS:
In a small bowl, mix together mayonnaise, jam and lemon juice. Layer turkey, cheese, tomato, lettuce and raspberry mayo sauce onto your wheat bread. Then enjoy!
(YES! It really is that simple)
Makes: 1 Sandwich with plenty of raspberry mayo sauce for more. Use it right away for more or save it for later in a covered container in the fridge.
Smoked Turkey Salad Croissant Sandwich
Smoked Turkey Salad Croissant Sandwiches are the perfect way to "freshen up" your leftover turkey. The light flavors and sweet celery crunch make it the perfect way to elevate and avoid wasting your holiday turkey.
INGREDIENTS:
4 Croissants
1 Green leaf lettuce
3 c. Smoked turkey, diced or shredded
½ c. Dried Cranberries
2 Celery heart sticks, finely diced
¼ c. Green onions, diced
⅔ c. Mayonnaise
2 tsp Dijon mustard
1 Tbs Lemon juice
2 tsp Sugar
¼ tsp Black pepper
DIRECTIONS:
In a large mixing bowl, combine turkey, cranberries, celery, green onions, mayonnaise, Dijon mustard, lemon juice, sugar, and black pepper. Stir well until combined and add salt to taste.
Serve immediately or refrigerate in a covered container. If you're ready for sandwiches, slice croissants in half and layer a large scoop of turkey salad with green leaf lettuce.
There's nothing to it! (Even though the flavors will make you think otherwise).
Makes: 4 Sandwiches
Smoked Turkey Grilled Cheese Sandwich
Upcycling leftovers has never been so TASTY! All the ooey-gooey goodness of a grilled cheese with the tantalizing tang of smoked flavors from your turkey, try it out and you'll be craving holiday turkey (and leftovers) all year round.
INGREDIENTS:
2 White bread slices (Tuscan White shown with recipe)

4 American cheese slices

3 Havarti cheese slices

½ c. Smoked turkey, slices or pulled

Mayonnaise
DIRECTIONS:
Preheat the griddle. Spread mayonnaise on one side of two slices of bread. Once the griddle is ready, place one piece of bread mayonnaise side down on the griddle. Layer (1) American cheese, (2) smoked turkey, (3) Havarti cheese and (4) the second slice of bread (mayonnaise side up).
Cook the sandwich until the bottom bread is golden brown on the griddle side and the cheese is slightly melty. To check, use a spatula and lift a corner just a little to see when it's ready to flip. Once it's golden brown, flip the sandwich and cook the bottom side.
Remove the sandwich from the griddle when done, slice in half and enjoy while it's ooey, gooey, cheesy and delicious.
Makes: 1 Sandwich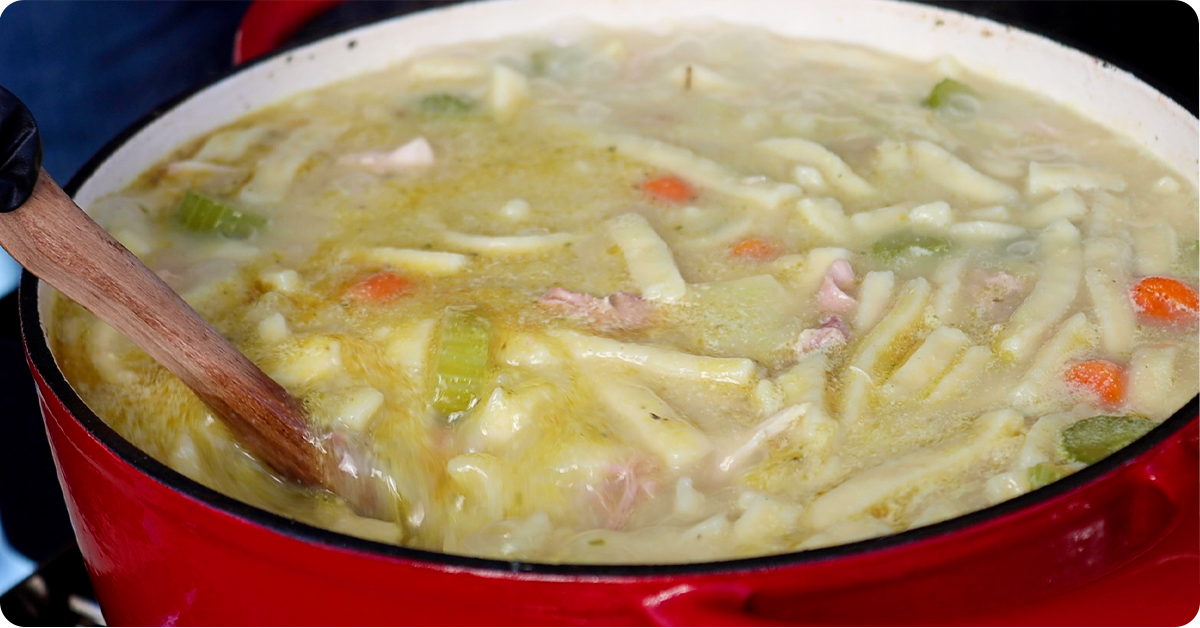 Cold Day? Try Turkey Noodle Soup
The perfect comfort dish for a cold day, Wishbone Soup (AKA Turkey Noodle Soup) adds a tasty twist on a classic homestyle dish. Don't let any of your holiday bird go to waste by taking advantage of tender and flavor filled pieces that might not have been pretty enough for the Thanksgiving table.
Fast, Easy and TASTY Leftover Turkey Recipes
It's hard to beat a perfectly smoked turkey on the Thanksgiving table but after a few days of feasting, even that can get old. Don't waste or dread taking another bite of warmed-up, second-hand turkey.
Embellish, embolden and liven-up those leftovers with ease. But, we love these turkey recipes for more reasons than one.
Easy, Peasy
Taking leftover turkey from ahh, to awesome is as simple as easy as cutting off a few pieces and mixing together a few extra ingredients. After slaving over a holiday feast, the last thing you want to do is revamp a whole meal. So make it easy!
Good for Every-Day
These turkey upcycling ideas are good for more than just left overs. Practice smoking a turkey or plan a full meal around one of these hearty, flavorful sandwiches and you will have a main dish that shines any day of the week.

Adding a Hint of Smoky Flavor to Your Favorite Holiday Dishes
Smoking your turkey elevates flavors both at the holiday table and in your leftover dishes. The perfect smoked turkey begins with the right pellets. Applewood, Traeger Turkey Blend or a premium wood pellet mix are all great options for a tasty turkey.
Smoky, pellet-grill flavors aren't just for the holiday bird. Your pellet grill can serve as an extra cook space and add a new note of flavor to classic holiday dishes. From Golden Garlic Butter Rolls to Homemade Holiday Stuffing and green bean casserole to candied sweet potatoes, your favorite dishes taste better with a little pellet grill and cast iron cooking.
Let Us Help You Enjoy Your Outdoor Cooking
Outdoor cooking has become popular for the grilled, smoked and even dutch-ovened flavors that elevate the flavors of your food selections. Whether you're a seasoned outdoor cooking expert or looking to learn, we want to help.
Stop by your local IFA Country Store for cooking supplies, pellet grills and maintenance tools as well as insights from IFA team members and grill experts.

---
Information for this article was provided by Dan Jensen, IFA Foods and Outdoor Cooking Category Manager, and Adam Fox, IFA Marketing Communications Creative Director.