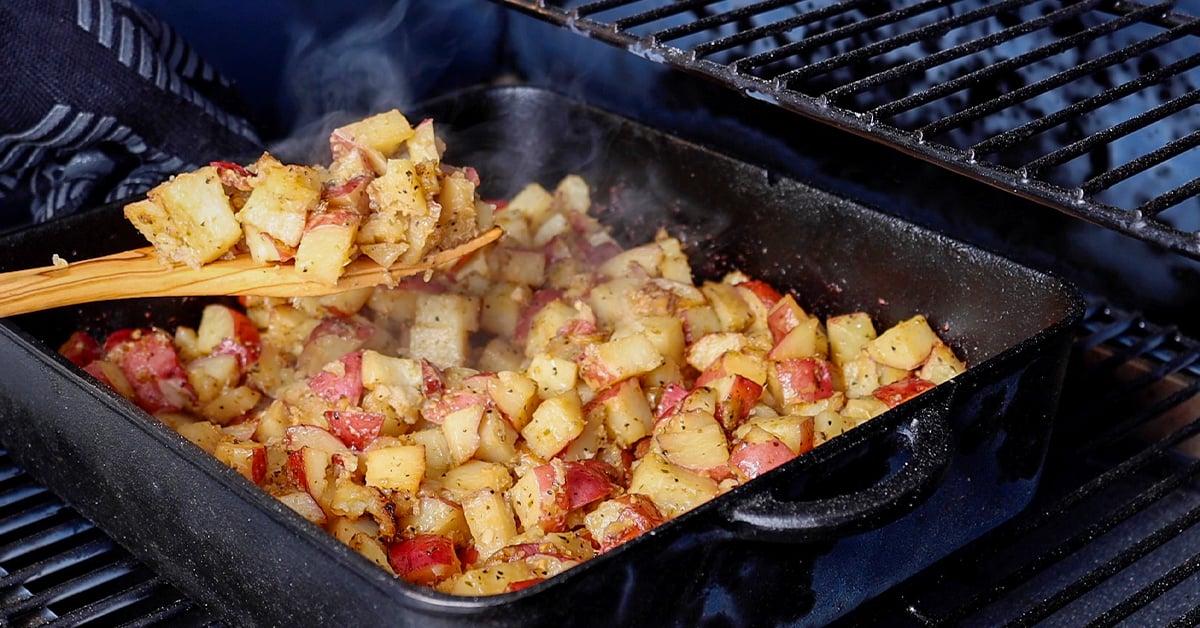 Greek roasted potatoes are good, SMOKED Greek roasted potatoes are great! Smoked Greek Potatoes bring all the traditional tangy goodness of Greek potatoes with a rich, savory, smoky twist.
No meal is complete without the right side dish and Greek roasted potatoes are the total, flavor-filled package that compliment any special occasion. Mine for fresh potatoes from your own garden or swing by the store to get started with this tantalizing tater dish.
INGREDIENTS:
8 Red Potatoes, cubed
6 Tbs Garlic, minced
½ cup Olive Oil
1 cup Hot Water (mix with one Beef Bouillon Cube)
1 Tbs Oregano, dried
1-2 (tt) Lemons
tt Sea Salt
tt Coarse Black Pepper
DIRECTIONS:
Preheat the pellet grill to 400 degrees. Chop potatoes and place inside a greased Camp Chef 13" Square Dutch Oven. Combine all other ingredients in a separate mixing bowl and stir into the potatoes until they are all covered.
Place Dutch Oven (uncovered) in the pellet grill, close the grill lid and roast for 45 minutes. Add and stir in more oregano, salt and black pepper to taste. Be generous with the oregano. Roast for another 45 minutes (or until browned). The end product should be borderline burnt on the edges and sticky throughout.
More? The Perfect Pairs for Greek Potatoes
Smoked Greek Potatoes are the perfect stand-alone side dish but if you're wanting a little more or just looking to add another side everyone will love consider these tasty favorites:
Creamy New Potatoes with Peas (Perfect for Extra Potatoes!)
Give your dinner table guests a variety of potato options with Creamy New Potatoes with Peas. While it is best to use fresh "new" potatoes, this dish is the perfect way to use up the rest of your plentiful potato harvest or extra ingredient potatoes. See Recipe>>>
Goodness Gracious Green Bean Casserole
A holiday classic that tastes just as good any other time of the year, green bean casserole can add some variety to your side-dish options. The ooey-gooey goodness is the perfect compliment to Greek roasted potatoes–or really anything! See Recipe>>>
Golden Garlic Butter Rolls
Nothing rounds out a meal like a pan full of Golden Garlic Butter Rolls! All the goodness of garlic rolls with just a hint of smoky flavor, there is no way you can eat just one of these cast-iron favorites. See Recipe>>>
Smoked Artichoke Dip
Is it a side? Is it an appetizer? Who really cares when it tastes this good! Simple yet savory, Smoked Artichoke Dip will complement any meal. Try adding it to the table with your Greek potatoes for a home run. See Recipe>>>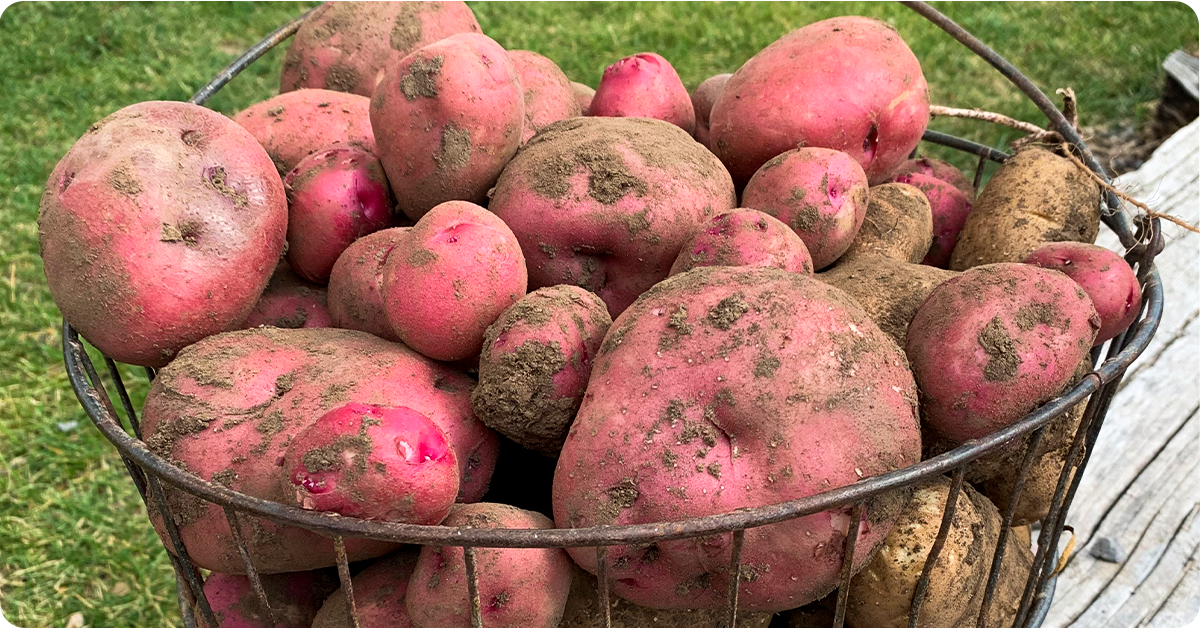 Grow Your Own Ingredients: Red Potatoes
With so many tasty ways to enjoy, it is no wonder that potatoes are a staple for tasty side dishes and even make for tantalizing main courses.
While the recipe calls for red potatoes, other varieties can shine in this dish too. Russet Burbank, All Blue and Yukon Gold are all tasty when used in this greek potato recipe.
Seed Potatoes
Seed potatoes can be purchased or saved from previous harvests. You can cut the seed potatoes for more potato plants just ensure that each piece has 2-3 eyes and allow the pieces to callus by leaving them overnight in a cool dry place.
Plant seed potatoes when soil temperatures are above 50°F by placing the pieces 6-8 inches deep with the eyes up and cut side down.
Plant Care
Potato plants will need a consistent water schedule to ensure there is adequate water in the root zone but be careful not to overwater as this can cause the potatoes to rot.
You will also need to "mound" or "hill" the potato plants after they have emerged by building up the soil around the base of the plant. This encourages growth and protects any potatoes growing near the surface.
Harvesting
Harvest potatoes when they are small "new" potatoes or once they have matured. Matured potatoes are generally ready for harvesting around 90 days after planting and will store better once matured.
When harvesting potatoes, make sure that you insert a spading fork or shovel 18 inches away from the plant to avoid stabbing the potatoes and gently loosen the soil.
Learn more about different types of potatoes, how to plant potatoes, plant care and storage tips
Got Flavor?
Any special occasion or even weekday meal calls for the perfect side dish. Luckily, a hot pan of Smoked Greek Potatoes is always up to the task.
Elevating this tasty potato side-dish is simple with a Traeger or Camp Chef smoker from IFA. Stop by your local IFA Country Store for griller go-tos and start enjoying your own garden fresh potatoes or just add a little extra flavor to your favorite meals.

---
Information for this article was provided by Dan Jensen, IFA Foods and Outdoor Cooking Category Manager, and Adam Fox, IFA Marketing Communications Creative Director.